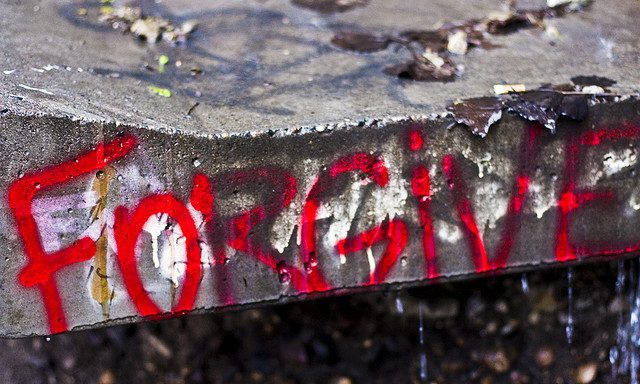 When a train goes through a tunnel and it gets dark, you don't throw away the ticket and jump off. You sit still and trust the engineer. Corrie Ten Boom
Corrie Ten Boom's story was pivotal in my growth as a Christian.
My conversion to Christ happened when I was alone, driving my car. No other person, no church or clergy, participated in it. It was literally Jesus, reaching out to me and filing me with His love.
I knew that what I had experienced was real. I knew that I had encountered Another, and that this Being bore no resemblance to the poisoned descriptions of Him that had been used as a club against me so many times in my life.
This was a Being of ecstatic love and joy.
I was changed by the experience, changed further by the on-going relationship with this Being, who I later came to understand was the Holy Spirit. However, even though this direct encounter and relationship with the Divine gave me an understanding of His nature, I had no parallel understanding of Christianity itself.
I did not hate Christianity with the frothing at the mouth propagandized carry-on of today's Christian bashers. But I had experienced cruelty and dishonesty at the hands of Christians. I had also drunk deeply at the cultural well of Christianity deconstruction. I honestly believed many of the lies I had been told about Christian history.
One of my first encounters with positive Christian witness was when I picked up a book called "The Hiding Place" at a used book sale. I don't know why I paid the fifteen cents to buy that book. I only know that it was the first time I'd read or heard anything about Christians who had stood against the evils of the Nazis based on their faith in Christ.
Every bit of information on the subject of Christianity and the Nazis that I had seen, read or heard up until that time had been a version of the many Christian bashing tropes that are circulated today. Nobody told me that Christians had worked against the Nazis to their great personal peril and had been themselves been persecuted and murdered for their defiance of the evils of that time.
Corrie Ten Boom was a saint of World War II and the years after. She was an unmarried watchmaker's daughter and a highly skilled watchmaker herself when the Nazis invaded Holland. She was a woman in her fifties who lived a quiet life with her family, in the home where she had grown up.
She was also a devoted follower of Jesus Christ in a family of devoted followers of Jesus Christ.
Corrie Ten Boom's family hid many Jews from the Nazis. They were betrayed by a man they had helped and sent to the concentration camps themselves. Corrie's father, brother and beloved sister died at the hands of the Nazis.
Her sister Betsy was Corey Ten Boom's best friend, companion and solace in the nightmare of the camps. After the war, Corey encountered the guard who beat Betsy and whose cruelty probably contributed to her death.
This past week has given me the opportunity to reflect on Corrie's life. I originally intended to pray for the grace of forgiveness during Lent. But other things got in the way. Then last week I got clipped by some sort of flu-like illness. This bug has forced solitude on me. It has freed me to do what I should have been doing all along.
I have prayed deeply about issues of forgiveness in my own life. I've also watched more television this past week than I have in the entire year before it. Among other things, I watched a documentary about a man whose family was murdered by the BTK killer in Wichita Kansas. I also watched a documentary about Corrie Ten Boom.
The difference in how these two people responded to the horrific things that had been done to them was stark. I understand the man's reaction. I'm not in any way condemning or criticizing him. I see a lot of myself in him.
He was a young person with a casual faith. He did not have the underpinning of years of walking with the Lord that Corrie had when tragedy overtook her. He was unable to look at the savage murder of the people he loved from an eternal perspective.
He did not have the sustaining relationship with God that upheld and sustained her even when she was, as she put it, in the pit. He was much like I was when bad things happened to me early in my life.
His life was savaged by the murder of his family. Hers was magnified. Corrie Ten Boom survived the camps and went on to become a great international speaker and evangelist for Christ.
She wrote books and traveled the globe, speaking to people everywhere about the power of forgiveness. "There is no pit so deep that His love is not deeper still," she told people, and they believed her because she had been in the deepest pit of human devising.
The young man whose family was murdered spent time in prison. He fathered a son he did not raise and has spent his days trying to paste the shattered pieces of himself back together again.
The difference between these two people is faith and the grace of God. It is also the grace of forgiveness.
God used Corrie Ten Boom, but He did not give her an easy life. Not only did she endure personal suffering in the concentration camps, she lost the people she loved there. As if that wasn't enough, God sent the man who had beaten her sister to her to ask for forgiveness.
This forgiveness was the decisive cleansing of Corrie Ten Boom. It was the surrender she had to make in order to be useful to Him and His purposes. If you pray to become a saint, pray carefully. God asks all of you.
This video is Corrie's account of her post war encounter with the concentration camp guard who had tortured her sister. It describes the healing power of the Cross, which gives peace that passes all understanding.