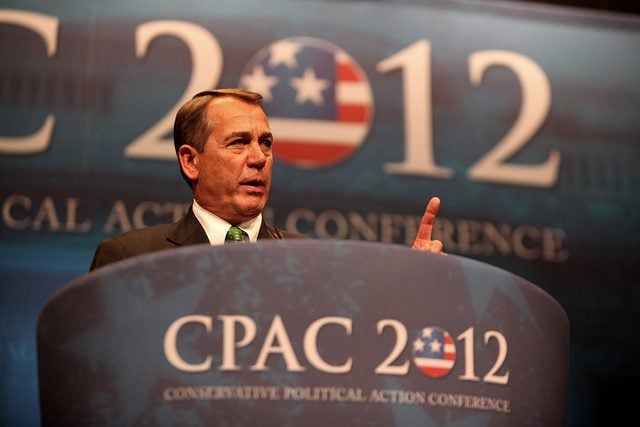 Pro life leaders were arrested for holding a prayer vigil outside House Speaker Boehner's office today.
Pro life nurse Jill Stanek, who has been a vociferous critic of President Obama for lying about his history of killing the infant born alive bill when he was in the Illinois State Senate was one of those arrested. Other arrestees include Rev Pat Mahoney, the director of the Christian Defense Coalition and Troy Newman, president of Operation Rescue. Seven pro life protesters were arrested in all.
"We were told yesterday by Speaker Boehner's office that this is the most pro-life Congress that has ever been installed," Troy Newman told CNSNEWS.com.
The protesters were holding a vigil in an attempt to get Congress to pass the ban on abortions after 20 weeks. The bill is usually referred to as the Pain-Capable Unborn Child Protection Act.
The bill was scheduled to come to a vote in the House on January 22, which is the anniversary of Roe v Wade. It was pulled at the last minute and a bill disallowing the use of federal monies for abortions in circumstances not pertaining to the Affordable Care Act was passed in its place.
I am grateful to these protestors for doing this. Maybe the bad publicity will force Speaker Boehner to bring the bill to a vote.
I've personally witnessed pro-life people back down and cover up for Republican leadership when they killed pro life bills here in Oklahoma. I've also seen big-name preachers take a pass on everything they'd been preaching to their flocks when leadership leaned on them.
This arrest underscores a simple fact that We the People are loathe to accept:  Politics is about power, not morality.
From CNSNEWS.COM:
CNSNews.com) — U.S. Capitol police on Wednesday arrested seven pro-life protestors while they were praying outside the office of House Speaker John Boehner (R-Ohio).

hose arrested, who included prominent pro-life activist and nurse Jill Stanek, were protesting the House Republican leaderships' failure to call a vote on the Pain-Capable Unborn Child Protection Act, which would prohibit aborting an unborn child in or after the 20th week of gestation.

The House Republican leadership shelved the bill less than 24 hours before it was set to come up for a vote on Jan. 22 after some Republican congresswomen, led by Rep. Renee Ellmers (R-N.C.) and Rep. Jackie Walorski (R-Ind.), objected to the rape and incest exceptions in the bill, which they deemed too onerous. The exceptions said a baby 20 weeks old or older could only be terminated if the the baby had been conceived by an act of rape or incest that had been reported to the appropriate law enforcement agency.

In 2012, Ellmers had co-sponsored the District of Columbia Pain Capable Unborn Child Protection Act, which banned abortions in the 20th week or later in Washington, D.C., and had no rape or incest exceptions whatever. On July 31 of that year, the bill was brought up on the House floor under a suspension of the rules, which required a two-thirds vote instead of a majority. The bill failed to get two-thirds but did get a majority, with 220 voting yes, 154 voting no, 55 not voting and 2 voting present. Six Democrats voted for that bill with no rape and incest exceptions.