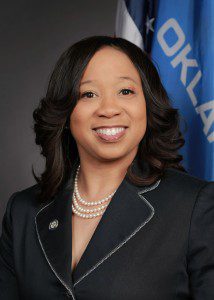 Levit Pettit, one of the two young men who were expelled from Oklahoma University for their participation in singing a racist song at a fraternity gathering, apologized at a press conference this afternoon.
Senator Anastasia Pittman and other leaders in the Oklahoma City black community, including prominent members of the clergy, joined him at this press conference. At one point, one of the black community leaders reached out to pat him on the back while he was speaking.
Senator Pittman ended the press conference by saying that she and the community leaders who were with her wanted this event to lead to a growth in understanding and greater interracial harmony.
I am proud of and grateful to our Oklahoma City black community for the noble and loving way that they have handled this situation. These Christian leaders have shown us the positive way that true Christian leadership can function. Senator Pittman has demonstrated the best in what an elected official can contribute to her community.
They have shown us the healing power of forgiveness.
You can watch a video of the press conference with Senator Pittman's comments here.
This is a video of the press conference. It does not contain Senator Pittman's comments, which I regret. Her words about using this incident to bring us together are important.
https://youtu.be/ZidBPfoRXwc
From
KFOR.com
:
OKLAHOMA CITY, Okla. – Former OU student Levi Pettit issued an apology this afternoon, weeks after a cellphone video showing him participating in a racist chant went viral.

20-year-old Pettit is accused of participating in the racist chant along with other Sigma Alpha Epsilon fraternity members.

"Let me start by saying that I am sorry… Although I don't deserve it, I want to ask for your forgiveness," began Pettit.

Pettit, flanked on both sides by local leaders in the black community, gave his apology after meeting and speaking with Oklahoma Senator Anastasia Pittman, civic leaders, and local pastors about the incident.

"There are no excuses for my behavior. I never considered myself a racist," said Pettit. "All the apologies in the world won't change what I've done."

Pettit and his family have reportedly spoken with Senator Pittman several times since the video was made public on March 9th.