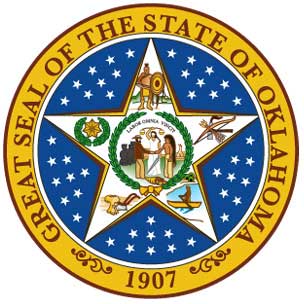 Oklahoma's State Supreme Court has ordered the removal of a 10 Commandments monument that was commissioned statutorily by the Oklahoma legislature from state capitol grounds.
Attorney General Scott Pruitt argued that the monument was nearly identical to a Texas monument that was found constitutional by the United State Supreme Court. The court ruled that the monument violated the Oklahoma Constitution, rather than the United States' Constitution.
The Attorney General is considering what other options he might have in this case. among those options are amending the Oklahoma Constitution in the next legislative session. Here is the AG's statement:
"Quite simply, the Oklahoma Supreme Court got it wrong. The court completely ignored the profound historical impact of the Ten Commandments on the foundation of Western law. Furthermore, the court's incorrect interpretation of Article 2, Section 5 contradicts previous rulings of the court. In response, my office will file a petition with the court for a rehearing in light of the broader implications of this ruling on other areas of state law. Additionally, we are requesting a stay of the enforcement of the court's order until the court can consider the petition for rehearing. Finally, if Article 2, Section 5 is going to be construed in such a manner by the court, it will be necessary to repeal it."
Also from KOCO.com:
OKLAHOMA CITY (AP) —A Ten Commandments monument on the Oklahoma Capitol grounds is a religious symbol and must be removed because it violates the state's constitutional ban on using public property to benefit a religion, the Oklahoma Supreme Court ruled Tuesday.

The court said the Ten Commandments chiseled into the 6-foot-tall granite monument, which was privately funded by a Republican legislator, are "obviously religious in nature and are an integral part of the Jewish and Christian faiths."

The 7-2 ruling overturns a decision by a district court judge who determined the monument could stay. It prompted calls by a handful of Republican lawmakers for impeachment of the justices who said the monument must be removed.

Attorney General Scott Pruitt had argued that the monument was historical in nature and nearly identical to a Texas monument that was found constitutional by the U.S. Supreme Court. The Oklahoma justices said the local monument violated the state's constitution, not the U.S. Constitution. The Attorney General Office's has filed for a rehearing in the case.

Private funds were used to erect the monument in 2012. Since then, others have asked for space, including a Nevada Hindu leader, animal rights advocates, the satirical Church of the Flying Spaghetti Monster and a group pushing for a Satan statue.