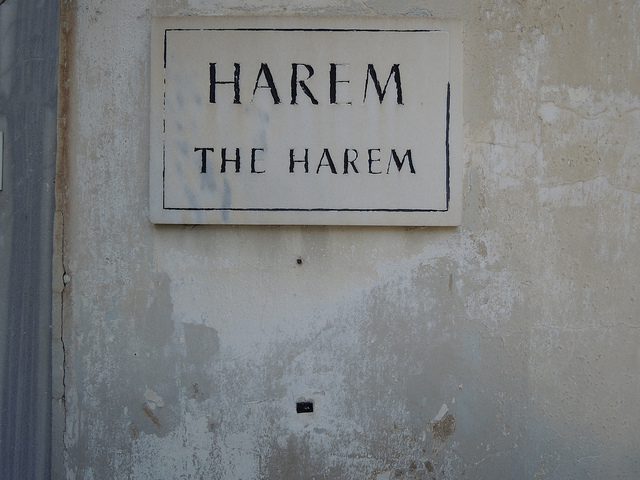 If the Supreme Court creates a 14th Amendment right to gay marriage in it upcoming decision, will that open the gateway to a legal right to polygamy?
Justice Alito asked that question directly during hearings on this decision. There was predictable outrage in certain quarters because of Justice Alito's question.
Now Emory Law Journal attempts to put the question to rest by taking it seriously and answering it in the negative.
The journal recently held a "paper symposium" on this question. The upshot of the papers it published is that polygamy imposes a preponderance of harm to the human rights of women and children, as well as to the social order in terms of polygamy's poverty and inequality creating force within societies.
For this reason, that authors argue that America would be able to avoid legalizing marriage between anybody and anything, even if gay marriage is considered a 14th Amendment right, based on arguments in favor of the public good.
This is sophistry in defense of what the authors consider to be a done deal. The forward to the symposium flatly states that the author anticipates that the Court will find a "right" to gay marriage in the 14th Amendment.
These papers and this symposium attempt to soften the blow of such a decision. They're a scholarly version of the there-there-little-buttercup, it-doesn't-mean-all-that-much stuff that came out after the DOMA decision. That was bogus then, and this line of reasoning is bogus now. Here's why.
The authors of these papers seek to answer the serious question of what legal basis for restricting marriage to any definition at all remains if the Court creates a 14th Amendment right to gay marriage. They answer that there is a basis for restricting marriage to two people. Their reason for claiming that the courts will protect marriage between two people is, essentially, because it is best for the common good. 
The authors outline arguments against polygamy and for restricting marriage to two people based on the harms polygamy inflicts on society and on persons. They emphasize the obvious harms to the the civil and human rights of women and children that are inherent in polygamy, and also discuss polygamy's poverty-creating force, as well as its destructiveness to men without money. They then claim that this gives the state a legitimate legal basis for restricting marriage to two people.
In other words, they are claiming that creating a 14th Amendment right to gay marriage will not lead to future rulings in favor of polygamy because polygamy harms the common good.
This is nonsense. The Catholic Church cares about the common good. The United States Supreme Court clearly does not.
The Court has a long history of ignoring the public good in decisions such as this. The Supreme Court single-handedly created the culture war that is ripping this country apart with it bench legislating in the Roe v Wade decision. It set the country on the road to destruction of marriage with the hydra-headed DOMA decision.  If it uses the 14th Amendment to create a "right" to gay marriage, it will simply be doing more of the same.
The idea that we can base our hopes of preventing a rush to legalize marriage between everybody and everything by trusting the Supreme Court's desire to protect the common good is fantastical.
If the Supreme Court "finds" (good word) a 14th Amendment right to gay marriage, the agitation to legalize polygamy will ramp up within a couple of months, if not sooner. If you think I'm being alarmist, then hide and watch.
This agitation will be coupled with an all-out attack on the First Amendment rights of small business owners as well as individuals who express opinions in the workplace or other public venues that challenge politically correct thinking.
I remember when the DOMA decision was handed down, I predicted that what has happened would happen. A number of people said that I was being too negative, when in fact, I was deliberately down-playing what was coming. I'm telling you now that I'm also soft-peddling what will happen if the Supreme Court creates a right to gay marriage under the 14th Amendment.
That would be a draconian decision.
Go here to read the papers published in Emory Law's symposium on marriage.