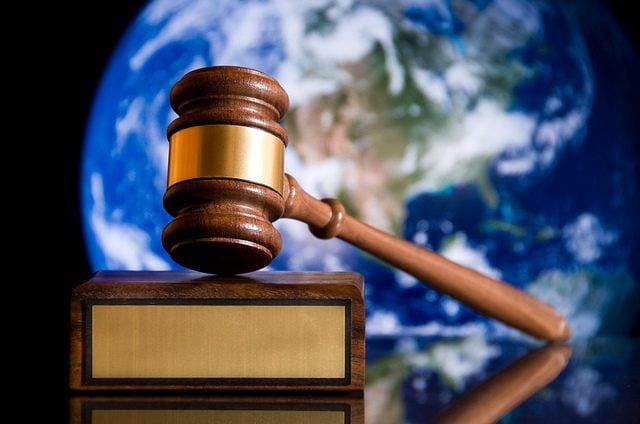 Kim Davis, the county clerk in Rowan Country, Kentucky, was jailed for contempt of court.
This is a rather interesting situation, since Ms Davis is an elected official. Normally, elected officials who are considered to be failing to perform their duties are dealt with by the voters, or, if the Constitution of their state allows, impeachment proceedings.
The question that comes to mind in this situation is simply whether or not the court is over-stepping its standing in this matter. That is a rather large question which may surface in actual practice if these law-making court decisions keep on coming.
Our Supreme Court has taken on a legislative role in many of its rulings in the past few decades. Each time it has done that, it has gone further than simply taking legislative powers onto itself. It has also taken on the role of a dictatorship by tribunal, since members of the Supreme Court are not elected.
I am interested to see if anyone raises the question as to whether or not the court has the power to imprison elected officials for what it deems a failure to perform their duties. That kind of action broadens judicial powers exponentially.
Right now, the issue is being dealt with as a simple contempt of court. I question whether or not a court can issue an order requiring that elected officials perform their duties in specified ways. In some jurisdictions, where the county clerk is entirely an officer of the court, there would be no question as to the court's authority to order them to comply with court orders.
But Ms Davis stood for election. So, is she entirely an officer of the court? She is, after all, directly answerable to the people.
For instance, back in the 1980s, the federal courts issued orders about certain requirements concerning population density and facilities for the Oklahoma prisons. There was a riot at one of our prisons and we had to rebuild the prison. During the planning for that, we took the court order into consideration.
But if we had not, the court would not have been able to put any member of the legislature in jail for non-compliance. The federal government could have punished the state of Oklahoma by a withdrawal of funds. The courts might have issued draconian orders putting the prisons under direct federal oversight. There might even have been an attempt to fine the state in some way.
However, none of us who voted on this legislation worried that soldiers were going to come on the House floor and cart us off to jail for non-compliance if we failed to adhere to that court order. Courts don't — and shouldn't — control how elected officials do their duties. It is a gross expansion of court powers for them to try.
I realize that the order concerning Ms Davis was directed at her alone. But there is a principle here that I don't think anyone is looking at carefully enough.
From ABC News:
A Kentucky county clerk, Kim Davis, was jailed today after a judge found her in contempt of court for her refusal to issue same-sex marriage licenses, but five of her deputies said under oath they would comply with the court's order to issue the licenses.

U.S. District Judge David Bunning ruled against the Rowan County clerk before deputy marshals removed her from the courtroom this morning, and later said he expected the deputies to comply despite Davis' refusal to authorize them to do so.

Bunning said Davis could be released from federal custody if she complies with the order to resume issuing licenses in the county. She has refused to issue marriage licenses to anyone, arguing that such a move was a way around discriminating against same-sex couples.

The ACLU had asked that she be fined but the judge said he didn't believe that was enough to force her into action.

Mat Staver, founder and chairman of Liberty Counsel, which is representing Davis, said in a statement, "Everyone is stunned at this development. Kim Davis is being treated as a criminal because she cannot violate her conscience. While she may be behind bars for now, Kim Davis is a free woman. Her conscience remains unshackled."