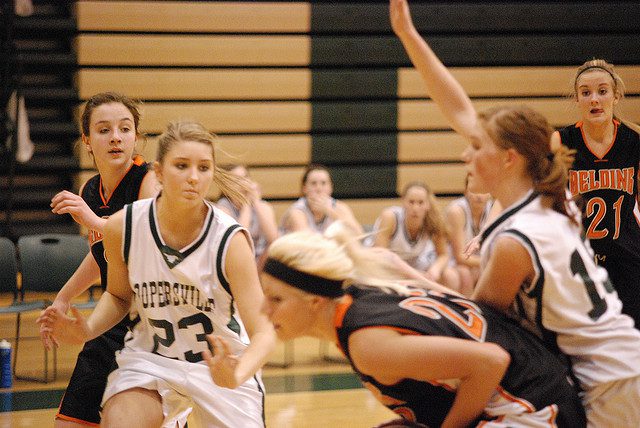 Where have all the feminists gone?
It appears they've gone to political correctness, save for one.
I wrote a post for CatholicVote discussing the recent ruling by the Department of Education that girls who participate in sports in the Palatine, Il school district must pay for this privilege by showering with boys.
That's a small simplification, but only a small one. The boys in question are young men who claim that they think they are women. These young men then demand that they be allowed to play on all-girl sports teams, and — get this — shower and change with the girls.
This is an abuse of the young women involved. It trashes the hard-fought gains that women's sports have made. It subjects the girls to a forced sexual violation by requiring them to undress and shower in front of a male student.
Almost all "feminists" are either silent about this, or they are taking the side of the violators and abusers of these girls. There are exceptions, and I discuss this a bit in the post.
Here is an excerpt of what I wrote:
United States Department of Education has given Palatine, Illinois School District 30 days to reach a "solution" that allows a "transgendered" boy who says he is a girl to shower with the girls. Failure to comply could result in the loss of federal Title IX funds.

The young man in question "identifies" as a girl. The school district has allowed him to play on the girls' sports team. He is called "she" by school staff who refer to him by a female name. He says his "rights" are being violated because the school district asks him to change clothes behind a curtain rather than in front of the girls on the team, and to shower separately from them.

So. We have a teen-aged boy who says that he is a girl. He wants to play sports on a girl's team and shower and change with the girls. If he is sincere, he's mentally ill. If he's not sincere, it's possible that he's found a trendy way to gain access to the girl's locker room for the ultimate peep show.

I know this question is not politically correct, but do the actual girls have any rights in this?

– See more at: http://www.catholicvote.org/teen-girls-dont-need-this-new-form-of-mysogyny/#sthash.qk0o9XH4.dpuf
The 
For more on this topic, check out my colleague Jennifer Fitz.