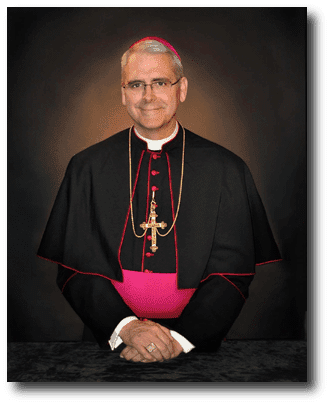 My personal religious leader, Archbishop Paul Coakley, gave Oklahoma Catholics one of the few balanced and honest assessments of this upcoming election that I have read from any religious leader.
I am grateful to him for both his courage in saying the truth at this time when people have become so partisan and enraged that they won't hear the truth, and for his courage in speaking out against sexual assault and violence against women.
Here is Archbishop Coakley's letter.
Voting is a moral act

 Created on Thursday, 27 October 2016 10:49

Archbishop Paul S. Coakley         October 30, 2016

The presidential debates are now behind us and Election Day is looming large. One of the most common reactions to the astonishing developments of this election cycle is a troubling question: how did we get here? Are these really the best candidates that our nation has to choose from in electing the next president of the United States?

Our major party candidates are both deeply flawed. One has boasted of his ability to grope women at will simply because of his celebrity status. It is never acceptable to demean and commit violence against women! This candidate's lack of impulse control has been on display in his failure to stay on topic during debates and refrain from offering crass and outrageous statements to reporters, hecklers and even supporters. These are not reassuring qualities for one who might be entrusted with nuclear codes.

The other major candidate has been a tireless advocate for abortion and same-sex marriage. Her inner circle has been caught strategizing an anti-Catholic campaign to undermine adherence to Church teaching among Catholics in order to advance their own short term political gains at the expense of interfering with religious liberty. This candidate has a problem with truth-telling and transparency.

How did we get here? And, what does this mean for our nation? In 1775, one of our nation's founding fathers, John Adams said, "Public virtue cannot exist in a nation without private virtue, and public virtue is the only foundation of republics."

We don't talk much about virtue these days, public or private. That is a big part of our problem. We are witnessing a disturbing lack of public virtue in our national discourse and in the direction that many of our government's policies and laws are moving. How else can we account for our widespread tolerance of grave challenges to foundational institutions such as marriage and the family, not to mention the sacredness of human life from conception to its natural end?

If this is so, it suggests a failure in private or individual virtue among the citizens of our nation. It was Plato who once described the state as "the soul writ large." The health of the state, of civil society, of a nation is a projection of the health of the souls and characters of its citizens. If our laws and policies turn a blind eye to the poor, it is because too many of us do the same. All of this is to say that if we find ourselves asking how our nation got here, then we need to look within our own hearts.

During the Maccabean period of Jewish history there was widespread apostasy when the Jews, enamored by the ways of their foreign occupiers, sought to hide the mark of their circumcision. They betrayed their deepest identity as God's chosen people by being ashamed of the very sign of their covenant with God. Today, we are witnessing a similar apostasy when so many people, believers and unbelievers alike, deny the law written in their hearts by the Creator. Too many people, blinded by sin, make themselves the sole arbiter, lawgiver and judge of what is good and evil, true and false.

This election cycle, perhaps, will serve as a reminder that what we most need is a renewed commitment to the pursuit of virtue, to seek the good and adhere to the truth as inscribed in our hearts by our Creator, elaborated by reason and illumined by Revelation.

Character matters. Unfortunately, as we prepare to go to the polls on Nov. 8 we cannot rely as much on the virtue and character of our presidential candidates as we ought to be able to do.

Still, we have an obligation to vote and our vote ought to be informed by a careful study of the platforms of the parties and the stated positions of the candidates. Voting is a moral act. It ought to be guided by prayer and an evaluation not only of the political, but also the moral implications of our decisions.