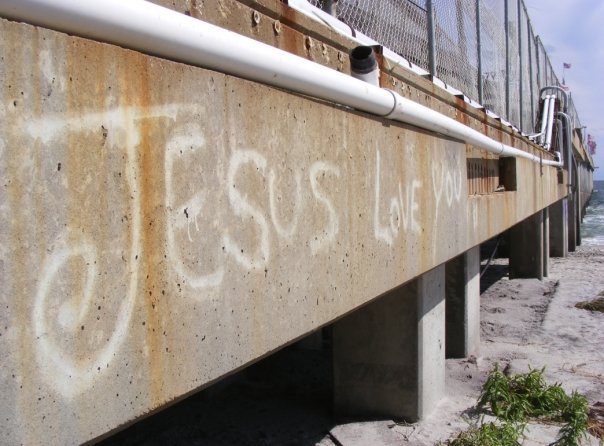 Note: I'm re-publishing this because it didn't come through in its entirely the first time I put it up. I hope it makes more sense this time around.
I wrote this a few months ago for the National Catholic Register. I think it's worth publishing again at this time when we have been so deeply damaged and degraded as a nation and a people by the amoral cruelty of the election just past, and when our Church, which should be the lodestone that guides our lives, is at odds with itself.
I was in a special place of grace when I wrote this. Cancer was, for me, a powerful experience of the love of Christ. The graces He rained down on me during that time could only have come from a God Who truly is love.
Here's what I wrote:
I've spent the past seven months in the hermetically-sealed world of cancer treatment. That world disconnected me from the other world of normal life with the abrupt finality of amputation.

One minute, I thought I was fine. The next, I was fighting for my life. The re-entry into what I just labeled "normal" life was as abrupt as the leave-taking. I arrived, not well, not even close to well, but wounded and battered from treatments that had just ended. The sights, sounds, behaviors that confronted me in this "normal" world seemed alien and more than a bit trivial.

I suppose it was a bit like a soldier returning from an overseas war. They get on the plane with sand in their teeth and the rattle of gunfire still sounding in their ears and get off a few hours later in the impersonal noise and confusion of an American airport. Technically they are home, but "home" feels more alien than the alien world from which they have come.

They are stunned. As I was stunned.

The single biggest change is not that I am changed physically, although I am changed physically in obvious ways. It's the shift in values, in my understanding of what matters, that sets me apart from everyone around me.

Take, for instance, Pope Francis' recent Apostolic Exhortation, The Joy of Love. I think I heard something about it when I was in that other world, but I don't really remember what. Between the drugs and the overwhelming sickness, nothing stuck except a clear memory of how wretched I felt. That, and not much else, is imprinted on my mind, in much the same way that I would keep seeing a blinding flash, even after it's over.

I was aware, in that same vague way that I knew about the Exhortation, that there was the usual carrying on from the usual places that seems to accompany everything the Holy Father says or does. But somewhere between the words "you have cancer" and the release of the Exhortation, my relationship with my Church had changed.

That's only reasonable, since my relationship with God had also changed during that time. I've never felt closer to Jesus than I did during those months of treatment. He was, to paraphrase W H Auden, my North, my South, my East and West, My working week and my Sunday rest.

I was both too sick to care about the reaction to Pope Francis' Exhortation and too deep in the love of God to take it seriously. Now that I am slowly getting better, tip toeing ever-so-cautiously around the rim of normal life without actually diving in, I retain the profound crystallizing viewpoint that is, to paraphrase another poet, all I know of heaven, all I need of hell.

I've been someplace quite rare in this life. I've been to hell while wrapped in the loving arms of God my Father.

I want to tell you what I learned on the trip. I learned that all we know of heaven lies in the peace of Christ Jesus. There really is a peace that passes all understanding, a love that does not die, that grows stronger when we are weak. The secret to life in Christ is no secret at all. It is not built on being sinless, pious and perfect. It is certainly not built on having the right political ideas and voting correctly. You do not get to God by hating the right people for the right reasons. Rely on yourself and your own righteousness, and you will never see heaven at all.

The only way to heaven is through the Way, which is Jesus and His love. All you have to do is trust Him. That's all. Just throw yourself into His arms and let go of everything else.

We are so grounded in this life that we lose sight of that. It's very difficult for earth-bound creatures like us to fly. I was blessed to encounter the terror of cancer. Cancer pushed me right up to the cliff of abandoning myself utterly into God's hands, and in the faith that came from decades of walking in Him, I closed my eyes and stepped off.

The rest is a song of floating in His love through the white water that lay ahead of me.

During that passage, as a result of that step off the cliff, I changed. The Church became, not a set of teachings and dogma, but the living Eucharist, the Body of Christ in fact and in truth.

I encountered Jesus every day, and He blessed me over and over again, while the Church fed me with the concrete love of Christ in Eucharist. I could reach out and touch Him, taste Him, receive Him physically, while He surrounded me with His loving presence spiritually.

God's beautiful people reached out to me with letters, emails, offers of help and assistance from every direction. They, too, became the living Body of Christ and I found deep healing in their caring.

When I heard about the Exhortation, I didn't really care what it said. Pope Francis is Peter. Me? I'm just a back-pew sitter who has no real right to be part of this beautiful Body of Christ. I am not here by virtue of my virtue. Far from it. I am only here because God loved me from eternal death to eternal life through His forgiveness and Mercy.

I am writing this post for one reason. I want you to stop and think for a moment about how much God loves you. Stop what you a doing and just think about what He has forgiven you, and how much you rely on His love and forgiveness. Without that love, without that bounteous mercy, you and I would both go straight to hell.

That, my friends would not be a harsh judgement. It would be justice in its absolute and accurate sense. We do not deserve heaven. We deserve to go to hell.

If those people who hated me back when I was doing my worst had had their way about it, God would certainly have never forgiven me. It is a verifiable fact that some of them were outraged and bitter when I converted, that they called everyone from my bishop to other members of my parish to protest and say that I should be shunned and kicked out.

But that great Body of Christ which is the Catholic Church welcomed me home and accepted me as its own daughter.

If Pope Francis is telling us that God's Mercy extends to everyone without regard to what they have done, he is only telling us the truth. He is not changing doctrine. He is preaching Christ.

I know only too well the kind of willful sinfulness leaning on my own wisdom can lead me to commit. I pray every day that God will protect me from my own understanding, that He will not let me walk past Lazarus.

If you are one of those who is outraged by what our Holy Father has written, stop for a moment and think. When you stand on the edge of that cliff and look out over the expanse of nothingness that is your own suffering and death, the Church will be there to sustain you.

When you step off that cliff, the arms of Christ will catch you.

None of this will happen because you deserve it. It will happen because love is stronger than death, and our God is a deeply personal and infinitely loving God of mercy.

Do not begrudge other people the same forgiveness that saves you. Do not, ever, tell anyone that God does not love them. The first is not only a cruelty, but a denial of your own salvation, as if you are throwing God's gifts to you back in His face. The second is a lie, plane and simple.

I think that when we get to heaven one of the biggest surprises we'll have is who we see there. And who we don't.

Trust the Church and trust Jesus. Don't wait until one of life's existential trials forces you to it, trust Jesus now. And stop worrying.

Whether it seems like it or not, God's got this. If you are His, you have nothing, absolutely nothing, to fear.