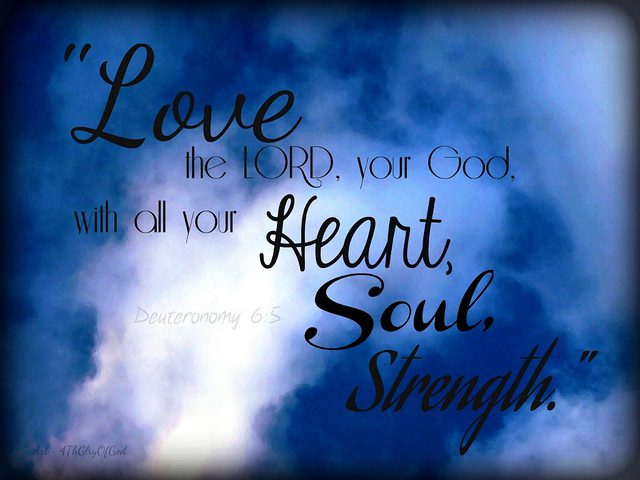 I wrote this post for the National Catholic Register. As soon as it went up, there was a comment saying that there were actually two Judgements, not one, and another attacking someone besides themselves — in this case, the Jesuits — for not following Church teaching.
One of the commenters remarked that there was "nothing new" in this particular post.
All I can say about that is I should hope not. What I am saying here is old. It's is 2,000 years old. But it is just as revolutionary today as it was when it was first spoken.
Here's the point, and it has nothing to do with other people's sins or nit-picking over theological points. Get ready now, you aren't going to like this one bit.
You can go to hell.
Let me say that again, so that you understand. I am not saying that someone who commits sins you don't commit is going to hell. I'm not saying that Democrats, Republicans, abortionists, feminists, Pope Francis, the Jesuits, Hillary Clinton or Donald Trump are going to hell.
This is about YOU.
You, perfect as you are, can go to hell.
You can go to mass every week, toss big checks into the collection plate, participate in the walk for life and quote Canon Law like a religious F Lee Bailey. But if you do not care for the least of these, if you do not extend your hand to help suffering people, then you can go to hell.
Now, participating in pro life walks and donating to the Church with the intent of supporting Church missions that help the weak and poor (and there are many) is an indirect way to helping the least of these. That is true.
But the Pharisees that Jesus basically said were going to hell if they did not change were obsessively conscientious about doing the "right" things while they walked past suffering people on their way to the Temple. Probably worse than that, they condemned and shunned everyone who did not measure up to their remorseless rules; they even condemned Jesus for associating with "sinners."
Don't be like them. Don't do the "right" thing in an angry condemnatory way. That can send you straight to hell.
How will we be judged when our life is over? Jesus said that we will be judged by how we treat other people.
He didn't mention one word about sniping and carping over Canon Law. He didn't say anything at all about voting right or loudly condemning people who commit sins that don't tempt us. He said that we would be judged based on how we treat people who can't fight back, how we minister to those in need, how we reach out to people who are on the fringes, who are judged by society to be dirty, lost, condemned.
Far from giving us leave to condemn those who differ from us, He said that we would be judged on whether or not we reach out to those who have been condemned, many of them justly so. That's what it means when He said "I was in prison and you visited me."
We can not leave one person alone, lost and despised.
That is a tall order. There is no one of us, including me, who can fulfill it. That is why we need a savior. Jesus didn't just give us a new, impossible, set of commandments. He didn't just show up and set the bar so high that no one could possible manage to get to heaven.
He came to give us a way out.
And that way out is the Cross. We enter into the New Covenant of love and salvation by way of the Cross. Jesus is the Way, and the Cross is the door.
We have a way out of our sins, and that is repentance and turning to follow Him with all our hearts. The Church offers confession to cleanse us, the Eucharist to feed us, and clear, simple teachings to guide us.
But the bottom line is that we are, each of us, rapidly speeding toward that moment when our personal end of time arrives and we stand before the Lord. And we will be judged according to the teachings I quote in this post.
I'm going to be writing quite a bit about basic things. This election and the lack of teaching from our religious leaders has destroyed the concept of pubic morality. It has placed all of politics and thus our national thinking, in a morality free zone.
We need to understand that this is an illusion. There is no morality free zone. There is only following Christ or following the devil.
From the National Catholic Register:
Our Holy Father spoke about the end times during his Angelus on the first Sunday of Advent. We all — believer and unbeliever — know that there will be an end. The end of all things rims our lives like a horizon all our days.

The truth is, we don't need to worry overmuch about the ultimate "end times." We are all rushing headlong to our own, personal "end time" every single day we live.

When we die, we will be at our own end of days, our end time. The things we have done will be writ and cannot be erased. This simple fact gives perspective to our here and now.

Pope Francis reminded us that the material things, what Wordsworth called "getting and spending" don't matter all that much when we are forced to consider the ultimate toting up of our lives. When we stand before God, what will matter is the hour we spent visiting a lonely person in a nursing home, stood by a rape victim, helped an unwed mother find ways to keep her job or continue school during her pregnancy, or reached out in forgiveness to someone who had hurt us.

It won't matter what kind of car we drove or if we got that big job. It certainly won't help us on that day if we spent much of our time in this life doing things — even little things — that hurt and humiliated other people, or worst of all, drove them away from Jesus.

What will matter is whether or not we loved Jesus and other people. God is love, and our love, faith and hope are all that go with us into eternity. Those who love much are rich with the only lucre that saves, both now and in our ever after.

There are no foreigners, no rich and famous, no impoverished and unknown, no powerful and mighty, when we stand before the cross. We are all one nation, one family, of fallen souls, equal in our abject dependence on the broken Son of Man hanging there.

Here is what Jesus Himself told us about the Judgement we will face.

"But when the Son of Man comes in his glory, and all the angels with him, then he will sit upon his glorious throne. All the nations will be gathered in his presence, and he will separate the people as a shepherd separates the sheep from the goats. He will place the sheep at his right hand and the goats at his left.

"Then the King will say to those on his right, 'Come, you who are blessed by my Father, inherit the Kingdom prepared for you from the creation of the world. For I was hungry, and you fed me. I was thirsty, and you gave me a drink. I was a stranger, and you invited me into your home. I was naked, and you gave me clothing. I was sick, and you cared for me. I was in prison, and you visited me.'

"Then these righteous ones will reply, 'Lord, when did we ever see you hungry and feed you? Or thirsty and give you something to drink? Or a stranger and show you hospitality? Or naked and give you clothing?When did we ever see you sick or in prison and visit you?'

"And the King will say, 'I tell you the truth, when you did it to one of the least of these my brothers and sisters, you were doing it to me!'

"Then the King will turn to those on the left and say, 'Away with you, you cursed ones, into the eternal fire prepared for the devil and his demons. For I was hungry, and you didn't feed me. I was thirsty, and you didn't give me a drink. I was a stranger, and you didn't invite me into your home. I was naked, and you didn't give me clothing. I was sick and in prison, and you didn't visit me.'

"Then they will reply, 'Lord, when did we ever see you hungry or thirsty or a stranger or naked or sick or in prison, and not help you?'

"And he will answer, 'I tell you the truth, when you refused to help the least of these my brothers and sisters, you were refusing to help me.'

"And they will go away into eternal punishment, but the righteous will go into eternal life."

That is Jesus Christ the Lord, God made human, telling us directly and explicitly how we will be judged when we stand before God.

I have three simple questions to ask you.

One: Do you believe that Jesus Christ is God?

Two: Do you believe that He said this?

Three: Do you believe He meant it?

If your answer to those three questions is yes, yes and yes, then there aren't any more questions. You know how you should live and what you should do.