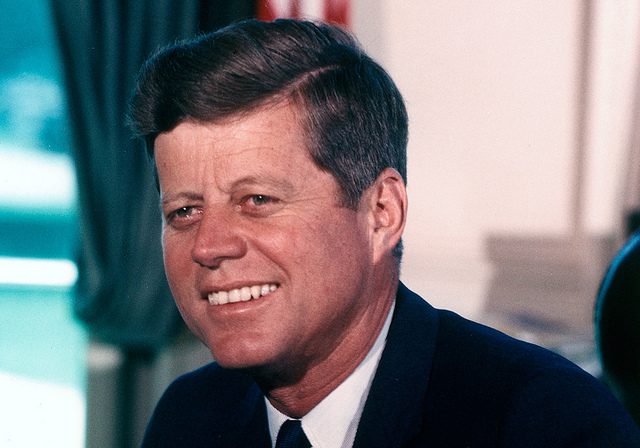 This is worth a look. It's President Kennedy's first press conference.
We were deep in the cold war when this press conference occurred. Now, we're about to inaugurate a president whose electoral efforts benefitted greatly from Russian hacking.
Claims that the Russian hacking and the subsequent release of embarrassing emails concerning President Elect Trump's opponent had no effect on the outcome of the election are specious nonsense. Given the small margin with which he won key electoral states, they were crucial to his win.
He spent months aggressively denying that the Russians were behind the leaks and attacking anyone who disagreed with him about it. He even called on Congress to "investigate" those who brought proof of the fact that the Russians had done this to America. He praised the Russian president repeatedly throughout his campaign. He publicly called on the Russians to continue the hacking. He even praised the Russian president in the direct context of these cyber attacks on our nation.
He has given every indication that he intends to repay this Russian favor by changing American policy in ways that are favorable to the Russians. He has behaved like a man who is not only guilty, but who doesn't much care if we know he's guilty.
There is no issue that even begins to rise to the level that this does. It obviates any other discussion about our President Elect.
A hostile foreign power interfered in the election of our president and, given how close the vote was in key states, may very well have supplied the vote difference by means of the information they released. The candidate that they tried to elect won and has, from the beginning of his candidacy, publicly and consistently courted the favor of this foreign power.
President John Kennedy was a war hero who won the Silver Cross. Our current president — who has never worn the uniform — has said that Senator John McCain, who was a prisoner of war during Viet Nam and who suffered torture during that imprisonment which has left him with permanent disabilities, is not a hero.
As for the two press conferences, President Kennedy talked about actual issues and real actions. He was courteous and refrained from bullying and name-calling, even of his political opponents. His analysis of Congress' reaction to his legislative agenda was strong, but courteous. He directly answered questions in detail. He also dealt with criticisms of his administration from American citizens with a serious, thoughtful reply, expressed with respect.
There was a brief question at the end about how to handle things if the president was incapacitated. This has an eery feel, looking back.
The press was able to get into substantive questioning with him and get real answers. There was not one demagogic soundbite in the entire press conference, just a clear, respectful and intelligent question and answer session between the President of the United States and the press corp.
The contrast between the abusive, arm-waving, braggadocio behavior we witnessed earlier this week couldn't be more stark. It's not just an illustration of how far we've sunk in the quality of our presidents. It also illustrates how degraded and crude we have become as a people.
The America of 1961 would not have tolerated behavior like President Elect Trump's from anyone in public life, including entertainers. Of course, part of the problem is that President Elect Trump behaves far more like an entertainer than he does a president.