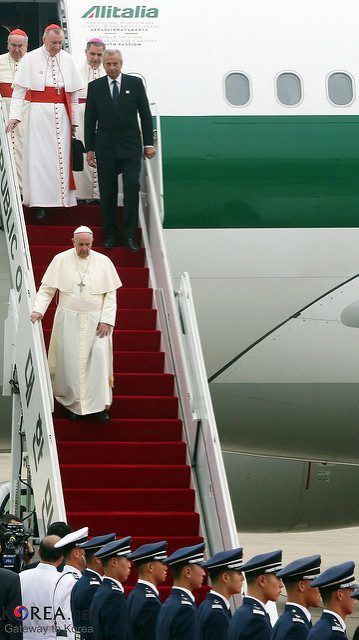 I'm disappointed in Pope Emeritus Benedict.
He resigned the papacy and toddled off into his retirement. Now another man has the job. This man, Pope Francis, has been under heavy criticism, much of it financed by big oil and right wing money interests because they see his teachings as a threat to their bottom line.
Pope Francis was barely elected before the attacks from the right began. Rush Limbaugh made the absurd claim that the Pope was a "communist." Others criticized him for wearing the wrong color shoes, refusing to get all womped up in complex clothing and this and that and everything else.
This has gone so far that right wing money interests have been actively organizing in Europe, trying to recruit both politicians and dissatisfied Catholic clergy, including a couple of cardinals, to join their attacks on the pope. It apparently doesn't bother them that this could lead to schism in the Church.
Now, here comes Pope Benedict, jumping into the on-going discussion about whether or not to allow married priests in parts of the world where the Church is unable to provide the sacraments to the faithful because clergy are spread so thin.
Granted, married priests would be a big change. But Peter was married. St Paul evidently was single, and wrote of his preference for the single state. However, Jesus never said anything in opposition to married priests despite the fact that the priests of His time — including his relative Zachariah — were married. The Catholic Church did not forbid married priests until the Lateran Councils of 1123 and 1139. It seems to me that the Pope is well within the limits of his office to consider this change.
I don't personally have a lot of concern about this decision, whichever way it goes. I was Protestant for many years. My grandmother was a Pentecostal Holiness pastor. I've been a Catholic whose pastors are unmarried priests for around 20 years now. My experience is that it can work, either way.
I also don't doubt that Pope Emeritus Benedict has opinions about all this. After all, his life's work was theology and church administration. However, he resigned. Another man is the pope now.
Pope Francis deserves and needs Pope Emeritus Benedict's support. It is not good for the Church for a former pope to try to do an end run around the decision-making process of our current pope. It is also not fair.
I'm aware that "explanations" denying that this is an attack on Pope Francis are already being booted about. But we wouldn't need explaining and cleaning up if Pope Emeritus Benedict and his co-author Cardinal Sarah had just stayed silent. Pope Francis has enough troubles without more of them coming from his predecessor.
I'm disappointed in Pope Emeritus Benedict. He resigned. Another man is pope. Pope Emeritus Benedict should let it lie.
From CNN:
CNN)Retired Pope Benedict has issued a passionate defense of priestly celibacy, saying he "cannot remain silent" as his successor Pope Francis considers easing the prohibition on married men serving as priests.
What has Benedict said?

Benedict made the comments in a book that he co-authored with Cardinal Robert Sarah, which will be released in France on Wednesday.

In the book, titled "From the Depths of Our Hearts," the 92-year-old pontiff argues in favor of the centuries-old tradition of celibacy within the church, defending the ability to "put oneself completely at the disposition of the Lord" as a criterion for those wishing to be ordained as priests.
"We can say: 'Silere non possum! I cannot remain silent!'" Benedict and Sarah wrote in a joint introduction to the book, according to excerpts released by French daily newspaper Le Figaro on Sunday.