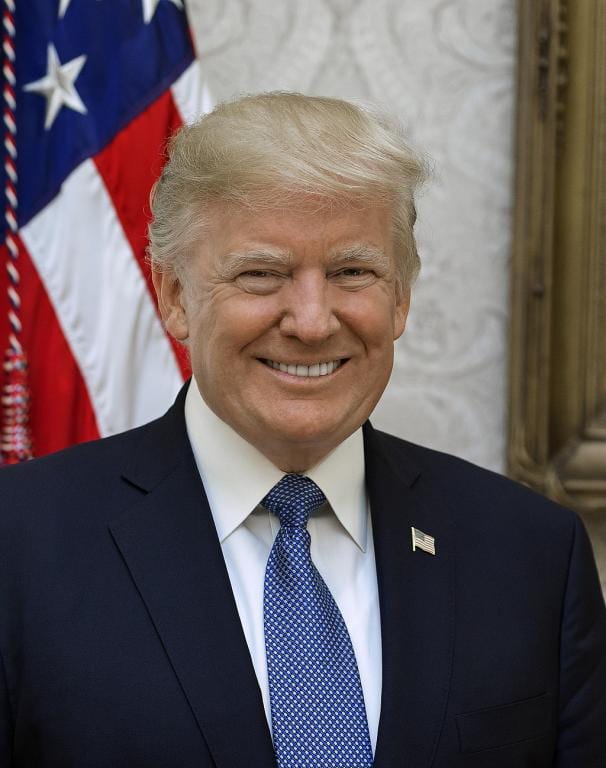 John Bolton is as far right as you can go and not fall off the edge of the planet.
He's a war hawk and a corporatist from jump street.
But evidently he's not a traitor to the USA.
That puts him in a different category from President Donald Trump.
We'll talk more and in much greater detail about President Trump's betrayals of America. The specific point here is that President Trump clearly did all the things that he was impeached for. He doesn't even deny it, at least not consistently. Some days, he denies. Other days, he brags about it.
His chief of staff, Mike Mulvaney, not only admitted it, he told us to "get over it." In a typical Trumpian lie, he later denied saying what he said in front of the whole world and on video. He did this despite the fact that the reporter gave him chance after chance to clarify at the time.
The reporter asked Mulvaney over and over and each time he asked, he made the question more specific and clear. Each time he was asked, Mulvaney affirmed that the President did indeed try to use American aid to coerce a foreign nation to interfere in his upcoming election.
The president himself has said that he is guilty of withholding evidence from Congress. He bragged about it in a speech. From Rolling Stone:
Trump Brags About Concealing Impeachment Evidence: 'We Have All the Material, They Don't'

The president says impeachment is going well and that he has been watching from Davos
President Trump said he's happy with the way the impeachment trial is going thus far because his administration has not released "materials" that would hurt his cause.

"When we released that conversation all hell broke out with the Democrats," Trump said. "Because they said, 'Wait a minute, this is much different than [what Adam Schiff] told us.' "

The president continued, "So, we're doing very well. I got to watch [the impeachment trial] enough. I thought our team did a very good job. But honestly, we have all the material. They don't have the material."
Now, his former National Security Advisor and war hawk's war hawk, John Bolton has come forward to say that President Trump did arrange a quid pro quo.
According to Bolton, President Trump threatened to withhold American aid (paid for by you and me, by the way) from the Ukraine unless the Ukrainians would help him in his re-election bid by attacking Joe Biden. From
Business Insider: 
Former national security adviser John Bolton says Trump directly confirmed a Ukraine quid pro quo in a conversation last year
The New York Times on Sunday reported that the former national security adviser John Bolton had implicated President Donald Trump in an explicit quid pro quo related to Ukrainian military aid.
The Times cited an unpublished manuscript of Bolton's coming book as indicating that Trump told Bolton in August that Trump would withhold military aid from Ukraine until it acceded to Trump's demands for politically motivated investigations.
The president is on trial in the Senate after he was impeached last month on charges of abuse of power and obstruction of Congress over accusations he tried to solicit Ukraine's interference in the 2020 election.
Bolton announced earlier this month that he would be willing to testify if subpoenaed in Trump's Senate trial. He is a key figure in several episodes under scrutiny, and The Times' reporting indicates he could have significant new information about Trump's pressure campaign.

The former US national security adviser John Bolton says in his new book that President Donald Trump directly told him of plans to withhold military aid to Ukraine until that country's president agreed to deliver politically motivated investigations targeting Trump's rivals, according to a Sunday report in The New York Times, which cited an unpublished manuscript of Bolton's book.

Bolton reportedly said Trump asked the Office of Management and Budget last year to continue a nearly monthlong hold on $391 million in military aid to Ukraine. The Times cited multiple sources as describing Bolton's account.

The president is facing a Senate trial after he was impeached last month on charges of abuse of power and obstruction of Congress. Both charges are related to his efforts to strong-arm Ukraine into investigating former Vice President Joe Biden and a discredited conspiracy theory about Ukrainian interference in the 2016 election.
Reuters
I hasten to remind you that this is the same president who was elected by Russian interference in our 2016 election. He is the same president who publicly asked the Russians to interfere in his 2016 election (and subsequently said he was "just joking".) It is no small thing that President Trump has followed through by doing Putin's bidding by trashing NATO, destroying America's alliances, and setting up millions of the Kurds who had beaten ISIS down to nothing as our allies for genocidal murder.
The point is simple. He's guilty.
What he did is a crime under several statutes.
It certainly "rise to the level of impeachment." In fact, I would say that it rises to the level of imprisonment.
And (I repeat) He. Did. It.
His absurd defense seems to be two-pronged. One, the Democrats are bad, and two, Trump has such godlike extra-Constitutional powers that anything he decides to do is right by definition.
Both of these are crazy King George III defenses. Or maybe crazy Caligula defenses.
Whatever name you chose for them, these defenses only hold water if you are totally willing to betray America yourself in order to follow Trump; if you think this country and its survival are nothing.
American Christians are being subjected to outrageous spiritual abuse, bullying and spiritual blackmail from their religious leaders and many of Trump's excessively aggressive followers. According to these practitioners of the political heresy, anyone who does not believe Trump, follow Trump, blindly vote for Trump and allow Trump to do whatever he wants, is going straight to flaming hell.
That's a lie folks. The people telling you this are nuts. I'm going easy when I say they are nuts. There are harsher ways to describe their behavior.
Will you go to hell if you chose to save America instead of blindly backing Traitor Trump? I don't think so.