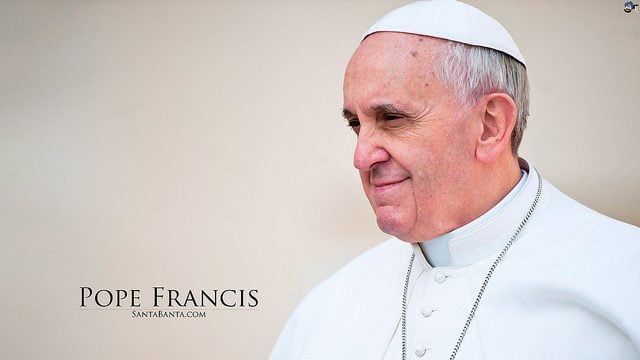 Sometimes people get caught up in things without realizing the impact they will have.
It appears that Pope Emeritus Benedict experienced just that after he was listed as a co-author of a book by Robert Cardinal Sarah discussing priestly celibacy. Lots of people, including me, saw this move as an attempt to undercut the Holy Father, Pope Francis' authority in this matter.
From what I've seen in comboxes, Catholics were already choosing up sides about it, and some of the most self-consciously devout were all in for denying Pope Francis' authority on this issue. Now, Pope Emeritus Benedict says he never co-authored the book in the first place.
He has asked that his name be removed as co-author of this book, which leaves it the work of Cardinal Sarah, speaking for Cardinal Sarah. There has been a small Vatican kerfuffle over whether or not Pope Emeritus Benedict knowingly allowed his name to be put on the book as co-author in the first place.
According to his personal secretary, Archbishop Georg Ganswein, the former pope only thought he was preparing an essay on the topic and did not intend to be listed as co-author of the book. For his part, Cardinal Sarah has removed the name "Benedict XVI" from the book while still insisting that the Pope Emeritus intended to be a co-author.
Meanwhile, at least some brother bishops are jumping on the pile to get in a few licks of their own. All in all, it's a nasty little fight.
Archbishop Ganswein's statement here.
From The National Catholic Reporter:
VATICAN CITY — Retired Pope Benedict XVI's name is being removed as a coauthor of a controversial new book defending the Catholic Church's practice of clerical celibacy after dueling accounts emerged of the ex-pontiff's involvement in the preparation of the volume.

The removal, confirmed in a tweet Jan. 14 by Cardinal Robert Sarah, the other author of the book, comes after an odd and dramatic public dispute between Sarah and Archbishop Georg Gänswein, Benedict's private secretary.

In fact, announcement of the change in authorship came only 90 minutes after Sarah had tweeted a statement defending the choice to list Benedict as a coauthor, claiming the former pope had reviewed the entire manuscript of the volume, the cover design, and also consulted on the publication date.

Sarah, who leads the Vatican's liturgy office, even quoted a Nov. 25 conversation with Benedict, in which the cardinal said the ex-pontiff had told him: "I agree that the text be published in the form you have foreseen."

Within an hour, Gänswein had told Italian and German-language news agencies that Benedict only thought he was preparing an essay for the volume, and did not intend to be listed as a coauthor.

"He never approved any project for a coauthored book, and never saw nor authorized the cover," the archbishop told Italy's Ansa agency.

The book, which was set to be released in France Jan. 15, carries the title Des profondeurs de nos cœurs ("From the Depths of Our Hearts"). The volume, which defends clerical celibacy in stark terms, comes as Pope Francis is considering the possibility of allowing older, married men to be ordained as priests in the Amazon region.

Benedict's announced involvement touched off a firestorm of concern among theologians, who worried about the impact of a former pope weighing in on an issue under active consideration by the reigning pontiff. (Read the rest here.)