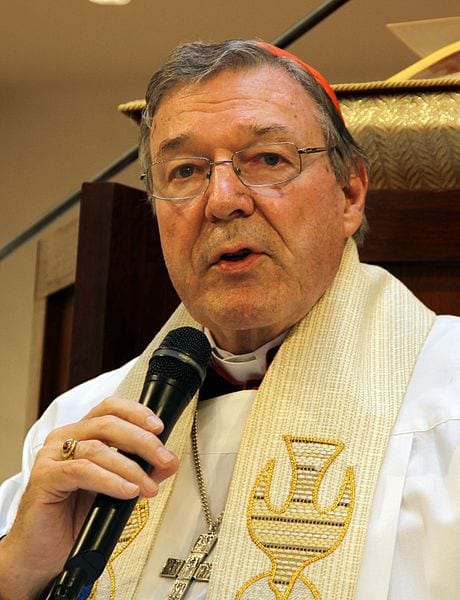 Cardinal Pell's petition to overturn his conviction for sexual abuse will be heard in the High Court of Australia March 11-12.
The Cardinal's first appeal was dismissed in a two to one decision last August. If the upcoming appeal fails, the Cardinal has no other appeals left and will have to serve at least the remaining minimum of his sentence, which would keep him behind bars for another three years and eight months.
Cardinal Pell's conviction created controversy around the world. Many Catholics feel that the charges and resulting trial and conviction were motivated by opposition to Cardinal Pell's support of traditional Catholic teachings on matters such as marriage and abortion.
I don't have an opinion about whether or not Cardinal Pell is guilty. However, he got a hung jury in his first trial and was not allowed to cross examine witnesses in the second trial.
To my American eyes, this is flawed procedure. The right to confront and cross examine your accusers is evidently not a central point of Australian jurisprudence. But I grew up in a country where this right is a basic part of our primary government document, the Constitution.
I don't honestly think that a trial in which the accusers' testimony from a previous trial is all that is allowed, with no requirement that they testify or undergo cross examination, is a valid trial.
As I said, I don't know and have no interest in commenting on Cardinal Pell's guilt or innocence. But I do think he deserves another trial in which the accusers testify and are cross examined by his attorneys.
From the National Catholic Reporter:
Yangon, Myanmar — Cardinal George Pell will have his last chance to have his conviction for sexually abusing two 13-year old choirboys overturned when his lawyers plead his case to the High Court of Australia March 11-12.

But the full bench of Australia's highest court — either five or all seven justices — will take several months, at least, to determine the fate of the former senior adviser to Pope Francis.

In the meantime, Australia's most senior Catholic will remain, as he has been since his March 2019 sentencing, in virtual solitary confinement in a provincial prison.

If the High Court fails to overturn the verdict of a 12-person jury that found him guilty of four counts of sexual assault and one count of child rape, Pell, 78, will spend at least 32 more months in prison.

That's the remainder of his minimum three years and eight months, of a six-year sentence, handed down by Chief Justice Peter Kidd of the Victorian Supreme Court, who described Pell's offenses as "a brazen and forcible sexual attack on the victims."