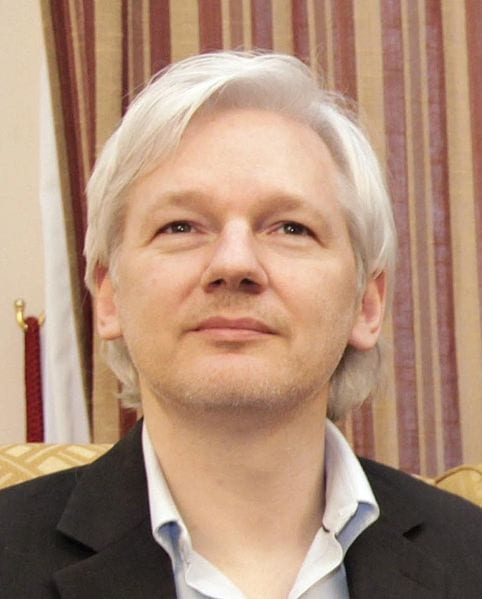 The former United States Congressman who Julian Assange's attorney said offered Assange a pardon from President Trump in exchange for Assange covering for the Russians has confirmed that he did in fact make such an offer.
The former congressman, Dana Rohrbacher, says that he contacted Assange and offered to go to President Trump and ask him to grant a pardon to Assange if Assange would say that the source of the Wikileaks attacks that helped elect Trump did not come from the Russians, but from a DNC staffer.
Rohrbacher claims that Assange "knew that I could get to the president." He also says that when he called the White House about this conversation, he talked to Chief of Staff Kelly, who did not get back with him on it. That would place the event after the 2016 election.
If what he's saying is true, I misinterpreted the news story I discussed yesterday. I thought, based on that story, that this all took place before the 2016 election. Based on the story I'm reading today, I was wrong about that, and I apologize.
Assuming that former Congressman Rohrbacher is telling the truth about this series of events, the president did not instigate this offer and did not follow through with it when it was brought to his attention. If it turns out that this version of events is also incorrect, I'll come back here and tell you about it.
There is more than enough evidence from other quarters to say that the president is a traitor to this country. Not least among this is his own admission, as well as the admissions of his chief of staff and his defense attorneys that he is guilty of withholding aid money to a foreign power in order to coerce them into interfering in our election against his political opponent.
While he denies that he colluded with the Russians in their interference on his behalf in the 2016 election campaign, there is no doubt that they did in fact interfere in the election and that he was the beneficiary of their interference. His own son testified that he contacted the Russians during this time period. We know that the Trump campaign gave the Russians copies of their voter polling information which would be almost certainly used by the Russians in targeting voters for Trump.
Given all that, I am persuaded that the President of the United States is a traitor.
But the post I wrote yesterday about the Assange offer was based on an assumption from a news story that is not accurate, at least based on what Rohrbacher has admitted to so far. Since there is no one to depose him and check what he says, I imagine we will learn very little more.
From Yahoo News:
WASHINGTON — Former California Republican congressman Dana Rohrabacher confirmed in a new interview that during a three-hour meeting at the Ecuadorian Embassy in August 2017, he told Julian Assange he would get President Trump to give him a pardon if he turned over information proving the Russians had not been the source of internal Democratic National Committee emails published by WikiLeaks.

In a phone interview with Yahoo News, Rohrabacher said his goal during the meeting was to find proof for a widely debunked conspiracy theory: that WikiLeaks' real source for the DNC emails was not Russian intelligence agents, as U.S. officials have since concluded, but former DNC staffer Seth Rich, who was murdered on the streets of Washington in July 2016 in what police believe was a botched robbery.

A lawyer for Assange in London on Wednesday cited the pardon offer from Rohrabacher during a court hearing on the U.S. government's request to extradite the WikiLeaks founder.

White House press secretary Stephanie Grisham immediately denounced the claim about a pardon discussion with Assange as a "complete fabrication," adding that the president "barely knows Dana Rohrabacher" and has "never spoken to him on this subject or almost any subject."

Rohrabacher said that not only did talk of a Trump pardon take place during his meeting, but he also followed up by calling then White House chief of staff John Kelly to discuss the proposal. He did not, however, ever speak to Trump about it, he said.

"I spoke to Julian Assange and told him if he would provide evidence about who gave WikiLeaks the emails I would petition the president to give him a pardon," Rohrabacher said. "He knew I could get to the president."