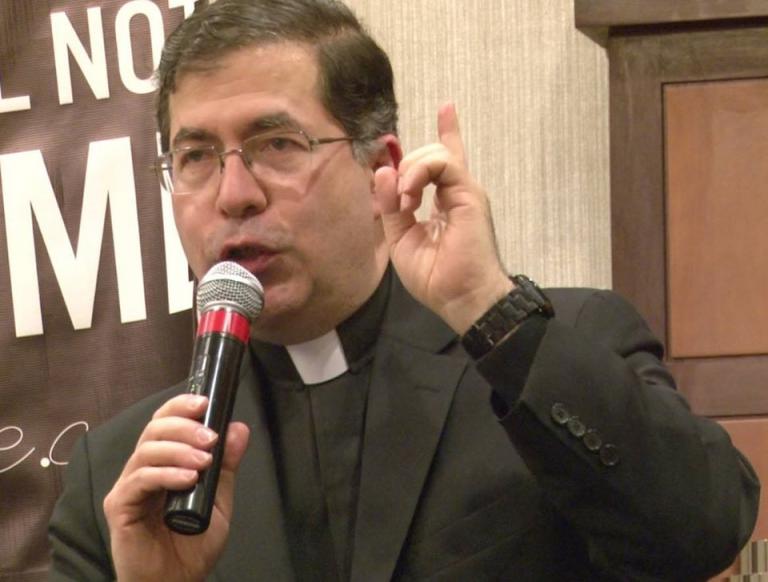 Father Frank Pavone has resigned from his official position on Trump's re-election team. He says he is doing this as an act of obedience to his superiors in the Church.
The way his statement is worded, with the careful use of the phrasing "official title/position on the advisory boards," I think it is likely that Fr Frank will continue in these positions in an "unofficial" capacity. What I mean is that I think, based on how he worded his statement, that he plans to continue doing the same thing he was doing, only without an official title.
As always, Deacon Greg Kandra has the story:

"I'VE BEEN REQUESTED BY THE COMPETENT ECCLESIASTICAL AUTHORITY NOT TO HAVE AN OFFICIAL TITLE/POSITION ON THE ADVISORY BOARDS. SO, AS A PRIEST IN GOOD STANDING, I'VE FOLLOWED THAT REQUEST."

From The National Catholic Register:

Priests for Life national director Fr. Frank Pavone has resigned from advisory positions in the reelection campaign of President Donald Trump. The priest withdrew at the direction of Church authorities, he told CNA Friday.

"I've been requested by the competent ecclesiastical authority not to have an official title/position on the advisory boards. So, as a priest in good standing, I've followed that request," Pavone told CNA July 24, in response to questions about his role in the Trump campaign.

In January, Fr. Pavone was appointed co-chair of the Pro-Life Voices for Trump coalition, and in April was announced as a member of the Catholics for Trump advisory board; the priest headlined that month an online kickoff event for the Trump Catholic group. Both groups are organized as part of the Trump campaign. Fr. Pavone was also a co-chair of the Trump pro-life coalition in 2016.

Fr. Pavone's role in a political campaign was unusual for a priest. Members of the clergy require permission to "have an active part in political parties," according to the Church's canon law.

In April, Fr. Pavone told CNA that he did not believe himself to need permission for campaign involvement because he considered Trump's reelection to be a matter of urgency. "I'm not going to ask anybody's permission to go scream that the house is on fire," he said at the time.

But on Friday, Fr. Pavone said that he had "been asking for permission to serve on these advisory boards" when he was "requested" to resign from them.