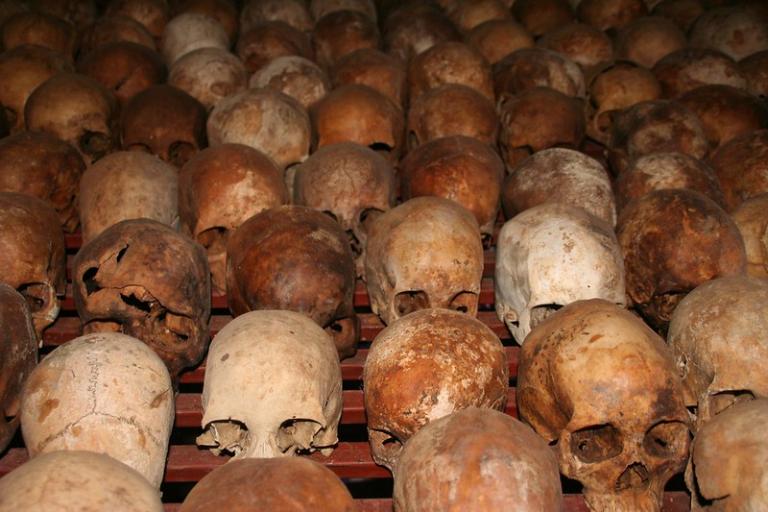 The world is evil and rushes towards its ruin. It is about to fall in its abyss. The world is in rebellion against God. Many sins are being committed. There is no love and no peace. If you do not repent and convert your hearts, you will all fall into an abyss.
Our Lady of Kibeho
She was a young girl, in a time and place where girls were of no importance, the daughter of Joachim and Anne, betrothed to Joseph, the village carpenter. They lived in a backwater hamlet in an impoverished country ruled by a vassal king who served Rome.
Two thousand years later, we kneel before statues of this young girl and lay bouquets of roses at her feet. We pray, asking her to intercede for us with her Son. We call her Our Lady, Our Mother, the Second Eve, Co-Redemptrix of Humanity, the Ark of the New Covenant and the Mother of God.
She appears to people all over the globe in a fashion similar to the way the Archangel Gabriel once appeared to her. She delivers messages meant for all humankind. These messages always contain exhortations for us to pray, repent and be saved.
She has asked for churches to be built, for the consecration of Russia to her Immaculate Heart. She has asked us to set various places aside for prayer and healing such as Lourdes. She has performed miracles such as the Miracle of the Sun at Fatima and the imprint of her image on Juan Diego's tilma. Over and over again, she has asked people to pray the Rosary. She even called herself Our Lady of the Rosary.
Around a decade before the genocide in Rwanda, she appeared to school children in that country at Kibeho and warned them of the coming genocide. She gave them visions of the "river of blood" that would flow and the mass killing that would occur in the place where they were standing. She asked them to promote the Rosary of the Seven Sorrows of Mary to lead the people of that land to repentance and conversion, so that the horrors that were coming could be averted.
The people of Rwanda failed to heed this warning. Approximately a million people were murdered in a hundred days of genocidal rage that was, as these things always are, promoted and defended by a corrupt and evil government.
Immaculee Ilibagiza wrote a book called Left to Tell, in which she described how she survived the genocide by hiding in a 3×4 ft bathroom with seven other women for 91 days. She told how she prayed the Rosary continuously during the endless hours she was crammed into that little room.
Immaculee lost almost all of her family in the genocide. It destroyed the life she had before it happened and left her with nothing. She has developed a ministry, which, unlike most of the anger-inciting political "ministries" that litter the American landscape today, is a ministry of conversion that seeks peace. One of her books, in which she addresses the failure of the Rwandan people to heed Our Lady's warning and pray the Rosary of the Seven Sorrows of Mary, bears the poignant title If Only We had Listened.
Her witness reminds me of Corey ten Boom's witness after World War II. Before I read Corey ten Boom's book, The Hiding Place, I was unaware that there were Christians who had stood against Hitler. I was a new convert, and it was a powerful revelation to me that not all Christians had followed the Nazis.
I've since realized that in times of great political upheaval caused by ruthless demagogues who come along and do their worst, most people, including most Christians, fall into line and march along behind the killers. Rwanda had the highest number of Christians in its population of any country in Africa. The people who killed were mostly professing Christians, the people they were killing were mostly their brothers and sisters in Christ.
Satan uses anyone he can. I believe he takes special delight in using Christians to do evil.
Today, Rwanda struggles with its murderous past. Many Rwandans have walked away from their faith in Christ because of their terrible corporate failure to live the Gospels in the time of genocide.
The same breakdown of true Gospel followership happened in Germany, Guatemala, Chile, Nicaragua, El Salvador, Argentina, present-day Mexico and is happening right now here in America.
The killer squads who "disappeared" so many innocent people in Guatemala, Chile, Nicaragua, El Salvador were channeling the same evil as the killers in Germany and Rwanda. Human beings assented to be the human embodiment of evil when they killed Blessed Stanley Rother, St Oscar Romero, and raped and murdered the four Catholic missionaries and nuns in El Salvador.
The drug traffickers who rape and murder young girls in Juarez and who kill with impunity throughout Mexico are evil walking on two feet. Police who look the other way and clergy who minister to the wealthy and preach a false Gospel of political expedience and indifference to the poor are the same evil, in a different uniform.
No country, no person, is immune. We are all capable of doing great evil. We can all tell ourselves lies that make it seem palatable, even good. At the same time, any one of us, can, by a simple turn of fate, become the helpless victim of evil ourselves.
It was genocidal evil when the 7th Calvary rode in on a village of peaceful Cheyenne on the Washita River, when this nation sent women, children and old people on the deadly forced march of the Trail of Tears. It is evil when the border patrol puts children in cages, mercenaries fire rubber bullets at unarmed women in Portland, or unborn babies are killed in assembly-line fashion in abortion clinics.
It is all one soul-killing evil. You cannot pick and choose among evil's manifestations. You cannot say you oppose killing the unborn but you support putting children in cages and claim that you are not yourself a disciple of evil.
Government evil is different in scale from individual evil. But government evil is still a deeply personal sin that is committed by individual people. Doing evil to other people is always an act of individual assent.
Every murderer in Rwanda swung the machete himself. Every mercenary in Portland pulls the trigger himself. Every bullet fired on the Washita River was fired by an individual. Every politician, every media star, every "good" Christian, who engages in the hate language and psychological violence that sets the stage for these things speaks with their own voice in a free choice to do harm.
It doesn't take a visitation by the Mother of God to understand that Satan is having his hour in America. It also doesn't take courage to point at the other side of our great national debates and say "They are the source of this evil!"
What does take courage is to point at the reflection you see in the mirror and say "I am part of this evil."
That acknowledgment of personal responsibility is the beginning of conversion. It is the first necessary step toward the Way that leads to salvation.
America is being torn apart by artificial divisions. We aren't thinking of ourselves as Americans, as one people. We are factionalizing our nation out of existence and beginning to see one another as enemies.
I think Our Mother understands this very well. After all, she was the one who appeared to school children in Rwanda and warned them of the genocide that was coming. She described the "river of blood" that would flow over the ground where they were standing. And she told them the way out of this coming apocalypse.
It was the same message that she gives in slightly different form everywhere she shows herself to us.
"Repent," she tells us. Turn to Christ. And pray the Rosary.
In Rwanda, she specifically asked the people to pray the Rosary of the Seven Sorrows of Mary.
Our Lady has not appeared to me. But I have read her message in Immaculee Ilibagiza's books and I believe it.
I believe that God changes the world through the conversion of individual people. I further believe that this conversion is not conversion to a political position.
Real conversion doesn't lead you to change your political party. It leads you to change your life. Conversion doesn't make you into a leader. It turns you into a follower.
Real conversion is a desire born in love to follow the person of Christ — Mary's son, God made human — no matter where He may lead.
If you truly follow Christ, the cruelty you see on display today will appall you. Elie Wiesel, who knew something about hate, cruelty and indifference, said that the opposite of love is not hate; it is indifference.
I can attest that if you love Jesus and let Him fill you with His love, you will lose the capacity for indifference to the suffering of other people. You will no longer be able to obfuscate and engage in ridiculous lies in order to excuse the cruelty you see. Cruelty and hatred in all their many disguises will become intolerable to you.
You will change. And the world will change just because you are in it.
I am going to pray the Rosary of the Seven Sorrows of Mary every day from now until the Holy Spirit tells me to stop. If you would like to join me in this, I think you will find that this prayer draws you closer to Our Lady and her Son, that it opens your heart to deep repentance, spiritual cleansing and conversion.
The Rosary is a gift. The Rosary of the Seven Sorrows of Our Lady is a special gift, one she specifically advised as an antidote for the evils of times such as this.