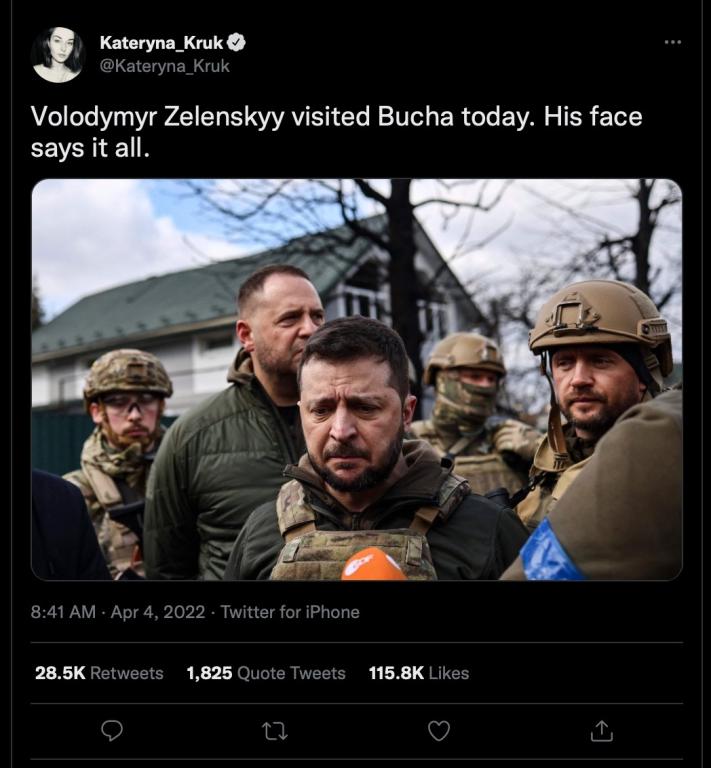 If you saw the photos of the slaughter of innocent civilians in Bucha by Russian troops, there is no need to explain this photo.
There are calls to put Putin on trial for war crimes. The obvious question is how do we actually punish the head of state of a major nuclear power?
There are other questions. Who was the Russian commander in Bucha? Who were the Russian officers?
What happened in Bucha does not look like the work of the Russian soldiers I saw in the early videos of the invasion of Ukraine. This butchery was done by hardened killers who kill for the pleasure of doing it. It's the work of a Russian SS, of a thousand serial killers in uniform.
I've read that Putin was sending Ramzan Kadyrov, who is called "the butcher of Chechnya" to Ukraine. Ramzan Kadyrov was in charge of the atrocities Russia committed in Chechnya. Are these his troops and his tactics?
I've also read that Putin is planning to employ mercenary soldiers in a group called the Wagner Group. Are they the criminals who did this?
It is not enough to charge Putin with war crimes. We also need to charge the commander and all officers at Bucha with war crimes. If either Ramzan Kadyrov or the Wagner Group was involved, they need to be charged too. I am speaking here of officers and the owner/leader of the Wagner Group.
I realize that all these people will fade back into Russia and hide after this war has ended and that we will not be able to get at them when they are there. However, if we take decisive enough legal action against them, we can arrest them if they step one foot outside Russia. We can hound them and put their names and faces on display and make them anathema in civilized society around the globe.
We live in an America which has a former president who tried to overturn our democracy and have himself installed as a dictator and we can't seem to do anything about him or the Republican members of Congress who helped him in his coup attempt.
So why do I think we can do anything about the butcher of Chechnya, the Wagner Group, and an as-yet nameless group of commanders on the ground in Bucha?
For one reason.
The Ukrainian people are willing to fight. They may react to this the way the Jewish people reacted to the Holocaust: By refusing to forget. If they want to hold the people responsible for Bucha accountable no matter how long it takes, I am absolutely willing to back them.
In the meantime, I am going to pray for Ukraine and for the man in the photo above every day. I am also going to write President Biden and ask him to sell Ukraine the planes they've been asking for. Let them buy them on time. That's not World War III. It's business. If it turns out that they don't have the money to repay us, we'll deal with that then.