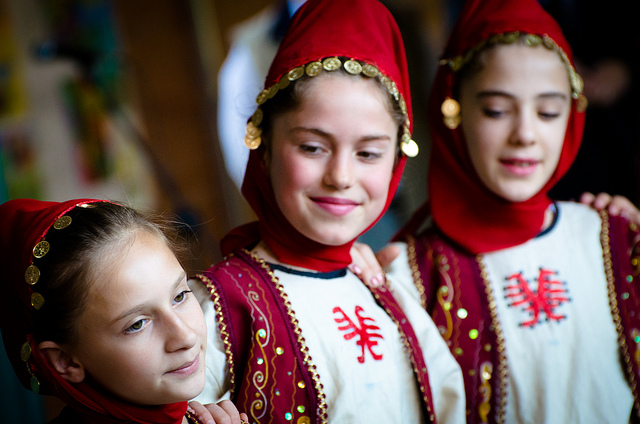 This guest post is by a dear friend of mine, Jessica Fulford. She is one of the kindest, wisest, and most faithful disciples of Jesus I know. I am so grateful she's been willing to share her story of working with Kosovar Albanians Muslims with my readers. I hope she will inspire other Christians to let go of a mindset of fear and follow in the footsteps of our Lord.
It was the summer of my sophomore year of college. My home church had just adopted the Kosovar Albanians as our "people group," which means that we would focus our international evangelical ministry on Kosovo. I had decided to join a short-term mission trip to this people group, and I couldn't wait to go. Just a year prior, the war between the Serbians and ethnic Kosovar Albanians had ended. It wasn't so much a war as it was an attempted genocide of the Albanians living in the Kosovar region.
According to the CIA's World Factbook, 94.5% of Kosovo's population is ethnic Albanian and 95.6% of the overall population is Muslim. Only 1.5% of the population is Serbian. Catholics and Orthodox Christians make up a mere 3.7% of the population. In the late 1990s, the Serbian war criminal Slobodan Milosevic decided to use the Serbian army to systematically murder all the Muslim Kosovar Albanians he could. Eventually, NATO troops and US air strikes stopped him, but not before he and his men had murdered thousands of men, women, and children.
I went with a group from our church, and we worked alongside Campus Crusade for Christ to set up an English camp. I did this for five summers in a row. I absolutely fell in love with the people. They were so incredibly hospitable, kind, and funny. At first, they were very guarded about the details of what they had endured during the war. But halfway through a class my first year, one of my students was called out of the room. When he came back in a few minutes later, he said something to my translator and quickly left the room. The translator turned to me and said, "He needs to go identify his father's remains. He may not be the only one called out today. The troops just uncovered the mass grave where all of the hospital patients were buried after they were all killed by the Serbians."
I was shocked. I saw how the rest of my students reacted. They were obviously very disturbed, so I decided to stop my class. I had only been their teacher for a few days. But I decided to take a chance. I asked my students if any of them wanted to share their own experiences.
The floodgates opened. Tears streaked down my face as I heard stories of girls sent to hotels where Serbian soldiers would sign up for fifteen-minute slots–often more than one soldier at a time. The girls cried as they talked about how they were now considered impure and knew they would never be married. The boys talked about fighting the troops alongside their brothers and fathers, many of whom were killed. Many of them lifted shirts or pant legs to show bullet wounds. One of the boys choked up as he spoke of being forced at gunpoint to fist-fight his best friend. When the soldiers got bored, they told him and his friend to try to outrun their bullets. My student ran fast enough, but his friend did not.
The stories went on and on. Babies thrown into the air and shot at. Pregnant women cut open. Bodies with crosses cut into them strewn along the road.