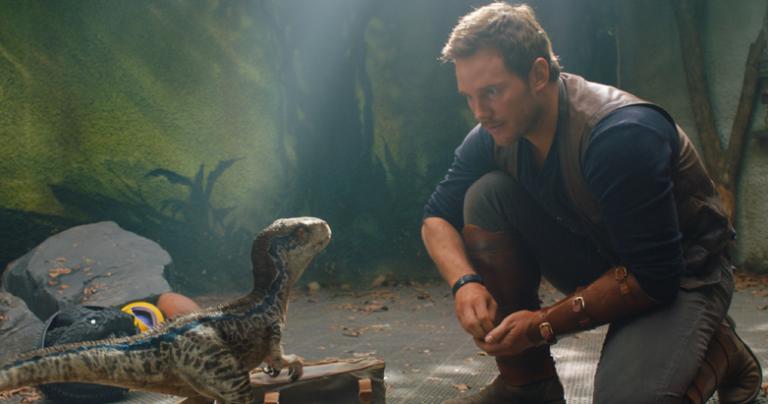 Twenty-five years ago, in front of a massive outdoor drive-in screen, I marveled at the visual effects breakthrough of dinosaurs come to life in the original Jurassic Park. As a rite of passage or perhaps just something fun to do, I took my wife and three young daughters to that same spot for a return to Isla Nubar and its prehistoric population.
Jurassic World: Fallen Kingdom, the fifth film in the Jurassic Park franchise and the second in the Jurassic World trilogy, flashes forward after the events of the 2015 release. A volcano is destroying the island and re-endangering its previously-extinct inhabitants. A rescue attempt (or suicide-mission?) is ordered, reuniting power-couple Owen Grady (Chris Pratt) and Claire Dearing (Bryce Dallas Howard). As expected when unpredictable carnivorous creatures and money-hungry corporate lackeys are concerned, a worse-case scenario ensues, setting a collision course that unravels for the rest of the film.
Probably my favorite part of the new series, other than Pratt and Howard leading the cast, is the development of the dinosaurs. I'm not talking about the new hybrid models, but the growth and character of Blue, and the emergence of the T-Rex as a hero. In the original trilogy, we rooted for the humans and feared the dinosaurs. The new series flips that just a bit.
Fallen Kingdom offers much of what Jurassic fans have loved with the series, including highly-tense moments of confrontation with monsters (both animal and human), children in peril, genetics ethics questions, and spotlighted scenes with the real franchise star, the T-Rex, now sharing the stage with Blue the Raptor. To that end, some viewers will no doubt be disappointed that the film seems like a blended up serving of the franchise's greatest hits without progressing in any new direction. Some people, like me, love greatest hits and for a fun night out with the family and friends, this was a good film to make memories with.
Jurassic World: Fallen Kingdom stars Chris Pratt and Bryce Dallas Howard, who return alongside executive producers Steven Spielberg and Colin Trevorrow. They are joined by co-stars James Cromwell, Ted Levine, Justice Smith, Geraldine Chaplin, Daniella Pineda, Toby Jones, Rafe Spall and Isabella Sermon, while BD Wong and Jeff Goldblum reprise their roles. Directed by J.A. Bayona (The Impossible), the film is written by Jurassic World's director, Trevorrow, and its co-writer, Derek Connolly.