Newsboys United, the supergroup comprised of current and former members of the chart-topping Christian rock band, has released its debut single, "Greatness of Our God" from an upcoming full-length album from FairTrade Services. The song features Michael Tait, Duncan Phillips, Jeff Frankenstein and Jody Davis alongside former members Peter Furler and Phil Joel, who have played more than 100 shows together and will embark on the Surrounded and United tour this spring with Micahel W. Smith."Greatness of Our God" is a worship anthem similar to previous Newsboys classics "He Reigns," "God's Not Dead" and "We Believe."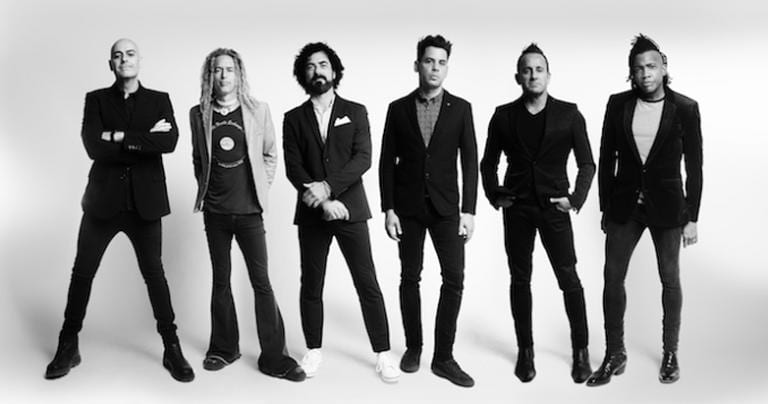 You only ever have one first interview and mine happened to be with Furler, back on the Newsboys' Goin' Public days. Somehow, the door had opened for me, as a longtime Christian music listener, to cross that threshold and start digging deeper into the genre. Newsboys opened for Steven Curtis Chapman and during Chapman's set, I made my way downstairs to a seating area and spent about 45 minutes getting to know Furler, who was at the time the founder, drummer and occasional singer. The conversation left a big impression on me and prepared me for many more meaningful conversations down the road. He was kind, honest, and entertained every question I proposed. Many years and hundreds of interviews later, I thanked him for his patience with such an eager, young, starry-eyed fan. And we even joked about it Chris Farley-style, in the video below:
With the formation of Newsboys United, which brings Furler and Joel back, I admire how it displays such unity. I can't imagine the blending of distinct eras working well in many scenarios, so it's a testament to the bond these guys seem to have.
"Peter and I have been dear friends for decades, so it's an incredible blessing to make music together now," said Tait. "We love the message of 'Greatness Of Our God,' and the song is even more meaningful for us because together we are proclaiming our gratitude to the Creator of the universe."
"We had such a brilliant time recording this song,' adds Furler. "I think we all knew we were onto something special during the process, so we're excited for 'Greatness Of Our God' to be the first official Newsboys United single."
Among the most influential bands in Christian music history, GRAMMY®-nominated, Platinum®-selling Newsboys have sold more than 10 million units, amassed eight Gold® certifications, 33 #1 radio hits, four GRAMMY® nominations, two American Music Award nominations and multiple Dove Awards. Since their formation in Australia three decades ago, Newsboys have released 23 recordings and their signature songs include "We Believe," "He Reigns," "Miracles," "Born Again" and the Platinum®-certified mega hit, "God's Not Dead." The latter inspired one of the most popular Christian film franchises of all time.
Listen to "Greatness of Our God" below: