Thirty-six years after releasing her first Christmas project, "A Christmas Album," Amy Grant has become known for her holiday collections as well as her chart-topping contemporary Christian music projects. The GRAMMY and Dove Award-winning singer released four bestselling collections that have spawned classics such as "Breath of Heaven (Mary's Song)," "Tennessee Christmas" and "Emmanuel."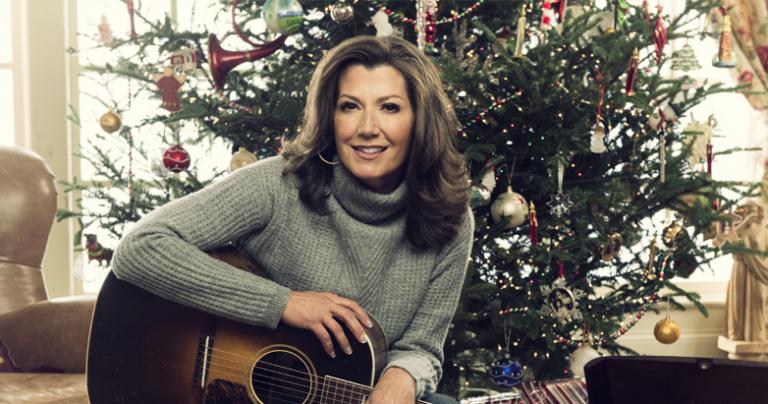 Recently, three of Grant's popular albums were released as a special box set for fans and collectors, including "A Christmas Album," "A Christmas to Remember" and the triple platinum-selling "Home for Christmas," also available on its own. The box set also includes a bonus 7" vinyl with two rare tracks, a cover of "Merry Christmas, Darling" and "Let the Season Take Wing" with special handwritten lyrics of "Breath of Heaven (Mary's Song)."
Grant, who's wrapping up her annual Christmas concerts with Michael W. Smith and a residency at the Ryman with husband Vince Gill, recently spoke to DeWayne Hamby about the new project and why she's looking forward to the last year of her 50's.
It's great to speak with you today about your new Christmas box set. It's exciting to see them released on vinyl.
All my early Christmas memories with music were all about vinyl. Long before I was making music, I was just pulling out those Christmas vinyl albums. It just sparked something so tender and precious.
It feels like the resurgence of vinyl is taking everybody back to a place of nostalgia. You get the big art that you can frame if you wanted to.
Yes. Just the packaging of an LP (is special), because listening to an album, you have to be hands-on. You have to attend to the record player itself. That created an environment of listening to music when I was a kid. We read all of the liner notes, just stared at the LP cover the same way you stared at the cereal box on Saturday morning, just read everything over and over again. Because you were just attached. You had to be attached to the technology. One thing I love about vinyl too, is like mastering a record is the actual amount of time between songs becomes a player in the game. Unlike digital, you actually are creating a sonic landscape. So, the order of songs matters, how you tell the story, how you divide side A and side B. So, I always think about music that way.
It seems like a lost art form, creating a whole experience. Because we break it up into kind of how we've done the Bible. We break it up by verse and it's supposed to be read by chapters to get the full context and experience.
The arc of the story.
So, all the records that are in this are three of your earliest Christmas albums.
There are three. They are "A Christmas Album" that released in 1983, "Home for Christmas," which released in 1992 and "A Christmas to Remember," which was 1999, and then there's also a 45 that has that had two limited release songs on it. I wrote out part of a Christmas lyric that was reprinted for this. "Home for Christmas," which to me will always be a standalone classic, all of those amazing orchestral arrangements by Ron Huff, that LP is offered as a standalone also.
We're talking about weddings and seasons of life. You now have grandchildren. How does that impact your creativity? Has it changed at all or now that you're seeing things through a little bit different lens?
The biggest change in my book is that Corinna, Vince's and my daughter, left for college.  So, I'm getting so much more sleep. I feel like I have not been this rested in a long time. And that feels amazing. I'm looking forward in January to really diving back into songwriting, and just enjoying family. Our grandson Wyatt is five, and Everly is two. They're just at that "melt your heart" stage, with imagination on stun. To be as free with what we think and feel as a five-year-old. I do enjoy playing with the kids, really playing. And I just think there's a part of me that I love the excuse of having a little one there to build a train track to play pretend.
So, you're empty nesters now.
We are. And we have, over the last year, taken the kids bedrooms and cleaned out the closet, cleaned out the drawers and, and opened Ché Gill. I have told people, "When you're coming to town, they have jacked up the hotel prices in Nashville." I just say, "Stay with us." I've had people stay with us that I have only met one time. We had so many we had houseguests for eight days surrounding my daughter's wedding last week. And some guests leaving, more guests arriving. There was a time that we had a child in every room and Corrina when she was a baby, she slept the first 18 months of her life in my closet. That was her nursery. We're a big family, five kids. So, we were all glad when she came out of the closet at 18 months (laughs).
I would think that you're the kind of person who likes to be the hostess. Am I assuming right? Do you like to have company around?
I do. I am an introvert who enjoys people (laughs). You know, I just need both. But what I love about houseguests, especially friends, is the conversation that happens late at night and first thing in the morning when there's shuffling around with a cup of coffee with your house shoes on. It's just different. To me, that's really big stuff. I had a couple of writers in town and one I met when she showed up at my house, she was Canadian. We were participating in a small writers' retreat for authors and songwriters. And we wound up on the front porch, four of us. And then the evening got cool. I went inside, and I have a collection of bathrobes, and I brought them outside, and I got tickled. It was late at night and I thought "We look like we're from an insane asylum sitting in bathrobes on rocking gears on a front porch late at night." But that's just the disarming time of the day.
I know you're also doing the Christmas tour with Michael W. Smith and the shows at the Ryman with Vince. What's next after that?
Yes, seven shows with Michael on the road with symphonies and then 12 shows with Vince at the Ryman, I love both of those traditions. Then in January, I will be launching into my last year in my 50s. I'll turn 59 right before we start all the Christmas shows, and I am so excited about a year of reflection and writing. And I've blocked off several chunks of time, anywhere from two to three weeks at a stretch, and I am mapping the route I'm going to take to visit places across the country that I've only seen in a work context. But I just want to go as a traveler. I'm so inspired years ago by John Steinbeck's book "Travels with Charley." He just made a loop around the United States, and he camped the whole way. I'm planning my own version of that. And I'm so excited about it. And it'll be a combination of time alone and with friends and then, of course, events coming and going.
Because I started working so young, I just never had that time like between high school and college to take it all in. I've sort of always worked. And so, I hope this will come out creatively, but I'm not even putting that kind of demand on myself. I just want to enjoy it and be amazed and still with wonder, the beauty of people and, and this country and the seasons. I want to be in it without an agenda. A friend of mine was just not even a recreational bike rider, but his passion is birds. He's a birdwatcher. He's written a book, but he has always wanted to follow the migratory path of the Broad-winged Hawk. It took him seven months. He biked from Hancock, New Hampshire, into South America. His wife is a storyteller and a dear friend of mine. He spent Thanksgiving in Galveston, and he found some people that were camping on the beach. And they invited him to share Thanksgiving. In the news, we only hear the bad, and one night he was in Central America. He was in what's called the murder capital of the world. And he was cautious. He was in a place safe to sleep by the time the sun went down, but he said what he found mostly was the kindness of strangers. So, I want to discover that and extend that also.