It's been thirty years since Amy Grant released the groundbreaking project "Heart in Motion," which propelled the Christian music icon into the pop music stratosphere. The album, produced by Brown Bannister, Michael Omartian, and Keith Thomas, produced five top 10 Billboard singles, including the chart-topping "Baby Baby," and sold more than five million albums.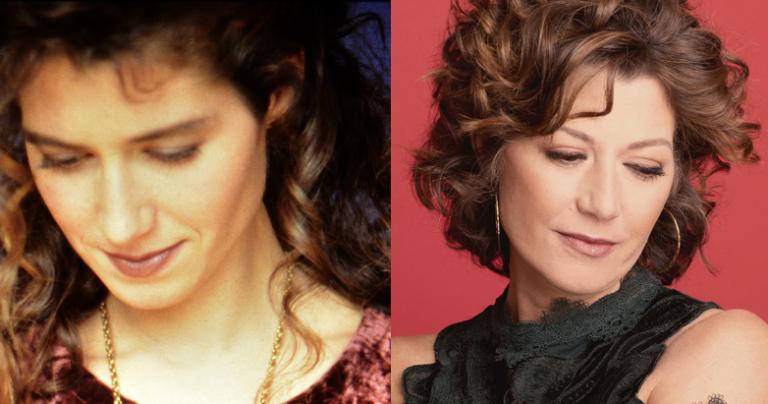 Celebrating the anniversary, Grant has been sharing memories on social media and playlists on digital outlets celebrating the music that still resonates with many listeners today. Last week, a 30th-anniversary edition released, with the full album remastered as well as demo tracks, remixes, and new songs "Don't Ever Want to Lose It (Wind In The Fire)," "Stand By Me," and "Day and Night" that were "extras" during the original album's release. The six-time GRAMMY Award winner will also embark on a 39-city tour to celebrate the album's anniversary this fall.
Recently, Grant "stopped for a minute" to talk about the seminal project, her heart health scare, exciting family developments, creativity and collaboration, and the "new adventures" ahead.
We were praying for you during your heart scare last year. I say times like that were "the best of times, the worst of times" meaning that everybody just showers you with love even while you're going through it. Is that how you felt?
Absolutely. I felt so lifted on the wings of prayer. I really did. It really re-inspired me always to pray for people going through stuff. It's powerful.
I've heard you talk about how "Heart in Motion" was just a fun time and not as serious as previous projects. Can you talk about that?
Well, just our personal life was filled with young children, just living on a tour bus with young children. You're laughing or you're exhausted. To me, that that record was just such a reflection of, I'd always wanted to be a mom. When people say, "What are you most proud of in what you've done in music?," without hesitation I say that I squeezed four pregnancies into a nonstop career. It was just a beautiful time. That record for a lot of us, not just for me, but for the record company, for the producers, for a lot of the songwriters, we just see that—not that there wasn't a lot that came before that—but the doors of opportunity that opened up as a result of that record, changed a lot for all of us. And I have to tell you, my favorite thing about celebrating this—my inspiration for "Baby Baby" was my daughter, Millie. She married in 2019. And July 4, she sent out a message to the whole family. And she's expecting a baby girl. And of course, you know, I was pregnant with her, and she was a baby when I was writing that record. And it's like "Thirty years, Oh my gosh. And she's exactly where I was." So that's been a beautiful, full-circle moment.
Out of curiosity, did you have people who would come alongside and say "Hey, let's go that direction" or "Let's do this." You seem like an easygoing person. Were there moments where you were reluctant about that? Or did you just kind of go with the flow?
My favorite way to do any job, any job, really is just to enjoy camaraderie and teamwork. I love when you're working to bring a song into full production. It goes from something super simple, but everybody brings their gifts. You know, I wouldn't begin to tell the drummer how to play his part. Everything is endless possibilities when it comes to creativity. And in that era, I leaned very heavily on Mike Blanton, who's one of my managers, and maybe it was because I was a hard worker, and super laid back, but willing. I had always worked with just one producer up till that point, but Mike said, "You know, let's try something different." I look back on that time, and maybe he had a big master plan, but everybody's just doing the best they can, and "Does this song move you?" Oh, my gosh, it's a pretty quick response. Somebody writes something and you just have a visceral response to it. And mostly what I remember about that time is just feeling so responsive to my own creativity and other people's creative ideas. I guess I was kind of editing and saying "Yes, No, Yes, No."
The only outfit thing I ever remembered was that, back at that time, Starwood Amphitheater was a big outdoor, beautiful amphitheater. It doesn't exist anymore. But that's where we did our tech rehearsals. I remember my family coming and sitting out there and I was doing my outfits and they had the moving lights and all that. Afterward, my mother came back to me. There was one long dress, I think that was kind of sheer. And she said, "You know that white dress? I can see right through it." And I said, "Well, I've got clothes on underneath it." But she just the way she said, this beautiful, elegant woman, she said, "Whew, don't do that to yourself." (laughs) "Okay, yeah. All right." What somebody experiences with an evening of music, it's sort of all of it. As far as clothing, I was just like, "Somebody help me because I'll be in jeans and a T-shirt. You know, I'm gonna' default to the lowest effort."
You just had fun.
Yeah. And, of course, it just took every waking moment. I remember getting off the stage with massive crowds, and just so much enthusiasm, and crawling onto the bus after meeting 100 people after the show, and Phyllis, our nanny would be holding Millie and go, "I saved this diaper for you." (laughs) It was everything all at once, my kids on the sides of the stage, learning to walk on the bus. But we were all together. Long before social media, wherever you were, you were there, where your energy was, you were there. I will say that looking back 30 years, I was in a few places with my whole heart. I was in the studio. I was with my family. I was on a tour bus. I was 100% present. And so thrilled with that stretch of life.
With the new anniversary edition, you're including some long-lost tracks. Were they originally vetoed or how did they not making it on the record?
I just think those decisions sort of make themselves in the process of making a record. That's really when you're listening to that material the most. So, it could either be a keyboard part or guitar part, or an entire song. But after a lot of intense listening, you know the things you don't want to keep hearing. With every project, eventually, they say, "Hey, the deadline has arrived. Turn it in, right now." Because otherwise, we would all just scope it to death. We would all probably tire of everything eventually. But yeah, I just loved it. I just loved the camaraderie of creativity. I think it's important to surround yourself with people that make you aim higher and dig deeper and work harder.
I'll never forget one of the heads of A&M Records, said, "I will tell you, what I can guarantee you when you finish making this record. You're going to work very hard and finish the record. And what I can guarantee is that you will have worked very hard." He said, "There's no guarantee of success. There is no guarantee that it's going to be on the radio, there's no guarantee. So do your best, work hard. Do something that you're proud of. And that is the goal." I just thought that was great. "What I can guarantee is that you will have done your job."
I always think it's really cool when people do something special for the fans. Through the years, I've seen where you have done that. You have your Tennessee Weekend event coming up. Why is important for you to offer those things to your longtime listeners?
First off, I look at everything that I have, and I know that if somebody had not gone to a concert, or purchased a record, my life would look very different than it does. We host a couple of weeks of summer camp a day camp at our farm kids from all different backgrounds. I always think when we're prepping the farm, "I wouldn't have this farm, except for the support of people that like my music and that compels me to make that farm available for other people." It's funny, because the first Tennessee Weekend I ever hosted, I wanted to create sort of a surprise experience for them. Then the day came, knowing that they had signed up for a few things that they were guaranteed to experience. But I wanted to surprise them with the amount of philanthropy that we were able to do because they showed up. So in the course of those days, two and a half days that they were here, I invited different people that were doing important work in Nashville and said, "Tell us what you're doing." Then I looked at all the people that had attended and I said this check is from all of them because we had sort of built into the ticket price, unbeknownst to the attendees
I was taught by my family, by my great grandfather, that a life of giving is a more meaningful life. And it expands your life exponentially. The best way to expect to experience something that would maybe compel someone to consider living differently is if they have a great experience. And so that Tennessee Weekend was to have fun, but it was also to say you can build into a lifestyle at always an element of giving, even when even in the fun. Hosting that weekend, it was so funny, because it was the first time I had ever really opened up the farm to a big group. And I learned through that it's like the attendance of all those people led eventually to allowing the farm to be the host location of a day camp. So I sort of look at it like a big figure eight. I've received so much emotional, spiritual support from people who listen to my music, and then I've also been inspired by them to use what I have to say to help other people.
In some of interviews I've seen lately you talk about music giving you a platform to kind of diversify your interests. Would it be fair to say that the future is not project-to-project as far as music, but maybe other things outside of music?
Absolutely, yes. I mean the only thing on the horizon right now, between now and Christmas, is a lot of music, a lot of tour dates, then a lot of Christmas shows after that. But yes, music, is just a fraction of how I spend my time and energy. I love it. But the new experiences, the new adventures to me are not in music. The adventures are in other areas. And you know, what really makes something an adventure is when you are experiencing risk. What creates risk for one person is not what creates risk for another person. I love using what I have to help build community. So, mostly what I have just been trying to do is make available what I have. I think that's a more interesting story than being the center focus of the story. At this stage in life, I actually kind of like being a support crew.
"Heart in Motion 30th Anniversary" is now available in stores and on digital outlets. Visit Amy Grant's official website to order special fan packages of the project, including memory books and t-shirts, as well as to find information on "Heart in Motion" tour dates.
Watch our exclusive interview with Amy Grant below.
DEWAYNE HAMBY is a communications specialist and longtime journalist covering faith-based music, entertainment, books, and the retail industry. He is the author of the book "Gratitude Adjustment." Connect with him on Facebook, Twitter, YouTube or InstaGram.