Dove Award-winning and GRAMMY Award-nominated artist Tauren Wells recently released his third project, "Joy in the Morning," a pop-oriented album of faith and encouragement. Featuring songs such as the high-energy lead single "Fake It," the solemn "Empty" and the hopeful title track, the collection offers an entry point for listeners of various ages and tastes.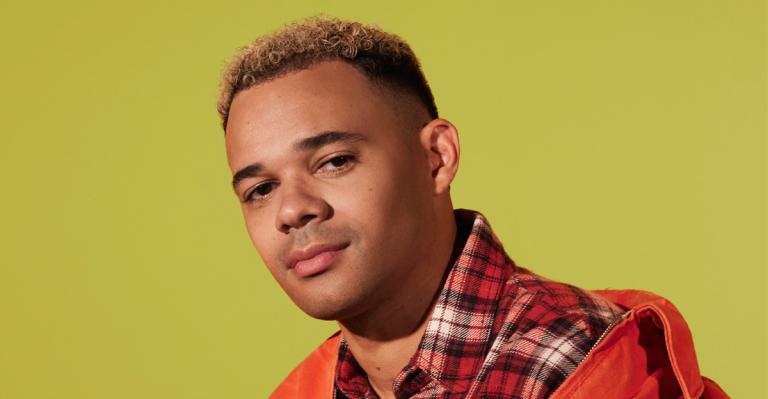 Wells first made a splash in the group Royal Tailor before embarking on his solo career, which got an early kickstart with an opening slot for Mariah Carey and Lionel Richie. Since then, Wells has had six number one songs, 225 million career video views, and 1 billion global streams.
Recently, Wells spoke with Reel Faith's DeWayne Hamby on the creation of "Joy in the Morning,"  and how he stays joyful and optimistic as an artist in the music industry.
I realize you're a creative individual, and you've always got something percolating.  At what point did you decide, "Hey, I'm going to put the songs together and we're going to release this project?"
When I finished "Citizen of Heaven," and we put it out in January of 2020, I didn't realize what 2020 would become. But I had already started writing for the next album pretty quickly after we finished "Citizen of Heaven." I just wanted to keep writing. So we kept flowing and I went through series of different songs that work together. And in the midst of all of the craziness of the last two years, I signed a new record deal, which put me in touch with some new creative contacts and touch points. So went to L.A., spent 10 days out there, got to take my whole family, and wrote every day, a couple songs a day, and just really was loving the creative space of evaluating and excavating what was happening in my heart and how I was feeling about things that were happening in the world. So that's where the songs really came from. And then when it came time to choose, how I choose all my albums, isn't necessarily even what goes together, goes together the best. I pick the best songs. So sometimes there may be a rub of like, "Well, this song's kind of like that one." But it comes down to "Well, which one is better?" And so that's what that's kind of the process that I went through to get to this particular collection of songs.
What I noticed about it is there is a variety of access points for people in it. There are worship full songs. There are evangelistic songs, and just general joyful Christian living songs and there are songs about friendship which also fit in there too. Was that on purpose?
Yes, that's the hope. And that's really the hope of art at all, that it would be consumed and evaluated on a very personal, unique individual level. So that's why I love getting giving context around my songs. It's one of the things that brings me to life is being able to take something that's three minutes long, but to show people that there's so much depth beneath the lyric if you really dig in. But I also love the fact that there will be millions of people who never read a devotion or never hear a podcast—all they have is the three minutes. And those three minutes are going to mean something personal and specific to them. I wanted to cover a lot of ground when I went into the first part of this album process. A mentor of mine who actually wrote I the title track with, Steven Furtick, said, "You should feel the permission to bring your whole self into this next season of your life." And I really felt that, and it became kind of the foundation for what we would build over the next 18 months. I wanted to bring my whole self into the album. I wanted to bring the friend that I aspire to be, the intro, the outro, the places that I need to grow in my relationship with my wife, how I feel about what God has blessed me with in my family, and in my ministry, career, my life, I wanted to write about all those things. Obviously, I can't write anything outside of something that has a perspective of faith. That informs everything that I do. But I also wanted to, instead of writing just a response to my emotions, I wanted to write about my emotions. I think in the faith space, we're so good at having a problem in the first 15 seconds of a song and solving it by the third minute of the song. And with a song like "Empty," there is no resolution. There's space for people to evaluate. "Have I felt empty? Have I felt unfulfilled? Have I struggled with these types of feelings? And if so, why do I feel this?" And I feel like God can speak into those moments in a way that a lyric or a melody falls short. So, I wanted to bring all of that into the album. And I'm grateful to have collaborators and a team around me that helped me accomplish that.
You always seem to have a really good positive bright outlook and, and a lot of energy and enthusiasm. And some people when they get into the business side of the music industry, they kind of lose that a little bit. So how do you maintain it? Even in the middle of doing mundane or tedious tasks?
Yeah, that's a great question. I don't think I've been asked that question like that. Recently, I heard someone say, "You lose your way when you lose your why." And I think it's important that I stay locked in on why I'm doing this. And that is to call greatness out of other people. When that is the driving force behind everything, it's very easy to be passionate and excited about it. Even the tedious, mundane things can be places of joy. There are things that I do not like doing. But I love the results of doing them. Right. I don't like working out. But I like the results of working out. Right? I don't necessarily like sitting down and writing out devotions, and articles and those types of things. But I like the fact that I can do it, give it to someone who has influence with people. And then on my Instagram, I'm getting tagged in a quote, that someone says, "I really needed this." Well, that made me sitting in my room alone, digging that out worth it. So, I think staying focused on not just what you're having to do, but why you're doing it helps you stay passionate and enthusiastic.
I think the other thing is, knowing what you're not called to do. So much of our energy gets wrapped up, and things that maybe we're not supposed to be doing right now. And that's why I read a book years ago by Wayne Cordeiro that talked about Spirit-led seasons. And it's so important to let the Spirit lead you into the different seasons and the different assignments, the objectives of your life. Because if you're trying to do it from a place of selfish ambition, you're always going to be doing more than it's probably healthy for you to do. But if you do it from a place of real purpose and intention, where the spirits leading you, then you're going to lock into the spaces that you have grace for. And when you lock into those spaces, it may feel like work. But what is being deposited back into your soul from it makes that investment worth it.
"Joy in the Morning" by Tauren Wells is now available for purchase in retail and digital outlets. Watch an exclusive interview with Tauren Wells adn DeWayne Hamby below.