Actress and singer Chrissy Metz, who starred in the faith-based drama "Breakthrough" as well as NBC's "This Is Us," recently teamed with Nashville-based songwriter Bradley Collins to release the new New York Times bestselling children's book, "When I Talk to God, I Talk About You." Told in rhyming verse and accompanied by illustrations by artist Lisa Fields, follows a parent describing their prayers to God as their child grows. The duo also teamed up for Metz's lullaby album, "Prayed for This Day," which released last month.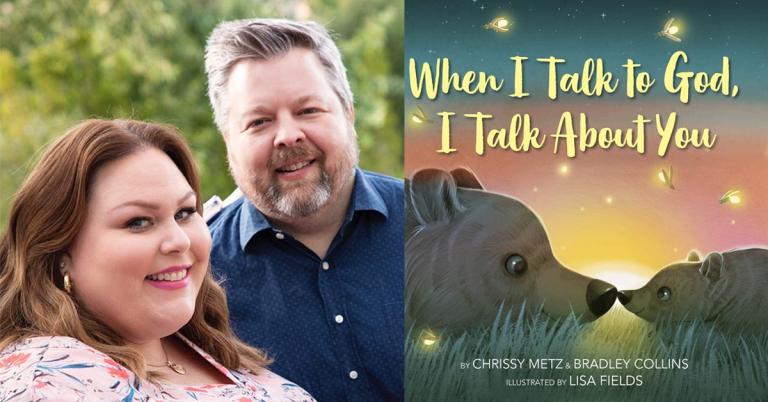 In this interview with DeWayne Hamby, Metz and Collins discuss the inspiration for the book and album, life after "This Is Us," and how the two met each other.
Was doing the children's book a long-held dream or just an opportunity that came up?
Chrissy Metz: I always wanted to write a children's book. I actually wanted to write them before my own memoir, because I taught preschool, and I have a really big family. I just know how important reading is to children. And also, when you impart an encouraging and special message to them, it really stays with them. When we were kids, we had favorite books and those messages stayed with us. I didn't really know where to start. When Bradley and I were first dating and getting to know each other, we talked about how important prayer was in our lives, and how it's literally carried me through my entire life, and through the ups and downs and all that. So, we just thought, "Wow, wouldn't it be nice to sort of bolster kids with self-esteem, and confidence, and also introducing them to a gentle introduction into prayer and connection to God?" We just know how important that was for us, and how important those words of encouragement. You can never hear them enough, I don't think.
Bradley, you're a songwriter, correct?
Bradley Collins: Yes, I am. When Chris and I started talking about the concept of the book, it came up, a lot came up for me about prayer and being a child, because my grandfather was very sick when I was young. And I saw how much stress my grandmother and my mother had, which passed down to me. I remember thinking, "What can I do to help? Am I allowed to pray? Can I pray?"  I'd spent years going to church, but at the same time, it seemed like just a big thing to do to talk to this person, this Spirit that was in charge of everything. Through the book and through writing, it comes across that, yes, you can pray, you can pray for your pets, you can pray for your grandparents, you can pray for your friends at school, and that everything in a plan that God has and wants to hear from you. So that's what that's where it came out for me.
I'm curious – with you being in the public eye, Chrissy, how did you two meet and start dating? It seems like a good fit, especially with you sharing faith.
Chrissy Metz: Yes. 100% So, during the pandemic, I was in Nashville, because I was going to start my tour. And we were going to start rehearsals, and then the world of course, shut down. And everything was so weird and uncertain and scary. People were just looking for connection. I got on Bumble, which is a dating app that the woman has to make the first move. They're the ones that actually reach out first, which is, I think, very refreshing. Anyway, we met in May of 2020. And, of course, I'm guarded. And of course, I'm like, "What do people really want from me?" It's funny, because we joke all the time that we talked forever. And I was like, "When is he going to ask me for my number? Like, he's such a gentleman. He's so kind of respectful." I'm so grateful for that, because I knew that his intentions were good, and not because he wanted something from me or because I happened to be on a TV show. He's obviously much more patient than I am because I was like, "Chop, chop, let's go, let's talk on the phone." But we talked for almost a month just via text, and then eventually did like a FaceTime date. It's tricky dating, just generally, whether you're on a TV show or you're an actor, whatever your job is, it's tricky to be authentic and vulnerable, and especially to strangers. But if you aren't, then you never really make a real connection. So, you know, it's a journey. It's definitely a journey. But I think you find the right people, the people that you're meant to find, and I guess that's what happened.
Chrissy, what were your thoughts as "This Is Us" ended? I would imagine bittersweet.
Chrissy Metz: Yeah, definitely. I mean, it was nice to have job security. And it was nice to know what I was doing for so long. And also, the friends that I made who obviously look up to him and revere. It's so hard because I miss them. I miss seeing them every single day at work. And I miss challenging myself with new scenes and different storylines within the show. So yeah, I miss it. And there's days that I'm so grateful that I have free time. Then I'm like, "I just want to go back to say, I just want to shoot that show." It's hard to not compare anything else to it, because, I mean, there's no such thing as perfection. But if there was, it would be "This Is Us" in every way. Bradley knows, I'm very vulnerable with him. Some days, I'm very emotional about it. And some days I'm like, "Wow, I'm just so grateful I got to have that experience." I don't think anything will ever top it. But I miss it. And I miss everyone.
Can you talk about the album "Prayed for This Day"? 
Chrissy Metz:  We really sat with the book and with the producer, Phil Barton, and Liz Rose was another songwriter. We worked with John Wayne from Runaway Jim. We really wanted to have the music be an extension of the book. We would go through the pages and really just hone in on what we think is invaluable for kids to hear. And one of the songs. I think it's "Learning to be Brave." There's a page in the book where a little baby duck is on the back of its mom and trying to just tiptoe his little foot in the water. We wanted to just reiterate to kids and to anyone that we don't have to be brave in an instant, but we can learn to be brave, and are doing courageous things, we can be brave. So, as he's learning how to swim, he's learning to be brave. That's one song that we wrote. But they're all just from the book, whether they're self-confidence boosters, or we have a couple of fun songs about learning to treat your friends kindly.
Bradley Collins: It just it completes the thought of the book. There's a plan for us all. You can read the book at bedtime, and it's an endearing lesson, and the album will send you off to sleep, because it's a lullaby album. And her vocals are powerful, but also incredibly dreamlike. It's really, really special.
Chrissy Metz: We're very excited about it. And I hope that kids will listen, have a great time, but also feel very loved and supported and valued. And purposeful.
"When I Talk to God, I Talk About You" by Metz and Collins is available now in bookstores and Metz's album "Prayed for This Day" is available through digital outlets.  Watch the interview with Chrissy Metz, Bradley Collins, and DeWayne Hamby below.