Pop superstar Katy Perry is known for her chart-topping songs such as "California Gurls," "Firework" and "Teenage Dream." Beyond her 143 million in sales worldwide, however, the California-born singer was raised in and developed her musical talents in the Christian church.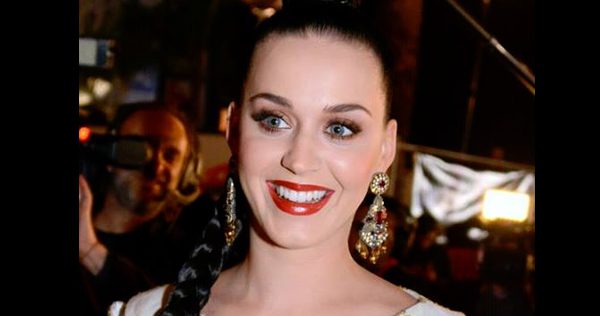 Perry was born Katheryn Elizabeth Hudson to Keith and Mary Hudson, Pentecostal ministers. At sixteen, she even embarked on a career in Christian music, releasing her self-titled project, "Katy Hudson." In 2001, while doing press for the project, I sat down and heard her views about making Christian music that sounds better than the mainstream.
"I think even . . . in the Christian industry, we should always be pushing the envelope, trying to be something a little bit better than the mainstream is," she said. "We shouldn't be influenced by them; they should be influenced by us! I mean, come on! The whole time we're influenced by them, we're so far behind that the average person's ear doesn't even want to listen to it. I think we're worth more than that, because obviously they're not serving God, they're not in it for the same motives that we're in, they're in it for the same motives that we're in. They're in it for something totally different, whatever reason they may be in it for, and we have the ultimate Creator."
The teenage Perry also said she tried to be discerning who had her ear as she made her way into the music business.
"I don't listen to everybody," she said. "I listen to a few key people. Too many influences on you, you don't know what to do. It's like making the record, that was hard. Everyone was like, 'Be that way' and I was like 'God, just help me to know what I want to be!' Sure, you can always sit and listen to what people have to say, but most of it is bad for your ear."
Perry's self-titled record was a standout modern rock project, maybe not what one would typically expect from a teenage singer. Her talent and deep vocals hinted at her chart domination to come, but after the project failed to make a splash, she set out for a mainstream career.  In 2007, her breakthrough pop singles, "I Kissed a Girl" and "Hot and Cold" made her new stage, used to distinguish her from the actress Kate Hudson, name famous.
There have been various reports about how her parents, who forbid secular music in the house growing up, have either embraced or rejected her mainstream success. Perry, who freely shares about her respect and love for them, is also clear about how she has left her religious upbringing behind.
"I don't believe in a heaven or a hell or an old man sitting on a throne," she told Marie Claire in 2013. "I believe in a higher power bigger than me because that keeps me accountable. I'm not Buddhist, I'm not Hindu, I'm not Christian, but I still feel like I have a deep connection with God. I pray all the time—for self-control, for humility. There's a lot of gratitude in it. Just saying 'thank you' sometimes is better than asking for things."
In a 2020 Apple podcast interview with Zane Lowe, she further distinguished her beliefs from those of Keith and Mary's.
"I guess I would say that I respect that they have their own belief systems, but it does not make me feel like I have to believe that. I guess my relationship with God is not based on a denomination or a specific rule set coming from the Bible or a belief system; it's really widespread."
From time to time, the current "American Idol" judge will drift back to her evangelical roots. At the 2020 "American Music Awards," she merged the Maranatha! Music chorus "As the Deer" into a set with Darius Rucker. She also sprang to her feet when she saw Christian singer Crystal Lewis during a round-the-clock livestream at her house.
In 2011, I was asked by Chloe Govan, the writer of the biography "Katy Perry: A Life of Fireworks," for my response to Perry's mainstream success. Having been someone who interviewed her as a Christian artist, it was a chance to offer perspective or perhaps condemnation on what she had become. This was my response to one of the questions, which was printed in the book:
"When (Katy Perry) hit mainstream, I was torn in my feelings in that I was proud she was having success but sad that the gospel music industry lost such a promising talent. I also hated that a voice like hers that could have continued to provide encouragement to Christian teens trying to live counter-culturally had now become a voice of the culture they're trying to escape."