GRAMMY Award-winning singer-songwriter Steven Curtis Chapman will be celebrated on Nov. 24 with a brand-new TBN music special featuring the Nashville Recording Orchestra, "Celebrating 50 #1 Songs and 20 Years of Show Hope." The special will be unique blend of musical celebration and reflection on Chapman's remarkable journey in the music industry.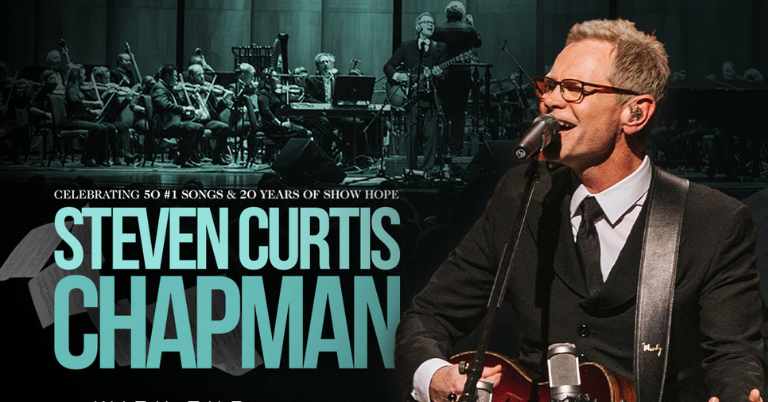 The focus of the special follows Chapman's 50th chart-topping song, "Don't Lose Heart." Reflecting on this achievement, Chapman expressed gratitude for the recognition from his team, who told him, "You're only one of four artists that we know of that's ever had this many songs go to the top of the charts, George Strait, Madonna, and Conway Twitty." This recognition serves as the cornerstone for the television special, commemorating not only the 50 #1 songs but also marking 35 years since the release of his debut album.
The special is a multifaceted celebration, encapsulating various milestones in Chapman's career. As he explained, "We wanted to celebrate 20 years of Show Hope," a nonprofit organization he co-founded in 2003. Show Hope has been instrumental in aiding families on their adoption journey, providing financial assistance and support. The special aims to capture the essence of this charitable work, marking two decades of making a difference in the lives of children and families.
Chapman's decision to incorporate a full symphony into the special adds an extra layer of grandeur to the celebration.
"I've had 4-6 opportunities to gather with a full symphony and create the music the way I imagined it when I first wrote 'The Great Adventure' with this beautiful string prologue opening," he said. "You know, that kind of sets the stage. It's almost like a movie soundtrack that says, 'Come on, let's go saddle up your horses.' I've loved recording over the years with symphony. On my speechless album, I had the piece called 'The Journey,' just beautiful orchestral arrangements that I don't often get a chance to do live."
This year, Chapman has been actively sharing clips, stories, and snippets of his music on platforms like Instagram and Facebook. The intention is to connect with fans on a personal level, invoking emotions and memories associated with each song. Chapman sees this special as an extension of that connection, providing an opportunity for those who can't attend the live event to experience the celebration.
Out of so many hit songs, Chapman is reluctant to name favorites, but acknowledged pivotal role "The Great Adventure" had in connecting with listeners at various stages of their lives, whether it be at summer camp, family vacations, or even mission trips. The song has become a timeless anthem, symbolizing the adventurous and faith-filled journey that defines the Christian experience.
Looking ahead, Chapman shared details about his song, "Brand New Life" with We The Kingdom in the movie soundtrack "Journey to Bethlehem" alongside songs by Antonio Banderas and Joel Smallbone. The musical was directed by Adam Anders, who played bass in Chapman's band back in the "Speechless" era. Chapman also teased an upcoming Christmas tour and a spring tour, featuring both new and classic music.
"Celebrating 50 #1 Songs and 20 Years of Show Hope," premiering Nov. 24 on TBN, is poised to be a comprehensive reflection on Steven Curtis Chapman's illustrious career. From chart-topping hits to the generosity of Show Hope, the television special promises to offer fans a captivating journey through the life and music of a true industry icon.