By Christian Hamaker
An abundance of 2018 releases worthy of inclusion in this annual list made for more difficulty than usual in pulling together a lineup of the year's best films. Below I provide short summaries of my top 10 choices, followed by titles of the films that populate the bottom half of the list. Review links are provided where I've written about the selections at greater length. I've followed my top 20 narrative films of 2018 with a list of the year's best documentaries and my favorite performances from the past 12 months.
The Old Man and the Gun
An aging criminal (Robert Redford) looks to pull off one more heist while pursuing a woman (Sissy Spacek) he's just met. I don't usually trust movies that make me want to side with hustlers and conmen, but the performances here, along with my favorite score of the year (by Daniel Hart), won me over early and kept a smile on my face throughout. Director David Lowery (A Ghost Story, Pete's Dragon, Ain't Them Bodies Saints) continues to build one of the most interesting bodies of work among today's filmmakers.
A Quiet Place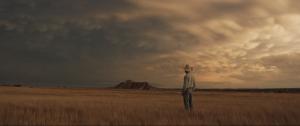 The year's best story gimmick—something other-worldly will kill you if you make a sound—creates the most tension-filled story of 2018. Director John Krasinski anchors the film in the lead role, along with his real-life wife, Emily Blunt, but without much sound to carry the story, it's sights—such as a sharp object sticking out of a floorboard—that induce terror. And yet, the film manages to be fun even as it nails you to your seat.
Annihilation
Lena (Natalie Portman), struggling with an emotionally distant husband since his return from the Shimmer—an ever-expanding area growing out of a meteor strike point—leads a team of women (all dealing with loss themselves) into the Shimmer in search of answers to the changes she's witnessed. As they approach their destination—a lighthouse at the strike point—reality mutates in ways that are literal and metaphorical, leading to a hard-to-shake finale that has generated some the most interesting, personal responses to a movie I've seen in 2018.
The Ballad of Buster Scruggs
Joel and Ethan Coen recapture the zany spirit of their early work while also—as in their best latter-day efforts (A Serious Man, No Country for Old Men)—addressing mortality and the afterlife. This series of six stories left me giddy in a way I haven't felt since walking out of the brothers' The Hudsucker Proxy in the mid-1990s.
Madeline's Madeline
Jacqueline Decker's story of a troubled young woman (Helena Howard, in the year's best youth performance) who joins a theater troupe and bonds with its director (Molly Parker) both disturbs and excites as it builds to a wild final 20 minutes. We wonder how much of Madeline's behavior is an act and how much might be mental illness, while the line between them grows blurrier. If you see Madeline's Madeline and feel like you've figured it out, let me know. For now, I'm grateful for a film that sometimes baffled me while also leaving me exhilarated rather than frustrated.
Blindspotting
Were it not for a forced, close-the-loop misstep at its conclusion, Blindspotting easily could have been my #1 film of the year. This extraordinarily vibrant look at the friendship between two men—Collin (Daveed Diggs), a black man who witnesses a police shooting, and his white business partner and best friend, Miles (Rafael Casal)—is often laugh-out-loud funny, incorporating stretches of spoken-word performance (the two actors have known each other since childhood, when they both took part in a spoken-word youth program) that leave one feeling like they're witnessing the boundaries of cinema expand before their eyes.
The Favourite
Greek filmmaker Yorgos Lanthimos—who gained traction in North America with The Lobster before experiencing a setback (in terms of audience embrace, if not artistry) with his follow-up, The Killing of a Sacred Deer—has found a vehicle that should not only regain any lost viewers but expand his fanbase. The Favourite tells of Queen Anne (Olivia Colman) in 18th century England; Lady Sarah (Rachel Weisz), who influences her decisions; and Abigail (Emma Stone), a servant who threatens to supplant Sarah as the queen's confidante (and lover). It all plays much more nasty than nice—power-hungry machinations, most of them merciless—but Lanthimos' filmmaking brio overwhelmed me to the point where I was putty in his hands.
Mission: Impossible – Fallout
Rather than follow the typical trajectory of Hollywood franchises and collapse after the third or fourth entry, this sixth chapter in the Mission: Impossible series defies cinematic gravity to claim the crown as the strongest installment yet. The year's best action film keeps topping itself with each set piece sequence.
The Death of Stalin
I wish it were easy to dismiss the year's best comedy, set in 1953 Moscow, as a look back at a governmental system consigned to the ashbin of history, but the blustering ridiculousness of the characters' absurd, power-mad motivations is unfortunately timeless. Credit to writer/director Armando Iannucci for taking on a buffoonish, murderous regime and finding ways to generate big belly laughs along the way.
The Rider
I walked out of an advance screening of The Rider and told the PR rep—for only the second time in more than a decade of attending press screenings—"That was a masterpiece." Punctuated with prayer and plainspoken expressions of calling and vocation, The Rider is full of natural beauty, achieving its own aching but graceful look at broken dreams, perseverance and the hard-won acceptance of difficult providences.
And Another 10
Border (fourth review here)
Shoplifters (second review here)
Thoroughbreds
Game Night
First Reformed (Review)
Paul, Apostle of Christ
Can You Ever Forgive Me? (First review here)
The Guardians
Relaxer
Burning
Best Performances
Brady Jandreau, The Rider
Juliette Binoche, Let the Sunshine In
Steve Buscemi, The Death of Stalin
Ethan Hawke, First Reformed
Helena Howard, Madeline's Madeline
Richard E. Grant, Can You Ever Forgive Me?
Thomasin Mackenzie, Leave No Trace
Ben Foster, Leave No Trace
Regina Hall, Support the Girls
Olivia Cooke, Thoroughbreds
Anya Taylor-Joy, Thoroughbreds
Robert Redford, The Old Man and the Gun
Sissy Spacek, The Old Man and the Gun
Carrie Mulligan, Wildlife
Eva Melandor, Border
Natalie Portman, Annihilation
Jesse Plemons, Game Night
Toni Collette, Hereditary
Melissa McCarthy, Can You Ever Forgive Me?
Millicent Simmonds, A Quiet Place
Elsie Fisher, Eighth Grade
Joshua Burge, Relaxer