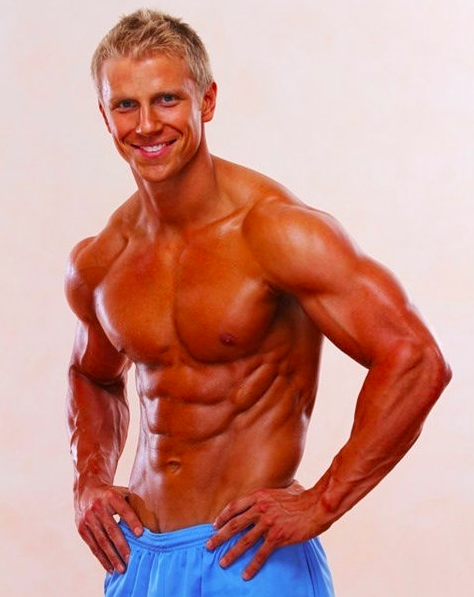 "The Shirtless Bachelor."
That seemed to be the nickname that stuck during my stint as the bachelor. The producers and studio heads wanted to sell me as the "All-American Beef Cake" (a term Catherine still loves to use), so each week I'd being doing something sans shirt.
It didn't matter if I was at the beach, in my hotel room, or canoeing a lake in below freezing conditions, my shirt was off. ABC came up with an entire marketing campaign around my abs. My abs even had their own Twitter account. I couldn't do an interview without the host asking me to take my shirt off and show my abs.
Here's the irony: I can't stand "that guy".
You see, I've always gone out of my way to not be "that guy". You know the who I'm talking about: the guy who posts shirtless selfies on Instagram, the guy who flexes at the pool when girls walk past, or the guy who bounces his pecs in the mirror at the gym. I've always consciously avoided being that guy because, well, that guy is a douche. And I've always tried my best to avoid being a douche. It doesn't take Sigmund Freud to figure out that those guys didn't get a ton of attention as kids. So what's my point? Well, I guess I really just wanted to shed some light on who "The Shirtless Bachelor" really is and what I think about six pack abs.
1. Abs are great but pizza is better. Watching a movie on the couch while eating fish and asparagus just isn't the same as watching a movie while eating pizza. I don't have a six-pack year round because I love food way too much, and it's just not worth the sacrifice to me.
2. Stop talking about your diet. Please don't be that friend who only talks about your paleo diet or how brutal your Crossfit WOD was that day when out with friends. Looking good becomes a lot less cool when you don't stop talking about it.
3. Never video yourself working out. Just don't.
4. Don't get too carried away. I love eating all the bad stuff but I usually throw on the brakes when I've gained around 5lbs. Five pounds of fat isn't too hard to work off, 20lbs is. Know your limits people.
5. Be more than your body. Achieving your fitness goals is great but be more than that. Be spiritual, be well read, think independently, be informed on what's going on in the world. So many people get consumed with their diet and workouts that they become one dimensional and oh so very boring.
Read more on the Faith and Family Channel – follow me on Facebook, Twitter, and Instagram!