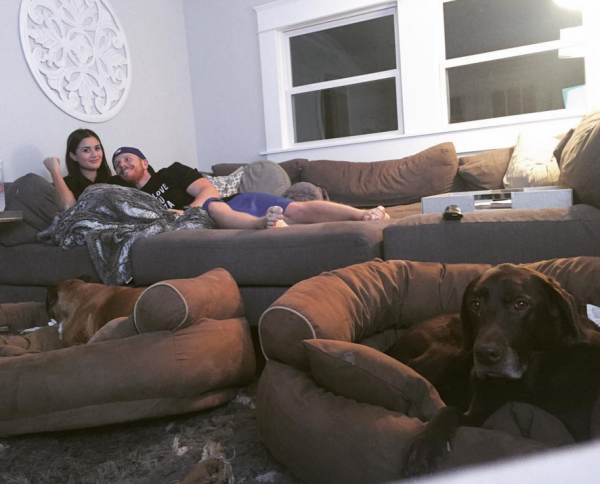 Here we go. And here's hoping Olivia drinks the water. #TheBachelor

— Sean Lowe (@SeanLowe09) February 2, 2016
I knew Catherine was the one when I woke her up at 4:00 and she was ready to go 3 minutes later. #TheBachelor — Sean Lowe (@SeanLowe09) February 2, 2016
Amanda's ex must be loving this episode. #TheBachelor

— Sean Lowe (@SeanLowe09) February 2, 2016
Also, Amanda's "like" meter is about to explode. #TheBachelor — Sean Lowe (@SeanLowe09) February 2, 2016
Benny boy isn't far behind. #TheBachelor

— Sean Lowe (@SeanLowe09) February 2, 2016
I predict Olivia will eat another girl's heart on this date. #TheBachelor — Sean Lowe (@SeanLowe09) February 2, 2016
Jubilee does awkward so well. #TheBachelor

— Sean Lowe (@SeanLowe09) February 2, 2016
Seriously, this show needs Lace. #riplace #TheBachelor — Sean Lowe (@SeanLowe09) February 2, 2016
I swear that's the first time I've seen Leah on this show. #TheBachelor

— Sean Lowe (@SeanLowe09) February 2, 2016
Okay, I could do without the taco entendres. I smell producers on that one. #TheBachelor — Sean Lowe (@SeanLowe09) February 2, 2016
Can you guys stop calling him your boyfriend? Seeing him 3 times in 4 weeks doesn't constitute a relationship. Plus it's weird. #TheBachelor

— Sean Lowe (@SeanLowe09) February 2, 2016
Ben has that unique ability to express his love to every woman on a group date. That should end well. #TheBachelor — Sean Lowe (@SeanLowe09) February 2, 2016
Does anyone else see the irony in Jubilee's name? #TheBachelor

— Sean Lowe (@SeanLowe09) February 2, 2016
No comment. https://t.co/y1iNcUftoV — Sean Lowe (@SeanLowe09) February 2, 2016
Jubilee has just been #bachelored. #ripjubilee — Sean Lowe (@SeanLowe09) February 2, 2016
JoJo is going for the emotional rebound like Dennis Rodman. #sports #TheBachelor

— Sean Lowe (@SeanLowe09) February 2, 2016
Olivia for the win! #TheBachelor #love — Sean Lowe (@SeanLowe09) February 2, 2016
Goofy is good. Ben would be smart to choose goofy. #TheBachelor

— Sean Lowe (@SeanLowe09) February 2, 2016
This is win-win for Olivia. She gets the man of her dreams and the positive editing should boost her career as a newscaster. #TheBachelor — Sean Lowe (@SeanLowe09) February 2, 2016
I think I'm officially rooting for Lauren H. No joke with that one. #TheBachelor

— Sean Lowe (@SeanLowe09) February 2, 2016
Each season the girls talk about how serious the bachelor is taking it all. Also, very few bachelors have taken it seriously. #TheBachelor — Sean Lowe (@SeanLowe09) February 2, 2016
Also, apparently every girl in the history of ever has been cheated on by her ex-boyfriend. #TheBachelor

— Sean Lowe (@SeanLowe09) February 2, 2016
Do they ever eat the food? Questions I need answered. #TheBachelor — Sean Lowe (@SeanLowe09) February 2, 2016
Did I just confuse you? More questions I need answered.

— Sean Lowe (@SeanLowe09) February 2, 2016
"I promise you won't be blindsided." Oh Benny. Unless you choose her, she's getting blindsided. #TheBachelor — Sean Lowe (@SeanLowe09) February 2, 2016
I'm submitting Catherine's application for "teen mom". #TheBachelor

— Sean Lowe (@SeanLowe09) February 2, 2016
Whatever you do, don't be the girl who snitches. Seriously, you'll probably get shanked for this. #TheBachelor — Sean Lowe (@SeanLowe09) February 2, 2016
Will someone explain to me why snitching makes you cry? #TheBachelor

— Sean Lowe (@SeanLowe09) February 2, 2016
It was a myth, 1 twin is not less annoying than both. #TheBachelor — Sean Lowe (@SeanLowe09) February 2, 2016
Glad you could make an appearance Harrison. #TheBachelor

— Sean Lowe (@SeanLowe09) February 2, 2016
Fun times. See you next week. — Sean Lowe (@SeanLowe09) February 2, 2016

And one from Catherine!
Being real before you're a couple and after you're a couple are two very different things. Save some crazy for the relaysh. #TheBachelor

— Catherine Lowe (@clmgiudici) February 2, 2016
Buy my New York Times Best Selling Book For the Right Reasons: America's Favorite Bachelor on Faith, Love, Marriage, and Why Nice Guys Finish First
to learn more about how Catherine and I met!
Read more on the Faith and Family Channel – follow me on Facebook, Twitter, and Instagram!