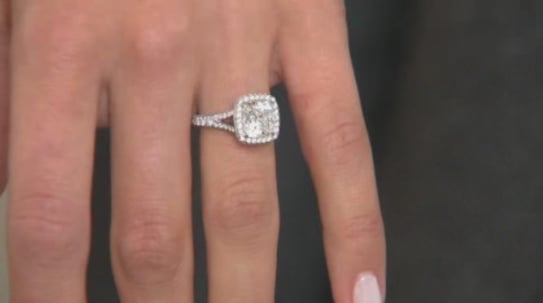 Thanks for all of the questions you guys left on my blog! Today, I'm tackling 7 new questions.
Q: How often did I get to see Catherine after the show wrapped?
A: Not nearly enough. The toughest part of The Bachelor is falling in love with someone and then being forced to say goodbye. Our show wrapped two days before Thanksgiving; it debuted on TV in early January and didn't finish airing until mid-March. That means Catherine and I had to keep our relationship under wraps for about four months. We would get to see each other about every two weeks at a secret location but that wasn't nearly enough!
Q: Is there a rule about not wearing sunglasses?
A: Yes, they almost never allow sunglasses. I think this is pretty standard on any TV show. The people at home want to see the face of the person talking and sunglasses can sometimes hide facial expressions and emotions.
Q: Did I pay for the ring?
A: No. Thank goodness! That sucker is expensive. No one pays for the ring. Neil Lane donates the ring in exchange for advertising. If the couple doesn't stay together for at least two years, Neil gets it back. Pretty sweet deal for Neil.
Q: Does the show supply the clothes?
A: When I was on The Bachelorette, I had to bring all my own clothes. It's really hard to pack when you have no idea where you will be traveling. When you are the bachelor or bachelorette, they give you a stylist that picks out clothes based on your personal style and what looks good on camera. I got to keep all of my clothes, as did the bachelors and bachelorettes before me, but I heard that the studio no longer lets them keep it all.
Q: Did you and Catherine have secret code names for each other before your relationship was public?
A: Yes, I had her as Gaya McSnuggs in my phone. She had me as Mylo. Neither one of us has changed it.
Q: Where did your dogs stay when you were on The Bachelor?
A: Luckily, my parents offered to take care of them while I was gone. Leaving my dogs behind was definitely the hardest part for me.
Q: Who pays your bills when you're filming for three months?
A: When you're a contestant, you don't get paid a dime for the show. It's a pretty big commitment to leave home for a few months while not receiving an income. As The Bachelor, they compensate you for your bills and loss of income.
In case you missed the other questions and answers:
Q: What do you do when you are not filming?
Q: Why do you make fun of the guys on The Bachelorette via Twitter?
Q: What's your favorite Bible verse?
Q: Is your dad really as nice as he seems?
Q: Why doesn't anyone eat on the dates?
Q: How hard was the transition from the show to "real life"?
Q: Was Dancing with the Stars really as hard as people say?
Q: What really happens in the fantasy suite?
Q: What really happens in the fantasy suite?
Have more burning questions? Ask in the comments section below!
Read more on the Faith and Family Channel – follow me on Facebook, Twitter, and Instagram!