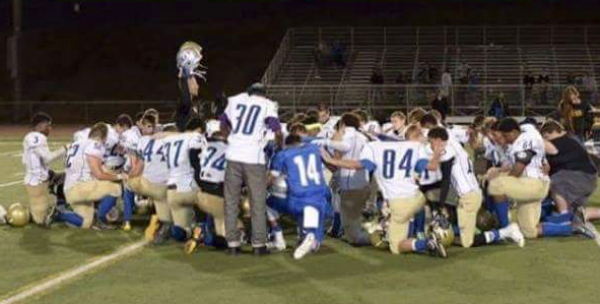 Longtime football coach Joe Kennedy had a certain routine.  Before and after each game, he would pray at the 50 yard line for the safety of all the players.  Sometimes, players and even members of the other team joined and bowed their heads.

Then, someone complained.
Todd Starnes reports:
He was directed to cease and desist those prayers on Sept. 17th. He was also ordered to avoid kneeling, bowing his head or doing anything that could remotely be seen as religious.

"You violated those directives by engaging in overt, public and demonstrative religious conduct while still on duty as an assistant coach," Leavell wrote.

Leavell had offered to let the coach engage in "private prayer" following the football games — provided no child could see the coach petitioning the Almighty.

The district's accommodation for the coach's "hush-hush, clandestine" prayers would be allowed  "so long as your brief, private religious exercise would not interfere with your performance of your continuing duties as an assistant coach."
But the coach didn't feel this was right.  "It's something that I kind of made an agreement with, my personal faith in God, that this is something I was going to do – give Him the glory after every single game and do it on the 50 and I'm kind of a guy of my word."
You can see where this is going:
"Effective immediately, pending further District review of your conduct, you are placed on paid administrative leave from your position as an assistant coach with the Bremerton High School football program," Level wrote to the coach in an Oct. 28th letter. "You may not participate, in any capacity, in BHS football program activities."
This story honestly just makes me sick.  I'm sure the coach wasn't forcing his players to come out there and pray with him.  Football is not a completely risk-free sport.  You can ask me I've had three concussions.  Or was it four?  (For some reason I can't remember.  Where was I?)
In America, we should allow for all points of view — whether Christian or Hindu or Buddhist or not religious at all.  I don't want the government to force others to participate in Christianity — I just think people should have space for a coach who wants to pray with anyone else who wants to pray.  Seems basic.
Coaches who care about the players so deeply don't come around too often.
I guess, in America, they'll become less and less common as expressions of Christian faith are pushed out of public life.
—-
In my book "For the Right Reasons," I talk about my time playing football and my experiences with some amazing coaches:
Read more on the Faith and Family Channel – follow me on Facebook,  Twitter, and Instagram!