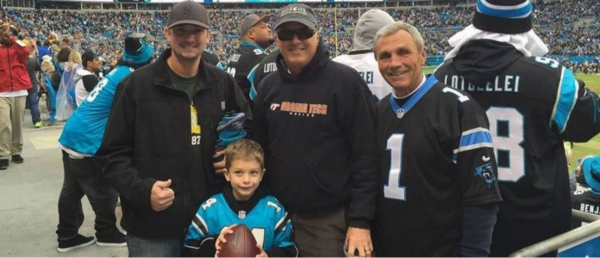 Six-year-old Colin Toler recently lost his dad, Benjamin, who was only 32 when he died of a heart condition. Colin's two grandfathers took him to his first NFL football game to fulfill a promise made to his dad before his death.
Colin will never forget what happened.
Carolina Panthers quarterback Cam Newton has a tradition of going to the middle of the end zone after every Panthers' touchdown to give a football to a kid.
But this game was different.  ESPN reports that, "Green Bay Packers defensive end Julius Peppers snatched the ball from Newton's hands after a second-quarter touchdown Sunday — because he tossed it toward the sideline — Newton had to chase it down. That led the two-time Pro Bowler to the section 105 near-corner tunnel exit of Bank of America Stadium."
Guess who was sitting in that precise section?
"I was like, 'Oh gosh, oh gosh!'" Toler told the television station. "Am I going to be on the big screen or am I going to be on TV?' I was jumping up and down like, 'Yeah!'"
Yep, little Colin got that ball.
Newton would traditionally have run a completely different direction. But because of Peppers, Newton ran right up to Colin at the other end of the field. His grandmother called it a "God Wink,"–a much-needed source of joy for her grandson.
Colin's dad, believe it or not, had once been tossed the wristbands of Peppers after a basketball game.  (Peppers used to play basketball and football for UNC.)  When Peppers caused this to happen — unknowingly — it just felt to all who heard the story that this was — just maybe — divinely orchestrated.
Colin's grandmother said that her grandson and husband were overwhelmed by the experience.
Kudos to the boy's grandfathers for keeping their promise and giving Colin a game to remember.
Read more on the Faith and Family Channel – follow me on Facebook,  Twitter, and Instagram!
(Photo: Courtesy of Toler Family via ESPN)