I've been thinking about Greg Hardy all weekend. I wish I could stop but it's one of those thoughts that keeps popping up.
Each time, it makes me angry.
For those of you not familiar with Greg Hardy, he's an extremely talented football player who was convicted by a North Carolina judge of beating (understatement) his girlfriend Nicole Holder in July of 2014. However, North Carolina law allows a guilty party to appeal a guilty conviction. Before his second hearing, charges were dismissed.
Why?
Because Holder could not be reached by prosecutors.
If that sounds suspicious to you, it's because something doesn't add up.
Greg Hardy, a man worth millions of dollars, paid off Holder not to testify. The league suspended Hardy for ten games, reduced to four after the NFLPA (players union) successfully appealed on his behalf. He's currently playing for the Dallas Cowboys, a team that signed him to a $13 million dollar contract this summer. On Friday, the police report and pictures taken the night of the incident were released by Deadspin. Here's an example, but click over to the site to see over forty pieces of photographic evidence here.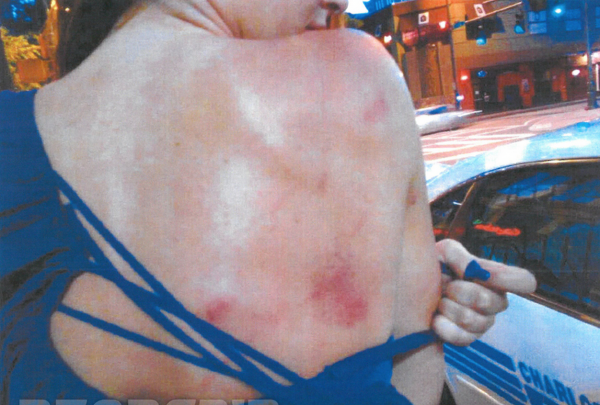 So where is my anger directed? Honestly, it's not all on Hardy. What he did was disgusting, deplorable and vile. But he's not the only one to blame. Let's start with the players' union. I understand it is the union's job to fight for their players so that the NFL's owners and commissioner don't take advantage of their power,
But at what point does the union say to themselves, "we can't defend this?"
It doesn't matter that he wasn't found guilty in the court of law, the facts were laid out: this man savagely beat a woman yet the player's union was still willing to go to bat for him and get his punishment reduced? That's the equivalent punishment of testing positive for steroids. In my mind, the NFLPA made a loud statement by defending Greg Hardy:
"Beating a woman isn't as bad as they're making it out to be."
Okay, so if you can get past the player's union defending Hardy — and can assume they were just doing their job — who else is responsible for allowing this guy to play?
Jerry Jones.
Jones is the owner of the Dallas Cowboys and he is the person who signed Greg Hardy to a $13 million dollar contract. He's also stated that he's interested in signing Hardy to a long term deal following the season. Let's get one thing straight, Hardy is only playing in the NFL because he is an elite player. Had this been an average player, no team, not even the Cowboys, would have touched them.
But this is no average player, Greg Hardy is a Pro Bowl player who makes an impact each Sunday. Jerry Jones, a man known for his will to win and an owner of a franchise who hasn't won a Super Bowl in 20 years, saw an opportunity to sign an elite player at a discounted price during a time when other teams wouldn't touch him.
Here's why Jerry deserves a heaping of the blame.
The NFL has done everything they can do. They tried to levy a hefty ten game punishment (which was still too light) and the union appealed, taking it down to four games. The NFL doesn't have a legal right to hand down any additional punishment.
So we're left with a guy who has a legal right to be hired by an NFL team. As stated earlier, most teams wanted nothing to do with Hardy despite his talents. The Dallas Cowboys however are not most teams. Jerry Jones has repeatedly said that Hardy "deserves" a second chance, but he's wrong.
First, Hardy has shown zero contrition and has been a disruption since joining the Cowboys. He offered a half-ass tweet as way of a public apology Friday but that was only due to the uproar of the released pictures.
Second, does a second chance mean that you deserve the right to earn millions of dollars at the same job you had before the incident? Shouldn't his "second chance" be being able to walk the streets and him not being in a jail cell? Let's use an example- last week, a Taco Bell marketing executive was fired after a video went viral of him hitting an Uber driver. Now I believe Taco Bell was well within their rights to fire this man, and he should be punished by law. But do I believe he deserves a second chance at life? Absolutely. But does that mean Taco Bell needs to re-hire him? Absolutely not. Same with Hardy, he doesn't "deserve" a "second chance" to work for the same league he embarrassed. He's lucky he's not spending the next several years rotting away in a jail cell.
But because the Cowboys have an owner who values winning over ethics, Hardy has a contract paying him more than most people will ever see in a lifetime.
By sweeping his abuse under the rug, Jones sells his soul, diminishes women, and embarrasses Dallas.
Lastly, I've seen a lot of tweets pointing out all of the other instances of domestic abuse that have occurred in the NFL over the years and people wondering why Hardy is being singled out. First, that's deflection. Let's focus on the case at hand. Pointing out past cases of abuse doesn't absolve Hardy in any way. Secondly, I believe there should be a zero tolerance policy on all cases of domestic abuse. No one should be able to harm a woman and still be allowed to play. If players in the past have gotten away with it, shame on the NFL. They can't change the past but they can set a new precedent for the future.
Buy my New York Times best selling book "For the Right Reasons" which discusses how football helped share my character and life:
Read more on the Faith and Family Channel – follow me on Facebook, Twitter, and Instagram!