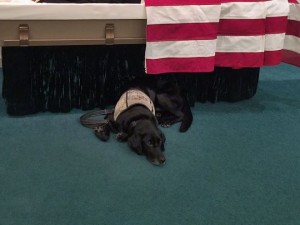 Catherine and I love dogs. I don't know if we've mentioned that.
So I just had to share this story about a service dog named Honor who was trained to serve a veteran, Wade Baker, who was experiencing PTSD. The Associated Press has the story:
Part of the Labrador retriever's training was to sense when the demons of war had invaded Wade Baker's dreams. "I was having a nightmare, a flashback," Baker, a Gulf War veteran, once told an interviewer. "And I woke up with Honor standing on my chest, licking my face." He tried to push his service dog away, but Honor persisted. "He was stopping the nightmare for me," Baker said. And so, this summer when he saw his master lying in the flag-draped casket, Honor pushed through the clutch of weeping family members, reared up, placed his paws on the edge and tried to climb in. Unable to comfort Baker, the lanky black dog in the camouflage-patterned vest curled up underneath. For Baker, the long nightmare was finally over. But Honor was still on duty.
Honor had helped Baker calm down and comforted him for many years, but ultimately the effects of PTSD led to Baker's tragic death. But the dog wasn't done serving the Baker family.
At the memorial service, he went through the crowd of crying family members, put his paws on the edge of the casket, and tried to climb in to comfort his master one more time. When the family wouldn't let him into the coffin, he curled up underneath his long time master and just laid there.
Typically, if a recipient dies and the service dog is still young enough, the animal is placed with another veteran or child. But taking Honor from the Baker boys was never an option, Shumate said. "He's the last connection that the boys have with their father," she said. "And I'm sure if we gave the dog the choice, he'd prefer not to be uprooted." Michelle Baker said they already owed him more than they could ever repay. "Honor gave the boys their dad for more years," she said, tears rolling down her cheeks. "And that's an amazing gift."
Read the full story of Honor here.
It's an important story that reminds us all of what so many of our beloved veterans go through when they return home.
(Photo: Susannah Smith/AP)
Buy my New York Times best selling book "For the Right Reasons:"
Read more on the Faith and Family Channel – follow me on Facebook,  Twitter, and Instagram!