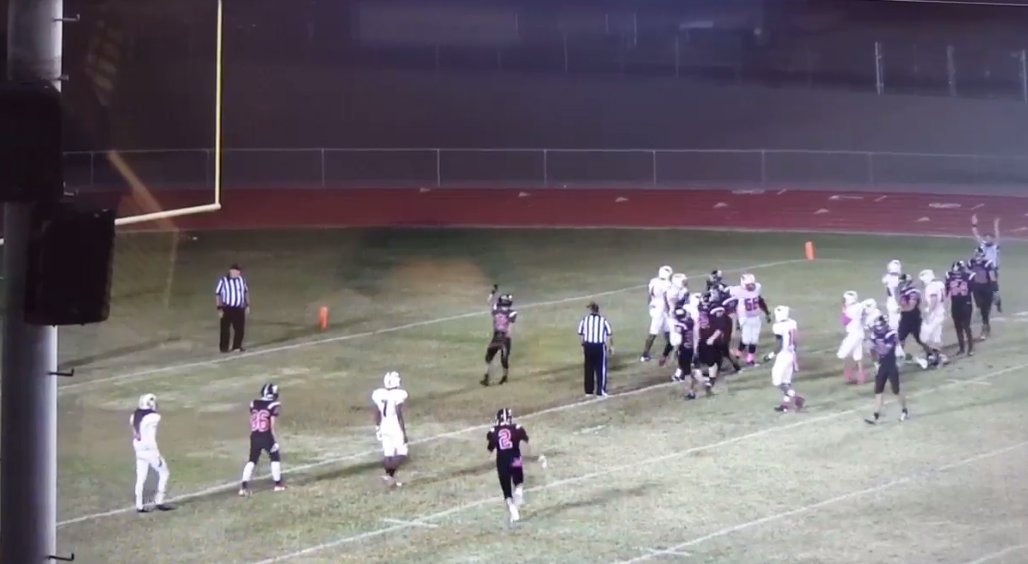 Last week, I wrote about the high school football coach fired for voluntarily praying before and after football games for the safety of the players.
Now, video has surfaced of a high school football player in Arizona being ejected for… wait for it… wait for it… scoring a touchdown and giving credit to God.
FootballScoop has the details:
Banda, a senior at Dysart High School in Arizona, scored a touchdown last night. As you can see in the video below, Banda walks away from other players, raises his hand to the sky and says something (which, based on his tweet, seemingly was his attempt to give glory to his lord). The result… ejection. What?

I reached out to a couple of college coaches in Arizona to ask if there is a specific rule in Arizona high school football outlawing any sort of action like this and no one was sure what rule this could have tripped. One coach suggested that perhaps the referee ruled that this was excessive celebration. Really?

Watch the video closely. There are no opposing players anywhere near him. This wasn't taunting. I can't imagine how this is excessive celebration either.
The player said, "My intentions were to praise God last night. I didn't think it would result in an ejection for praising my lord & savior."
See the video here:
My intentions were 2 praise God last night I didnt think it would result in a ejection for praising my lord & savior pic.twitter.com/IA4rDqSpDF

— One5 (@peanuttron) October 31, 2015
When I played football, I witnessed a lot of ridiculous taunts and celebrations. This is not one of them.
Thankfully, cooler heads prevailed in Arizona. Earlier this week, the AIA, which governs high school athletics in Arizona, granted the appeal and overturned the ejection. Banda is allowed to keep playing and, God willing, to keep praising his Lord whether he finds success in the end zone or not.
(Photo: Twitter)
Buy my New York Times best selling book "For the Right Reasons" for the Bachelor fan in your life:
Read more on the Faith and Family Channel – follow me on Facebook,  Twitter, and Instagram!