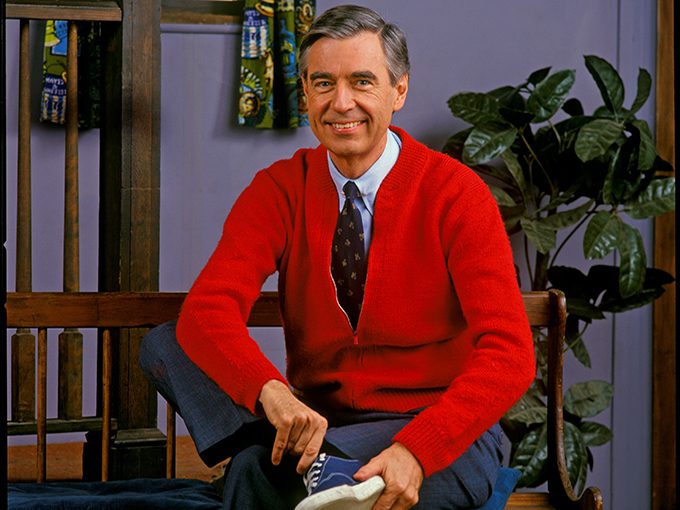 Like most people my age, I grew up with Mister Rogers. His show began right about the same time my life did. He was a steady and beloved presence in my home when I was a youngster. When I became a little older and "cooler" I started to think Mister Rogers was lame. I couldn't believe how I could have once sat and watched that sappiness every day. In my teens and early 20s–when I thought I knew everything–whenever I would see his show, I'd look cynically at Mister Rogers, by then beginning to gray around the temples, and assume he was a phony. Nobody, I thought to myself, could truly be that nice and gentle, that guy must be hiding something…I'll bet he has some scary skeletons in his closet. By the time  I reached my late 20s and early 30s, I was married and became a father. I began to watch Mister Rogers regularly again, this time with my daughter. I had changed a lot–but Mister Rogers hadn't changed a bit, except for some wrinkles and more gray hair. His message and tone were exactly the same. This time around, I had a whole new appreciation for Fred Rogers. His message to children–the same message I had gotten from him when I was young–never faltered. It was as good for my young daughter as it was for me. Fred Rogers passed away in 2003. I don't remember a great deal of fanfare for him at that time. Sure, it was newsworthy that this man who'd spent so much time on television had passed away, but I don't recall a huge fuss being made over him. Fifteen years after his passing, that has begun to change. Perhaps because of the vitriolic political climate in our nation, we are beginning to take a new look at the life and work of Fred Rogers. I think it's high time we did. Mister Rogers' message was simple; No matter what we look like on the outside, no matter what color our skin is, what sex we are, or what physical abilities we may or may not have, everyone has value–everyone is special–everyone deserves to be loved. In this nation so divided, we need that message more than ever.
In a time where it seems we have taken a step backwards in racial relations, we need Mister Rogers' message. In 1969, Rogers asked Francois Clemmons, a young black singer/actor, to play the role of a police officer on Mister Rogers' Neighborhood. Clemmons was reluctant at first, frankly telling Rogers that growing up in the inner city during the racially volatile Civil Rights era had left him with a less than positive outlook on police in general. Rogers managed to convince Clemmons that it would be a great opportunity to let children see a different kind of relationship between different races and see police from a different perspective. Clemmons agreed and became a regularly recurring character on the show for more than two decades. In Clemmons' first appearance on Mister Rogers Neighborhood, he and Mister Rogers famously shared a foot bath in a kid's wading pool. It was a highly unusual thing to see a white man and a black man soaking their feet in a common  pool on television in 1969. It was even more remarkable when Fred Rogers helped Francois Clemmons dry his feet. The message sent by that humble gesture was unmistakable. The two men reprised this scene in Clemmons' last appearance on the show 25 years later.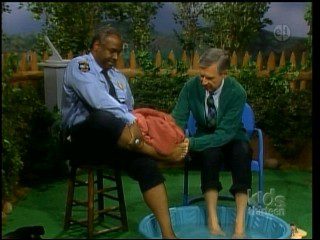 It was such a simple thing, but its subtle message packed a powerful wallop. We are all the same on the inside. Kids needed that message in 1969, in 1993, and they need it still today. That was Fred Rogers and there wasn't a phony bone in his body.
Another famous example of Fred Rogers's message of inclusion came when he had a young paraplegic boy named Jeff Erlanger on his show. Mr. Rogers said that he wanted all of his children friends to know about his friend, Jeff. Mister Rogers never talked down to kids and he never shied away from heavy topics. He had Jeff show and tell about his wheelchair and then had him tell his television friends what had caused him to need it. After Jeff shared his story, Mister Rogers asked him if he'd like to sing the song, "It's You I Like" with him.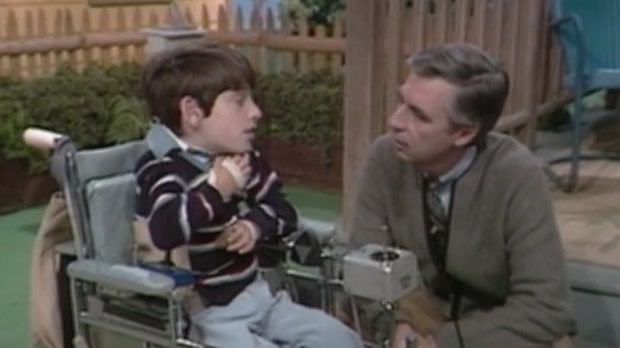 You can watch a clip of that episode at this link, but have tissues handy, it's a tear-jerker.
Mister Rogers was the genuine article. He had a simple message and delivered it consistently and with unwavering honesty. He helped children cope with serious topics, addressing everything from dealing with anger, failure, disappointment, divorce, and even death. At the heart of all of it was his message that everyone was deserving of love.
It's a message we need today.
It's a message Christians need today.
It's a message I need today.
Lately, I've been falling into the trap of distancing myself from people I feel estranged from due to conflicting views about politics. That's kind of where we are in America right now, I think you'll agree. It's become tougher and tougher to separate ourselves from the tensions of politics. In June of 2017, I signed a contract committing myself to write about politics on a weekly basis, so it's become a regular part of my existence. In the process, I've felt the distance growing between myself and some of my long time friends and even some extended family who view the political landscape through a different lens than me. For Christians, like myself, who tend to lean to the left side of the political spectrum, this is an every day fact of life. Many of the people in our lives tend to be on the other side of the partisan aisle. It can be awkward and uncomfortable. But I don't want to be guilty of unlovingly cutting them out of my life just because we see politics differently.
The other day, I was at a church function. Before it got started, I saw some people I know discussing a trip one of them was going to be taking to Wisconsin.
"What part of Wisconsin?", the one man asked, "I hope it's not around Madison."
"Why's that?", came the reply.
"Nothing but Leftists there–you don't want to go anywhere near that!", the man answered.
With that, both men and their wives burst out into loud laughter.
This has become acceptable behavior at church. This has become America.
We need Mister Rogers.
After all, how different is the message of Mister Rogers from that of Jesus Christ?
Before I write another word, I need to admit that I fully understand that I might be guilty of treading on hypocritical soil here. I have written many, many things that are very critical of conservative Christians who still support Donald Trump. But I sincerely hope that I don't do so out of hatred. I still have many conservative Christians in my life. I love them and have no plans to avoid them like the plague or, God forbid, Madison, Wisconsin.
I write so often with them in mind for two reasons; to get them, hopefully, to think about things with a new perspective, and so that they might know my heart and why it is that I don't support the same politicians they do.
Even when they disagree with me–especially when they disagree with me–I still need to keep Mister Rogers' (and Jesus') message in mind. "It's you I like."
I'll wrap this up with a wonderful Fred Rogers quote that I'm going to try to stitch right into my heart…
"When I say it's you I like, I'm talking about that part of you that knows that life is far more than anything you can ever see or hear or touch. That deep part of you that allows you to stand for those things without which humankind cannot survive. Love that conquers hate, peace that rises triumphant over war, and justice that proves more powerful than greed…Love isn't a state of perfect caring. It is an active noun like "struggle." To love someone is to strive to accept that person exactly the way he or she is, right here and now."

—Fred Rogers
If you enjoy what I write, please consider subscribing through my Patreon site. Everything I write here will be posted there as well as some content for subscribers only. Writing is a passion but it takes a lot of blood, sweat and tears. It's very difficult to see any monetary gain from the time put into writing. Any support you can offer would be much appreciated. Any amount helps. If you'd be willing, subscribe at this link. 
Thanks.