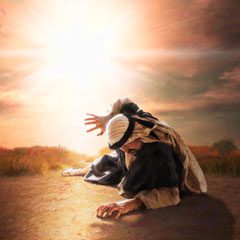 As he neared Damascus on his journey, suddenly a light from heaven flashed around him. He fell to the ground and heard a voice say to him, "Saul, Saul, why do you persecute me?"

Who are you, Lord?" Saul asked. 

"I am Jesus, whom you are persecuting," he replied. "Now get up and go into the city, and you will be told what you must do."

The men traveling with Saul stood there speechless; they heard the sound but did not see anyone. Paul got up from the ground, but when he opened his eyes he could see nothing. For three days he was blind, and he did not eat or drink anything. 

Then Ananias went to the house and entered it. Placing his hands on Saul, he sad, "Brother Saul, the Lord–Jesus, who appears to you on the road as you were coming here–has sent me so that you may see again and be filled with the Holy Spirit." Immediately, something like scales fell from Saul's eyes, and he could see again. He got up and was baptized, and after taking some food, he regained his strength.

-Acts 9: 3-9 and 13-19
With the rise of Democratic candidate Pete Buttigieg, I've been thinking about this scenario a lot lately. Buttigieg has emerged from the obscurity of his position of mayor of South Bend, Indiana to become a new star on the national stage as one of the Democratic candidates for the presidency in 2020. He has captured the imagination of many on the Left. Many of my friends who are Democrats are beginning to publicly endorse Mr. Buttigieg. I'm still researching and considering multiple candidates, but I am very intrigued and impressed by what I've seen from Mr. Buttigieg so far. Win or lose, Pete Buttigieg is going to make a huge splash in this election cycle. His candidacy will put Conservative Christianity on Damascus Road.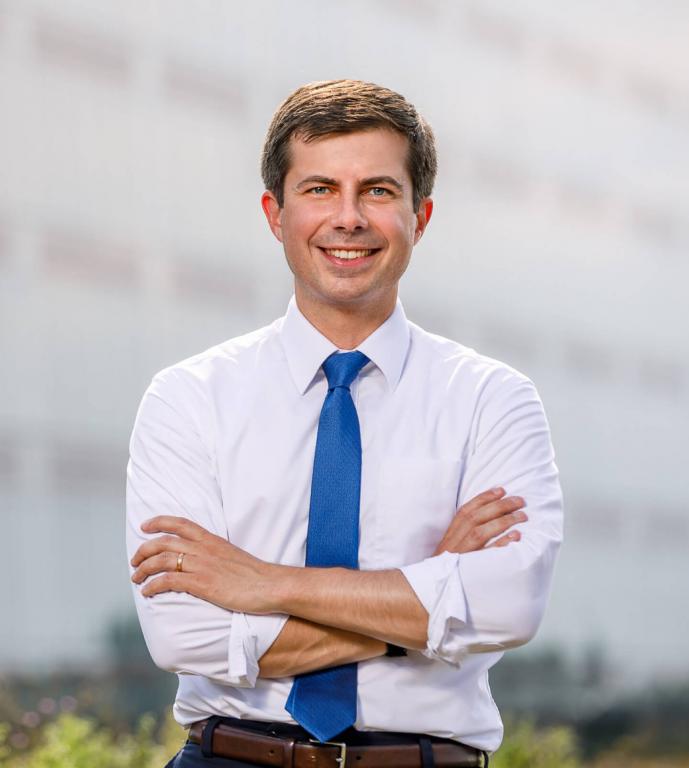 Pete Buttigieg is, perhaps, the most unusual major candidate we've ever seen run for president. In some ways he is the kind of candidate that would appeal to Conservative Christians. He is a a Christian and regular attender of the Cathedral of St. James Episcopalian Church in South Bend. He is a military veteran who served as a Naval intelligence officer and saw active duty during a seven month deployment in Afghanistan. In those ways, Buttigieg's resume is–or should be–far more appealing to a conservative Christian than President Trump's.
Pete Buttigieg's politics certainly make him attractive to those left of center. His campaign platform includes universal healthcare, strengthening labor unions to protect American workers, universal background checks for buying guns, environmental protections, protection for DREAMer immigrants, legal protections for LGBTQ people, and legalizing marijuana to help end the drug wars. Buttigieg is young, attractive, and vibrant. He is also brilliant, a graduate of Harvard, a Rhodes Scholar, and speaker of Norwegian, Spanish, Italian, Maltese, Arabic, Dari, and French. He is also a gifted musician. He is just the kind of candidate that the Democrats need.
But the real twist to this exciting candidate is that he is openly gay. This is going to be interesting.
I am so excited to see what happens from here. I want Buttigieg to succeed and become a major player in this election because he will absolutely put a face on the LGBTQ Rights issue–a face that Donald Trump and whomever else might have a hat in the ring will be forced to confront on a national stage.
Conservative Christians are going to have to take a good long look at the issue that seems to be one of the ultimate dividers. This issue has already split Christianity into two camps, the Progressive/Inclusives on the Left vs. the Conservative/Fundamentalists on the Right. We have heard many mouthpieces of the most conservative wing of the Church blaming all the world's troubles on the acceptance of homosexuality. Meanwhile, a growing facet of more progressive Christians are trying to reach out in love to the LGBTQ community. Pete Buttigieg now stands squarely in the breach. With Buttigieg front and center in the discussion, conservative Christians are going to have to look him in the face and deal with him directly. The way they do so will be a spotlight moment in the history of this nation. Will scales fall from their eyes or will they continue as always? Will they realize that judging people is the job of God? Will they consider the fact that people are as God made them? Will they reflect the love of Christ when they stand face to face with Pete Buttigieg?
A nation will be watching very closely.
This is going to be a a landmark–a milestone–a crossroads–the Damascus Road.
This is going to be interesting.
Check out the Empathy Mining Podcast, this episode is a companion to this article.