Pete Buttigieg has cannonballed into the national political pool and made a remarkable splash.  I wrote an article endorsing him a couple weeks ago that made a big splash, too. Between the times it was shared on social media platforms and here at my Patheos column, that article sparked a conversation and debate that resulted in thousands of comments.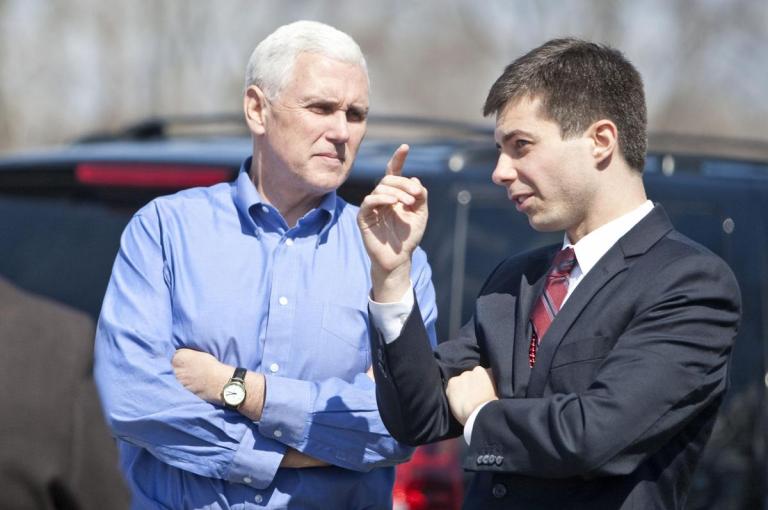 This just shows that Mayor Pete has the "it factor" necessary to move the needle. That's exactly what the Democratic Party needs. This brilliant octolingual, Christian, gay, Rhodes Scholar is as intriguingly unique as he is impressive. Now he has, quite predictably, drawn the attention of the Christian Right.
Buttigieg fired a brilliant shot at Vice President Pence the other day that has led to a bit of a verbal squabble that now involves Pence's wife, Karen, as well.
Pence and Buttigieg are not strangers as both are Hoosiers. As Governor of Indiana, Mike Pence worked closely with the South Bend, Indiana mayor. So when Mayor Pete calls Pence out, it's not out of the blue. Buttigieg  hit the nail squarely on the head with a statement that resonates from the very core of the divide in the Church. "[This is] the thing I wish the Mike Pences of the world would understand: That if you have a problem with who I am, your quarrel is not with me. Your quarrel, sir, is with my creator."
Boom goes the dynamite!
This is exactly why I was so excited to see Buttigieg enter this presidential race. He is pointing squarely at the elephant in the room. Pete Buttigieg and his husband didn't choose to be gay, God made them that way. We are going to have this conversation and Pete Buttigieg is exactly the guy we need to bring it to the table.
Mike and Karen Pence are now on the counter-offensive, claiming that Buttigieg is attacking their faith. In an interview with Joe Kernen on CNBC's Squawk Box, Pence said, "He said some things that are critical of my Christian faith and about me personally, and he knows better." Karen has recently been saying many of the same things in support of her husband.
They miss the point.
Mike Pence is in a position of power, a heartbeat away from becoming the leader of the free world. He has potentially great influence over the policies that can either provide the equal rights called for in the Constitution or take them away. His faith-based convictions about homosexuality are infamous. Here is a partial list of things he's said and done about LGBTQ people during his public career.
Gay couples are a sign of "societal collapse"

Voted against a law that would have banned discrimination against people based upon their sexual orientation claiming it "waged war on freedom of religion in the workplace"

Opposed the repeal of "Don't Ask, Don't Tell"

Supports publicly funding "conversion therapy" for homosexuals

Called for federal funding for H.I.V/Aids treatment to be stopped unless the government could certify that no money supported "organizations that celebrate and encourage the types of behaviors that facilitate the spreading of the H.I.V virus."
That is a pretty dismal record for a public servant charged with representing the LGBTQ community just as much as every other segment of society.
And that's the difference.
Pete Buttigieg isn't trying to attack the Christian Right's faith. He is pointing out that they are trying to use their faith to discriminate. He's saying, you may disagree with my policies, but please don't disapprove of the way God made me.
Conservative Christians simply must come to the understanding that offering equal rights to others does not mean giving up rights of your own. That's not the way the Constitution works, it just isn't.
Pete Buttigieg may not change many minds or hearts on the right, but thank God he's going to make them face some uncomfortable truths.