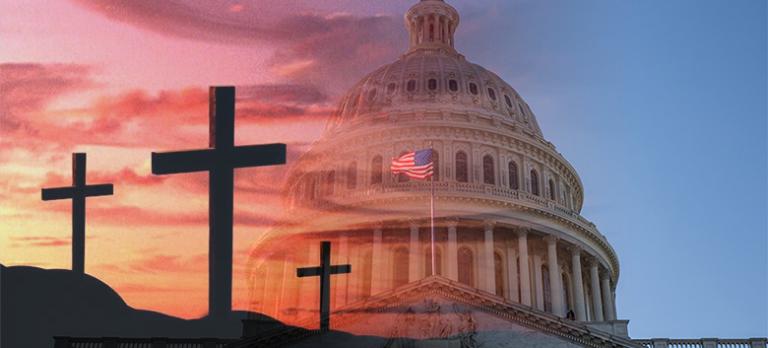 Before I begin, let me just say, I understand that I run the risk of being hypocritical here. I write a political column from the perspective of my progressive Christian world view. So, yes, I do have a political agenda, just like everyone else. The difference between my approach and a more conservative Christian's approach is very crucial, however, and I think this gets lost in the discussion. Progressive Christians, like myself, are very insistent that the Constitution should be what runs this nation, not a Christian agenda. It is, perhaps, one of the most crucial aspects of our nation; the wall of separation between church and state. It's also, I believe, a crucial part of being a Christ-follower. A Christ-follower with progressive political views can separate personal morals and values from our understanding of what it means to be an American citizen while a conservative Christian cannot.
That's an incredibly important thing to understand, so let me say it again in a bold, italicized quotes:
A Christ-follower with progressive political views can separate personal morals and values from our understanding of what it means to be an American citizen while a conservative Christian cannot.
This is at the root of what we see happening in the bizarre and disturbing Trump Era. Conservative Christians have so completely married their very rigid interpretation of Christian values and morals to their political world view that they have pigeonholed themselves into supporting all manner of very anti-Christian policies. In this process, they've exposed themselves to a ton of very valid criticism from other Christians and non-Christians alike. They have also separated themselves from the most frequent and important teachings of Jesus Christ.
We've spent a lot of time at my church in recent weeks looking at the 14th chapter of Luke. As I read that chapter, I find myself scratching my head at how conservative Christians seem to miss part of the message Jesus is trying to teach there. Throughout much of that chapter, Jesus is calling out people of his society who did things just to get something back in return. Jesus admonished those around him to humble themselves and let others elevate their status. He called on his followers to reach out and "invite the poor, the crippled, the lame, and the blind" to their banquets rather than those of high status. To invite only those who may have the ability to repay you somehow down the line is, in itself, an act of selfishness. Here again, as in so many other examples, Jesus is trying to get it through the thick skulls of those around him to concern themselves with the "least of these" instead of the well-to-do or influential. Also in Luke 14, Jesus told his followers that if they wanted to be his disciples, they needed to give up their attachment (addiction) to the things of the world and focus on the needs of others.
Time and time again, when Jesus spoke to the politically conservative religious of his time, he was calling them out to give up the politics, to put their quest for social status aside, and to reach out in love to those at the bottom of society. Time and time again, the politically conservative religious of Jesus' time failed to heed his message, to the point where they eventually had him arrested and crucified to shut him up.
Today's politically conservative religious are doing the same thing to Jesus' message when they insist on using their political clout to support politicians whose agendas are extremely hostile to the least of those in our society.
Do I, as a progressive Christian, have a political agenda? Of course I do. My agenda is to keep my personal religious convictions out of any decisions I make about the policies of my nation. I am not threatened by someone who believes differently from me, but they are my neighbors as Americans and, as Americans, we live under the same Constitution and share the very same rights.
It is my responsibility as an American to vote in ways that protect everyone's freedom. It's my responsibly as a Christian to put my political agenda aside and concern myself with the needs and rights of the poor, the sick, the immigrants, the LGBT community, women, people of color, people of different faiths, etc.
My prayer is that more conservative Christians will begin to understand this and free themselves from the trap they've been living in.