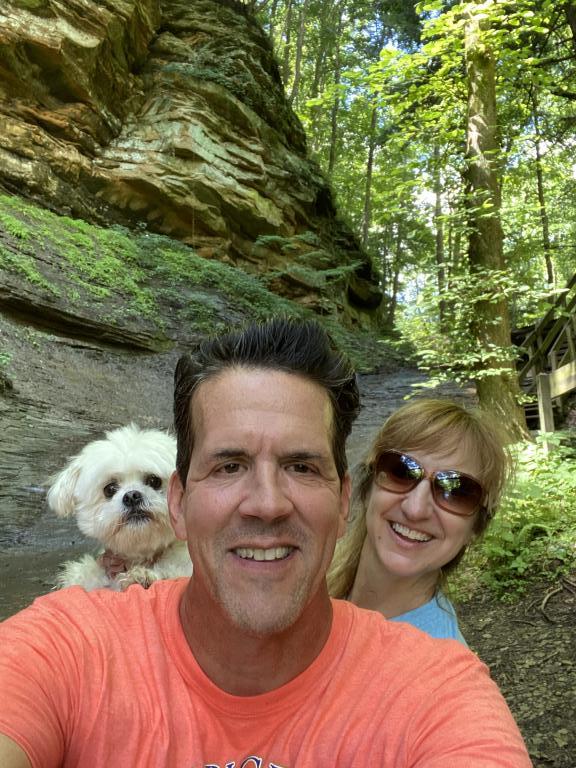 Since I'm a teacher, I spend quite a bit of time at home alone, since my wife doesn't have as much time away from work as I do. This has been especially true in this past year. With quite a bit of my work being done at home during the months we were doing virtual school. As a person who loves creative expression in many different forms, my schedule does provide me with a good amount of time for that. But it can be lonely sometimes, too. For the past 13 years, I've had a constant companion in those times when I would otherwise be alone. That companion came in the form of a cute and furry nine pound bundle of love, our little Havanese dog named Izzy. I can't imagine the last 13 years of my life without her, and it's hard to imagine that when I get home this afternoon, she won't be there to greet me. Izzy passed away in the wee small hours this morning and took a little piece of our hearts with her.
I thank God for that little dog. She was a marvel in ways that I still don't fully understand. She was so incredibly intuitive that I swear she could almost talk. She understood me perhaps better than any human I've ever known. She was an empath beyond the explainable. At one of the lowest points of my life, she locked into my emotions and refused to leave my side. I could feel her concern for me. She knew I was hurting and took some of my pain onto herself and mourned for me. I felt it deeply and it kept me from drowning in my own soul. It was one of the most moving experiences I've ever had, and I will never forget it.
I believe God placed the perfect pet in our lives back in 2008 and I thank him for sharing such a loving being with us. She will be missed severely but will always be a part of us.
I wrote a poem for Izzy this morning and I am also sharing a song I wrote about her last year—as I was already bracing myself for today.
Godspeed sweet Izzy.
I Always Made You Eggs
By: Shane Phipps
For the rest of my life
I'll think of you whenever I make eggs
Every time I made myself some eggs
You came running
You'd sit there on the kitchen floor
and look up at me expectantly, but patiently
and there was always an extra egg in the pan for you
You were the only dog I ever cooked for
because you were special
you were really special
For the last 13 years
I spent as much time with you
as I did with anyone
maybe more
We were together through the many weeks of summer
through sick days
throughout the year of Covid quarantine
We were attached at the hip
You were with me through some of the darkest days of my life
when I was struggling with a depression so dark
that I had to search deeply for the will to carry on
you rescued me with your unconditional love and devotion
Somehow, I sensed that you understood what I was going through
more than any human I knew
You wouldn't leave my side
You sensed that I needed you and you were there
I'll never forget that
You were an empath of the highest order
You always understood us
You studied our ways and adapted your ways to meld seamlessly with ours
You were completely in tune with the rhythms of our home
You carefully studied the clothing we were putting on
and somehow you knew what was about to happen
You'd get excited if you knew that you were about to go somewhere with us
and it never ceased to amaze us that you somehow knew it before we ever let on
If you knew we were going someplace without you
you'd go "home" to your pen without even needing to be told
We marveled at your intellect and intuition
Your ability to shower us with love
Your ability to make us laugh at your antics
Your capacity for understanding and empathy
have left an enormous hole in our home and in our hearts
You always made me happy
and I always made you eggs
Rest in peace, sweet girl
(for Izzy—September 23, 2008 – March 22, 2021)