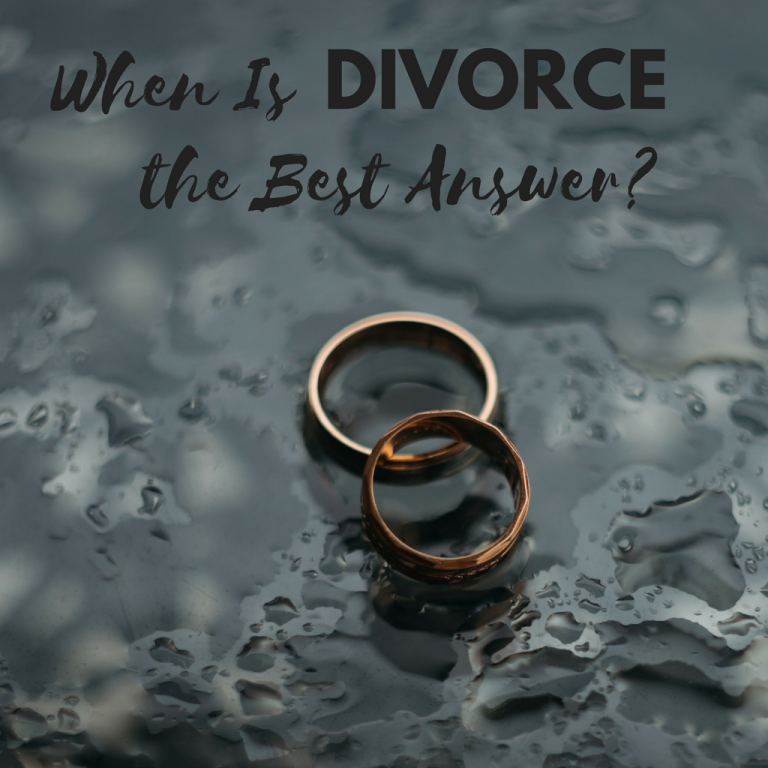 One bad year turned into two and before I knew it, we were creeping up on five years of misery. Sure we'd had some good times, but secretly our marriage felt like an episode of Marriage Bootcamp. Hard and full of drama.
Marriage was a bigger challenge than I'd ever imagined. I'd gone into it with pretty simple expectations. I'd expected he'd make me happy. When he didn't, I got angry and bitter. I was sad. I got mean.
He wasn't meeting my need for emotional intimacy. I didn't want to meet his need for physical intimacy. Talk about a hot mess.
I'd go days without speaking to him. I even considered having an affair. I acted like a spoiled child. I fantasized about divorce. But, I couldn't bear the thought of people thinking I was a failure. I stuck it out, hoping it'd get better (with little or no help from me).
For years, I hid behind a smile. I pretended life was good. I didn't want anyone to know how miserable we were behind closed doors.
Are you hiding your difficult or painful marriage behind a smile? Do unmet expectations and frustrations make you bitter or angry towards your husband?
If things had continued as they were, my husband and I might've been on the road to divorce court. One weekend–when I was out of town– someone invited him to church. If I'd been home, I never would've agreed to go. But God had other plans. I wasn't home, so he went.
Then, he had the nerve to suggest we attend church regularly. I saw that as another issue we were on opposite sides of. I refused to go.
But, he kept going. Week after week he'd ask me to go with him. Week after week, I refused.
Frustrated and at the end of my rope, I finally agreed to go. Reluctantly, I agreed to join a small group. But, I was determined not to share the details of my marriage. I remember sitting in a group of women as the leader asked each woman questions about her relationship with her husband. I felt defensive.
What difference did it make how I treated him? He was the reason for our unhappiness.
If he was more loving, romantic and caring, I'd be, too.
As she asked the questions and they shared, I excused myself and went into the bathroom and cried. I refused to let anyone see the pain in my heart. I turned her questions over in my mind:
1.Did you say anything disrespectful to your husband in the past week?
2.Did you say anything unkind to your husband in the past week?
3.Were you in an inappropriate relationship in the past week?
4. Did you harbor anger in your heart towards your husband in the past week?
I was three for four, but I was afraid to admit it. I was amazed at the transparency and women's willingness to share the struggles in their marriages.
Finally, my turn came. Tears sprung to my eyes as I admitted my failures. I was met with love and encouragement. No one called me a bad wife. They taught me and guided me through my struggles. I learned how my attitude was hurting my husband and my marriage.
As we continued to meet with our small group, we saw godly marriages modeled.
I learned what loving my husband unconditionally meant.
I was held accountable for my behavior as a wife.
I learned I had to make a mindful decision to forgive.
I learned how to adjust my expectations.
I wish I'd understood how damaging a poor attitude could be to my marriage.
I wish I'd had a mentor to encourage me early in my marriage.
Learning how to adjust expectations and love unconditionally was not easy. Sometimes, I still drop the ball. Marriage is hard, but the pain of divorce is much worse. Are the problems in your marriage related to your own unmet expectations? If so, divorce is not the answer. The answer is learning how to let go of expectations and embrace God's will.
I wish I'd had someone to challenge my attitude and expectations. What about you? How was your attitude towards your husband this past week? Did you say anything disrespectful, harbor anger or treat him unkindly?
How can you adjust your attitude and expectations to show him unconditional love?
Need skills to build intimacy?
---
Subscribe to updates from The Not So Excellent Wife here!
Also known as the Not So Excellent Wife, Sheila Qualls understands how tiring a tough marriage can be. 
She went from the brink of divorce to having a thriving marriage by translating timeless truths into practical skills. She's helped women just like you turn their men into the husbands they want.
After 33 years of marriage, she's a  coach  and a speaker whose passion is to equip women to break relationship-stifling habits and do marriage God's way. And you don't have to be a doormat to do it.
She and her husband Kendall live in Minnesota with their five children and their Black Lab, Largo.
In addition to coaching, Sheila is a member of the MOPS Speaker Network.  Her work has been featured on the MOPS Blog, The Upper Room, Grown and Flown, Scary Mommy, Beliefnet, Candidly Christian, Crosswalk.com, The Mighty and on various other sites on the Internet.