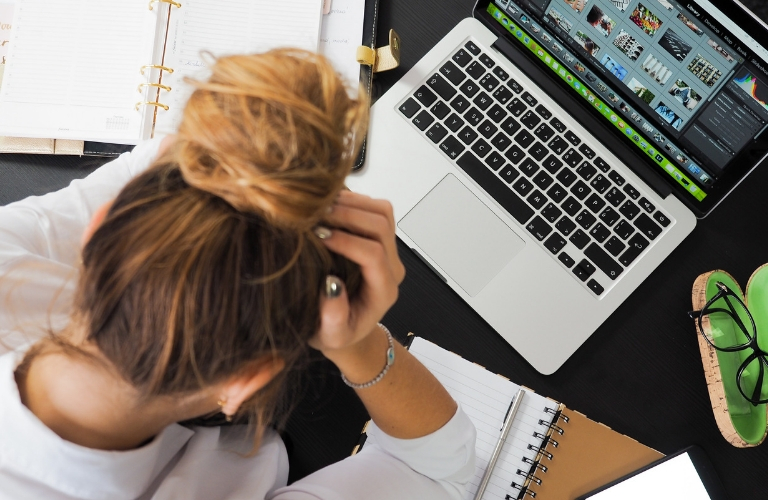 Suffer from PMS? You're cranky. You get headaches. And your husband? He doesn't want to be anywhere near you. PMS is common, and it's a common problem in marriage. Everyone suffers from it from time to time. Here's the good news: There's a cure.
Perfect Marriage Syndrome. It occurs when a wife thinks her marriage should be well. . . perfect, and she places unrealistic expectations on her husband, thinking he can make it that way. He can't, so he stops trying.
Anyone can suffer from PMS.
Maybe you know what I'm talking about. You're looking at your girlfriend's Facebook feed. It's populated with pictures from her Caribbean cruise, flowers from her husband, her new puppy and she's got a gazillion likes.
Like hormonal PMS, you get moody. Where's your puppy? You're miserable because your man isn't as you think he should be or because he's not like your girlfriend's husband.
Perfect Marriage Syndrome, if left untreated, can mess you up. PMS breeds discontentment, discouragement and disillusionment.
Here are 6 ways you can cure PMS in your relationship for good:
Realize your Facebook, Instagram and Snap Chat friends all lie.
No one's happy all the time, yet do you ever see a picture of someone on Facebook crying? Does she post when her husband forgets her birthday or anniversary? Does she post that she thinks he's having an affair or her kids aren't in AP classes and they smoke weed? You're comparing the highlights of her life to the humdrum parts of your own. You're comparing her photo-shopped life to your real life. Her real life is probably more like yours than you'd think.
PMS usually begins before you ever get married. You look sharp. You talk sharp. You have a great job. Everything looks good from the outside. The inside is another story. You're plagued with self-doubt and insecurity. You never feel like you're enough. You meet a man. You think he's going to make your life great. But getting married doesn't cure you. In fact it makes you worse. Find a way to work out your stuff. Make an appointment with your pastor or a therapist. Friends are nice and free, but they may not be able to guide you through emotions and to solutions.  Find a trained person to help you get to the root of your problems.
Find a place of worship. Couples who attend church together are more likely to stay together. A 2016 study released by Institute of Family Studies found couples who go to church report higher levels of happiness. Not because everything's perfect, but because they learn what to expect. You learn what your role in your marriage should be and what a biblical marriage should look like. And you may realize you have more work to do in your marriage than you'd thought.
Recognize nobody's husband is perfect.
Perfection is an illusion. Your girlfriend's husband might seem perfect, but, trust me, he's not. He might be her "bae" in public, but you don't know what's going on "for reals." At some point or another most husbands mess up. They lose things,
get angry
 , have gas,
 forget to take out the trash,
leave the toilet seat up or sit in front of the TV too long. At some point, all are inconsiderate or selfish. He may not make it a habit to be that way, but it happens. All marriages have their issues. When you think someone else's issues look better than yours, remember, you're not looking at it from their perspective.
Realize chick flicks are a lie.
Your husband is not going to be like the guy in the movie. Music isn't going to play while you're making love (unless you have Spotify set on repeat). He won't want to kiss you in the morning when you both have morning breath. He won't know what you want because he doesn't have a script. Most of the stuff depicted in chick flicks just isn't accurate. They're fun to watch, but they don't set an expectation for real life. Real life is kids and bills and sickness and house training a new puppy and math homework. But that doesn't mean it can't be good.
Accept that marriage isn't designed to make you happy.
Marriage wasn't designed to make you happy. It makes you see the worst in yourself and hopefully you'll want to change it.  The couples who make it aren't the couples who don't struggle. The couples who make it are the ones who don't give up. They decide their commitment to one another is bigger than their problems. Success in marriage isn't determined by how happy you are; it's determined by how well you handle conflict.
We all want great marriages. But they don't happen by accident. They happen when a couple decides to be intentional about the kind of marriage they want.  Accept your husband as he is. Work hard to improve yourself, and realize all marriages hit rough spots.
---
We're all not so excellent in some way or another. Learn about the little things that make a big difference in  marriage and in life.
Subscribe to updates from The Not So Excellent Wife here!
As a not so excellent wife herself, Sheila Qualls shares eye-opening information that helps women discover how to thrive in marriage and in life.
After 32 years of marriage, she knows what it's like to have a happy marriage and she knows what it's like to have a hard one. Five years into her marriage and on the brink of divorce, she learned the secret to turning her man into a loving husband.
She's now a  wife coach and her marriage can be your classroom where she teaches you how to do life with intention and purpose.
Visit www.thenotsoexcellentwife.com for more and follow her on  Facebook.