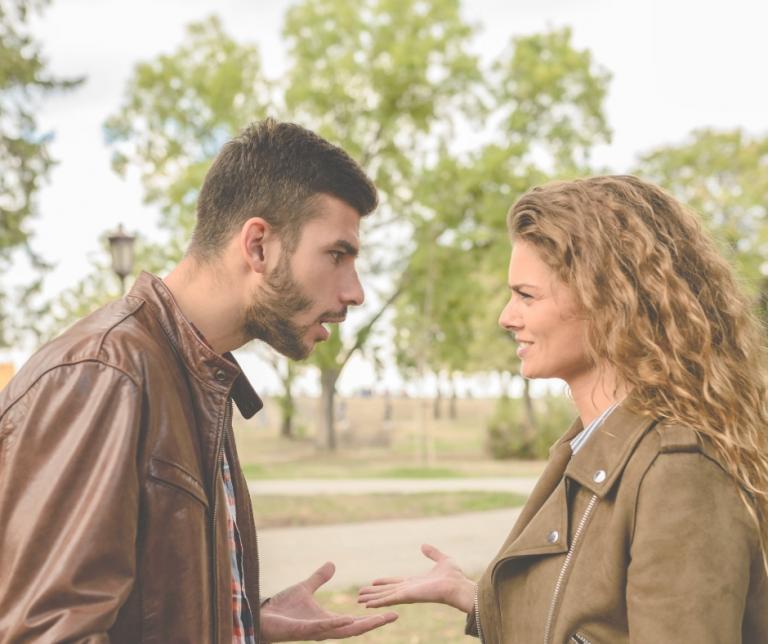 Ever been in the middle of a mild disagreement with your husband when he started acting like you just said, "I drained our bank accounts and plan to run off to Belize with the UPS guy"?
Okay, that's extreme, but his reaction seemed excessive for the situation?
That's exactly what happened with us last week.
Let me explain.
I was enjoying my Krispy Kreme maple-glazed delight as we drove down the interstate discussing the pros and cons of a car we were considering buying.
It was just a car. I was just asking questions. I was just expressing why I thought it was not a good buy.
That's when he got ticked.*
He was clearly overreacting, I thought.
I pulled out my phone and started Googling anger management with my sticky fingers, thinking "What is his problem?"
Dr. Jekyll and Mr. Super Sensitive
That's when I came across an article by Shaunti Feldhahn about men, respect and anger.
I began to understand what had just happened.
What I'd just interpreted as Dr. Jekyll and Mr. Super Sensitive was actually his response to feeling disrespected.
You might think, "My husband would never act like that." That's great, but he'd be in the minority.
Shaunti says in her book "For Women Only" more than 80 percent of men will get angry during a conflict when they feel like they're being . . . disrespected. And a lot of times, their responses seem disproportionate to the situation.
The article seemed almost prophetic. It read: And while he's feeling ticked off because he feels disrespected (which he was) . . . we girls are thinking "you don't love me!" (which I did).
Has your husband ever reacted like this? He's seemed too mad for the situation. And you're left thinking, "Wha…?"
Here's the deal: When men feel disrespected, they're likely to get a little ticked. That's what men do. Like it or not, we've got to give our men room to be human.
Instead of thinking he's breaking the rules of engagement for marital conflict by getting angry, we've got to accept the way he's made.
Shaunti says wise women will learn –with practice– to translate his angry words or behavior during conflict as a signal he feels disrespected, and she'll back off.
Eventually kisses, hugs, and I'm sorry's were exchanged. He felt bad.
But so did I.
All anger isn't bad
Respect is huge for men, and I don't want to ever make my husband feel disrespected. Unfortunately (unintentionally) I do.
Whatever I'd said or done had seemed innocent to me, but it had computed as "disrespect" to him. And he responded like a man: He got angry.
All anger isn't bad. So, the next time your guy's feathers get ruffled during a disagreement:
Take a step back from the discussion.
Instead of accusing him of being overly sensitive or irrational, interpret his behavior as a response to feeling disrespected or hurt.
Revisit the discussion later (after he's calmed down) and try to identify what caused him pain.
Rephrase your responses or questions more respectfully in tone and words. Remember, he's wired differently.
It may even be necessary to apologize and affirm your respect for him (even if you don't feel like you've disrespected him).
My barrage of questions and comments shooting down his ideas most likely made him feel like I don't respect his opinions, and I think his ideas are dumb, which I don't.
Here's the thing: I know this. It's not like we walked down the aisle yesterday.
I still mess up sometimes.
The next time a mild disagreement takes a turn down Ticked-Off Street, instead of feeling hurt, plotting revenge or pouting for days, let him be a man and interpret his anger for what it is–hurt because he somehow feels disrespected.
Looking back, I should've framed my questions and responses in a way that was less confrontational and critical.
It would've helped if I let him know I respect his opinion instead of acting like I was using his ideas for target practice and just shooting them down.
Instead of indicting him when he gets ticked during conflict, take a different approach.
Let him be human, examine your words, and modify them (if necessary), so he interprets them as more respectful.
*NOTE: This article is not referring to physical or verbal abusive. If you are being abused, seek professional help right away. The National Domestic Violence Hotline number is 800-799-7233.
Need skills to build intimacy?
---
Subscribe to updates from The Not So Excellent Wife here!
Also known as the Not So Excellent Wife, Sheila Qualls understands how tiring a tough marriage can be.
She went from the brink of divorce to having a thriving marriage by translating timeless truths into practical skills. She's helped women just like you turn their men into the husbands they want.
After 33 years of marriage, she's a coach and a speaker whose passion is to equip women to break relationship-stifling habits and do marriage God's way. And you don't have to be a doormat to do it.
She and her husband Kendall live in Minnesota with their five children and their Black Lab, Largo.
In addition to coaching, Sheila is a member of the MOPS Speaker Network. Her work has been featured on the MOPS Blog, The Upper Room, Grown and Flown, Scary Mommy, Beliefnet, Candidly Christian, Crosswalk.com, The Mighty and on various other sites on the Internet.