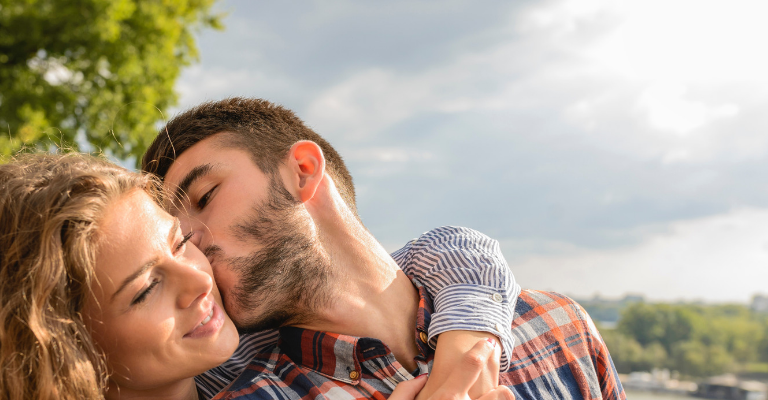 It's hard to stay married to the same guy forever. Believe me, I know. I've been married to three.
Let me explain. I've been married once, but over the course of 32 years, I feel like I've been married to three different men.
The man I married more than 30 years ago is not the same man I'm married to today.
Marriage is hard in the beginning. It still has its challenges.
Maybe you're in a tough season of marriage right now. Are you frustrated? Exhausted? Lonely? Maybe you're wondering if staying is worth it.
If you're in a hard place, don't give up.
Do you want your hard work to benefit another woman?
Probably not.
There's only one way to survive an unhappy marriage: Except in cases of abuse, Stick. It. Out.
Why? Because your husband will change. And so will you.
No one ever says, "You think you're in love right now, but just wait. In a few months, you'll wonder what you ever liked about this guy. But, hang in there, Girl. You'll both grow. Money won't always be tight. He won't always be on the Xbox all weekend long. He won't always spend long hours at work."
If your husband doesn't change over the course of your marriage, something's wrong.
Marriage is designed to challenge you, to push you beyond your limits. You learn to consider someone other than yourself. And it changes you.
I'd been duped.
Early in my marriage, I realized my husband was not the man I thought he was. He was way more selfish and inconsiderate than the guy I'd dated. Not only was I miserable, I fantasized about divorce.
I welcomed my second husband. The father of my children. But he was worse than the first guy. I thought I knew what selfish looked like. This guy made the first one look like an angel. Kids made marriage harder, but they were also the thing that held us together. We had to learn to put our stuff aside to take care of their needs. As we trekked though parenting, I grew more unhappy. His career felt like a mistress. He spent more time at work than he did with me. I felt stuck. I felt alone.
I knew I couldn't last long in that relationship. If he hadn't left, I might've. I can't even count the times I considered it.
Thin on top is the new sexy.
I'm now on husband Number 3. It was worth the wait. I'm a much better wife to him. And he's a far better husband than my first two. Did I love those guys? Sure, but I'm glad I didn't settle for them.
Number 3 is far more mature than Number 1 and works a lot less than Number 2. He listens when I talk to him. He doesn't try to solve my problems. He lets me know he's committed to me. Husbands 1 and 2 did some of those things, but I couldn't see it because I was angry so much of the time.
He's a little heavier, a little thinner on top but he is hot. Sure, Number 3 does things I don't like, but if I hadn't been married to the other guys I wouldn't appreciate him.
Was it hard? Yes, but I'm glad I stuck it out. I'm glad I stayed through the weekends he spent in front of the TV playing video games. I'm glad I stayed when I thought he was a jerk. I'm glad I didn't walk out when the money was tight or when he made poor decisions. I'm glad I stayed when I was sleep deprived and he worked long hours.
Numbers 1 and Number 2 taught me how to love Number 3. But as much as I love Number 3, I know he's not my last. I look forward to Numbers 4, 5, 6 and 7.
A healthy union requires falling in love with same person again and again through every season in your marriage.
I wish someone had told me that. Maybe I would've looked for ways to love my husband through the tough times instead of feeling sorry for myself and praying he'd change.
How can you love your husband in your current stage of marriage?
Need skills to build intimacy?
---
Subscribe to updates from The Not So Excellent Wife here!
Also known as the Not So Excellent Wife, Sheila Qualls understands how tiring a tough marriage can be.
She went from the brink of divorce to having a thriving marriage by translating timeless truths into practical skills. She's helped women just like you turn their men into the husbands they want.
After 33 years of marriage, she's a coach and a speaker whose passion is to equip women to break relationship-stifling habits and do marriage God's way. And you don't have to be a doormat to do it.
She and her husband Kendall live in Minnesota with their five children and their Black Lab, Largo.
In addition to coaching, Sheila is a member of the MOPS Speaker Network. Her work has been featured on the MOPS Blog, The Upper Room, Grown and Flown, Scary Mommy, Beliefnet, Candidly Christian, Crosswalk.com, The Mighty and on various other sites on the Internet.