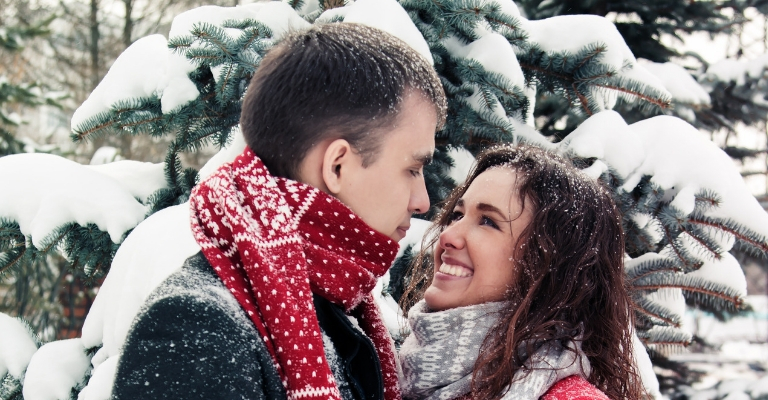 Do you feel like an unloved loser because your husband doesn't do Valentine's Day?
It can be downright disappointing when you have to take the Valentine's Day Walk of Shame because your husband didn't send you flowers, plan a romantic evening or even give you a card.
It's easy to assume he doesn't love or care about you when he doesn't do something you were hoping for.
And it's easy to forget about the positive things he does all year round.
One year I gave my husband his gift a couple of days before Valentine's Day. I arranged for someone to stay with our kids, secured reservations at a nice restaurant, and we spent a night in a hotel before Valentine's Day.
We had a great evening.
Most of the time, my husband recognizes me on Valentine's Day. But that year, I woke up to nothing. Not a card, not a flower, not even a piece of candy.
I was hurt. I was disappointed. I was mad.
Do you get discouraged around Valentine's Day because your husband doesn't recognize you in the way you'd like or in the way other people's husband's recognize them? Maybe you think he's thoughtless because he stops at a drug store on the way home to buy flowers or candy.
Do you slump into depression when your friends post pictures of flowers or detailed plans for romantic date nights and you come up empty year after year?
I hated Valentine's Day when I worked because it was such an in-your-face day.
I always felt relieved when it fell on a weekend.
It was clearly a day of the "he loves me" and the "he loves me nots."
If he sent flowers to work, you were a winner. You could take your place among cupid's victors. You were loved. You'd walk by other winners' desks, admire each other's flowers and engage in idle chit-chat while looking with pity upon the forgotten ones.
If he didn't send flowers, you'd hang your head and take the Valentine's Day Walk of Shame through the parking garage at the end of the work day, hot faced and embarrassed as you returned to your car empty handed.
When someone asked, "What are you doing for Valentine's Day?" you wanted to scream, "Do I look like I'm doing anything for Valentine's Day?"
You told yourself Valentine's Day is stupid, and you don't need your husband to send you flowers to prove his love (all the while wishing one of those bouquets of roses had your name on it).
He doesn't need to send flowers to prove his love, but the truth is you're hurt.
Why do we allow someone else to dictate what's an acceptable display of love and when to show it?
Why do you feel disappointed–even ashamed–if your husband don't recognize you on Valentine's Day?
Some women truly don't care whether or not their husband's recognize Valentine's Day. But what if you do?
What if you're miserable every Valentine's Day because your expectations go unmet, especially if you go all out for him?
Instead of having a pity party, here are seven ways to cope if your husband doesn't do Valentine's Day:
Have a conversation with your husband about your expectations. If he agrees to recognize you, set up a plan to help him remember.
Express your thoughts with "I'm hurt because. . ." or "I'm disappointed because.. . "
Take initiative to come up with plans.
Maintain perspective. Is he normally considerate and thoughtful?
Remind yourself of all the ways he shows his love to you throughout the year.
Invest in making someone else's day special. Buy candy or flowers for someone whose husband doesn't recognize Valentine's Day. Or have a girls night out.
Remind yourself–whether or not he recognizes you–Valentine's Day doesn't define your relationship.
Many times disappointment comes from comparing our marriages and our husbands to other people's marriages and husbands.
Whenever you compare yourself to others, you'll always lose. You'll feel bad about yourself or your marriage because no matter how good your marriage is, you can always find someone's else's that's better.
Comparison is a sure-fire way to stir discontentment and become critical of your husband because he's not like so-and-so's husband.
Maybe he doesn't buy you flowers on Valentine's Day, but does he show his love dozens of other ways throughout the year?
Candy and flowers are nice, but are they the only acceptable ways he can express his love?
Does he start your car on cold days? Does he bring you coffee? Does he call or text to say he's thinking of you? Do you catch him smiling when he's looking at you? Does he make you feel safe, loved and cherished?
Does he work hard, so you can stay home with your kids?
Love him for who he is instead of wishing he was like someone else.
Valentine's Day is nice. But if he doesn't recognize you or if he stops at a drug store on the way home from work to buy flowers or candy, don't allow the day to become an annual source of disappointment in your marriage.
How do you cope if your husband doesn't do Valentine's Day?
Need skills to build intimacy?
---
Subscribe to updates from The Not So Excellent Wife here!
Also known as the Not So Excellent Wife, Sheila Qualls understands how tiring a tough marriage can be. 
She went from the brink of divorce to having a thriving marriage by translating timeless truths into practical skills. She's helped women just like you turn their men into the husbands they want.
After 33 years of marriage, she's a  coach  and a speaker whose passion is to equip women to break relationship-stifling habits and do marriage God's way. And you don't have to be a doormat to do it.
She and her husband Kendall live in Minnesota with their five children and their Black Lab, Largo.
In addition to coaching, Sheila is a member of the MOPS Speaker Network.  Her work has been featured on the MOPS Blog, The Upper Room, Grown and Flown, Scary Mommy, Beliefnet, Candidly Christian, Crosswalk.com, The Mighty and on various other sites on the Internet.