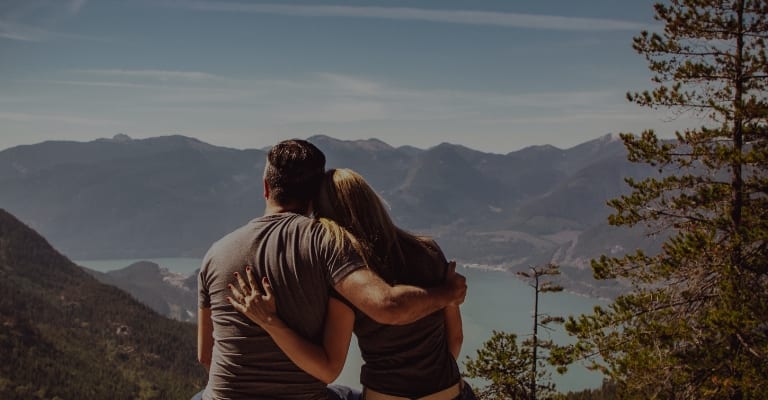 Is the past holding you back?
It may still be painful, if it was horrible. And it might be squeezing the life out of your marriage.
When painful memories begin to control you, it's time to deal with them and begin letting them go. It's essential if you want your marriage to thrive.
How you respond to hurt is a predictor to the happiness of your marriage. Are you able to forgive and move on?
Do you learn from your past without holding it against your husband?
Moving on is a choice.
I learned this lesson the hard way.
When my husband and I got married, I was hurt by something that had happened in the past. I refused to let it go.
It should've been settled long before we married, and it was… for him. Long before he'd asked me to marry him, he put the past in a box and stuck it way back in the corner of his mind. Men do that well.
Not me.
I held onto it and used it as coffee table decor.
When I got mad, I picked it up. Not a great way to start a marriage.
I didn't think he deserved my respect. So I only gave it when I felt like it. I thought letting it go would let him off the hook or he'd think it wasn't a big deal. He needed to feel my pain.
Maybe you know what I mean. Do you have trouble letting go of old hurts? Do you wield an old hurt like a weapon?
The problem with holding on to old hurts is you get new ones. And little hurts get bigger as they pass through the filter of the old hurt.
When hurt gets in the way, marriage gets hard.
Make a decision to let go.
Maybe you're holding on to something that happened in your past, and it's hurting your marriage.
Maybe it's not a hurt your husband caused. Maybe it was caused by someone else in your life.
Letting go of past hurts isn't easy, but it's necessary. Learn from them, but don't dwell on them.
Holding on prevents you from looking to the future.
Steps to letting go.
Here are ways to work through hurts or resentments in your marriage:
1. See your husband for who he is now and not through the lens of the past.
2. Focus on who he is becoming.
3. Find a mentor, a coach or like-minded accountability partners.
4. Keep disagreements in the now and leave the past in the past.
5. Forgive–him and yourself.
6. Respect him even when you're angry.
7. Pray for him.
If you can't let it on your own, seek a counselor or talk to your pastor. Click here to receive our best marriage tips and tools.
If you want a strong marriage, you have to build it.
And you can't build it on a foundation weakened by old hurt.
We have to find ways to leave the past in the past. Hope is in the future. Choose to start new everyday.
Need skills to build intimacy?
---
Subscribe to updates from The Not So Excellent Wife here!
Also known as the Not So Excellent Wife, Sheila Qualls understands how tiring a tough marriage can be.
She went from the brink of divorce to having a thriving marriage by translating timeless truths into practical skills. She's helped women just like you turn their men into the husbands they want.
After 33 years of marriage, she's a coach and a speaker whose passion is to equip women to break relationship-stifling habits and do marriage God's way. And you don't have to be a doormat to do it.
She and her husband Kendall live in Minnesota with their five children and their Black Lab, Largo.
In addition to coaching, Sheila is a member of the MOPS Speaker Network. Her work has been featured on the MOPS Blog, The Upper Room, Grown and Flown, Scary Mommy, Beliefnet, Candidly Christian, Crosswalk.com, The Mighty and on various other sites on the Internet.