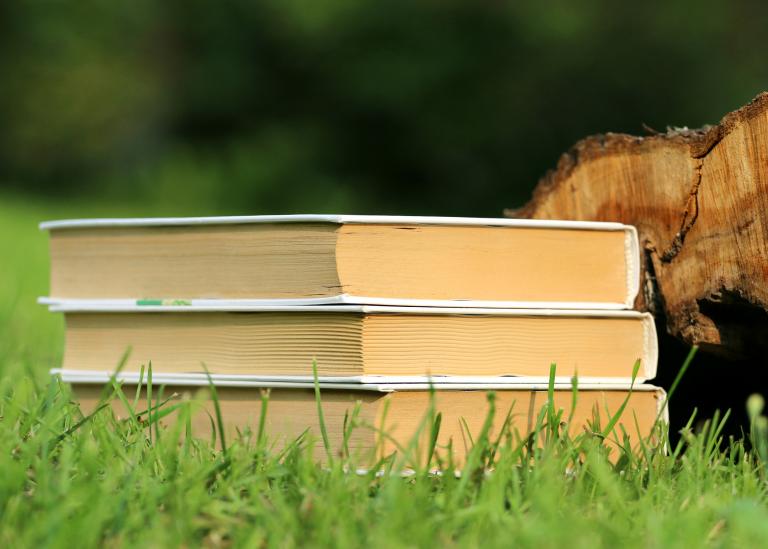 Happily ever after doesn't happen by itself.
No fairy godmothers, no magic wands, no bippity boppity boo's. It's just you, your husband, and your desire to have a better marriage. If you want your happily ever after, you've got to work for it.
Happily ever after doesn't mean you're happy all the time. It means you take time to learn skills to improve your marriage.
Here are five books that can transform your marriage.
First you'll read a synopsis of the book. Then you'll read what happened in our marriage after we started applying the principles.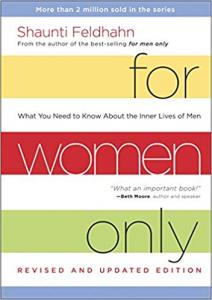 1. For Women Only: What You Need to Know About the Inner Lives of Men–Shaunti Feldhahn
Have you ever innocently suggested that your husband stop working so much and he responded like you asked him to stop breathing?
He got really defensive and maybe angry.
And you were like, "What's his problem?"
And then the whole thing turned into a big fat, unnecessary fight?
There's a reason for that, and Shaunti Feldhahn tells you what it is. She surveyed men (a lot of them) and successfully uncovered how and what they really think and feel.
This is not a quick and dirty, male-bashing read. She shares eight revelations about the way men think and feel that'll change the way you view the men in your life.
After reading this, you'll understand them better–husbands, boyfriends, and sons. Some of her revelations may shock you, but if you take them to heart and put them into practice, I promise, they'll change your relationship.
After I read the book. . .

It changed my responses to my husband. It wasn't automatic, but it made me pause before reacting.
I started to get him.
I mean, I really understood why he responded to certain questions and comments in certain ways.
I realized he was not being an insensitive, unfeeling, uncaring jerk but that he was responding like a man–the way he should.
And, when I understood that, I stopped getting angry or annoyed or hurt by what he said or didn't say. Made my life a lot easier and made me realize what a gem of a man I have.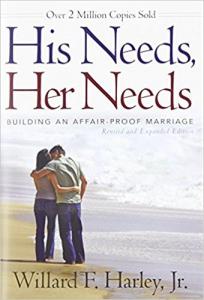 2. His Needs, Her Needs–William F. Harley, Jr.
In this classic best-seller, William F. Harley identifies the top needs of men and women. He shows husbands and wives how to satisfy those needs in each other. He also provides guidance so you can become more loving and sensitive to your spouse's needs to reduce the chance of an extramarital affair.
After we read the book…

When you understand what your husband needs, you'll want to provide it. And when he understands what you need, hopefully, he'll want to provide it for you. This book changed the way we relate to each other. It made me realize what's important to him.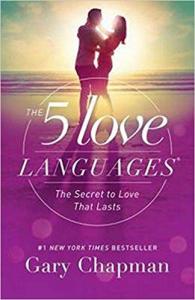 3. The 5 Love Languages: The Secret to Love that Lasts–Gary Chapman
Dr. Gary Chapman explains how can you keep your marriage fresh and growing among the demands and conflicts of everyday life.
In the #1 New York Times bestselling book, The 5 Love Languages, he shares the secrets that have transformed relationships worldwide. Whether your relationship is flourishing or floundering, Chapman's proven approach to showing and receiving love will help you experience deeper levels of intimacy with your man.
The 5 Love Languages is practical and insightful. After reading this, you'll be on your way to a healthier, happier marriage.
After I read the book. . .

He started speaking my love language. And I started speaking his. Our kids were young when we read this book. At that time, I didn't need roses and candy from him. I needed practicality. Acts of service–help.
I got in touch with his needs, too, and started spiffing myself up a bit before he came home from work.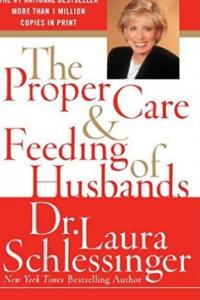 4. The Proper Care and Feeding of Husbands–Dr. Laura Schlessinger
Dr. Laura reminds women of things they need to do to get the happiness and satisfaction they want in marriage.
As women, we want to be in love and live happily ever after. The end. But, the male-female relations in our society–men are uncaring idiots–get in the way of getting what we really want out of our marriages. She says disrespect for men and disregard for the value, feelings, and needs of husbands creates struggle and strife in our relationships.
After I read the book. . .

This book was a great reminder of things I already knew about marriage but had stopped applying them. It sparked creativity and reduced strife in our relationship.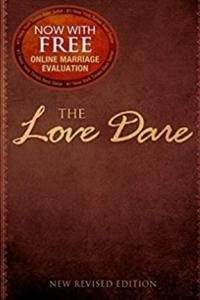 5. The Love Dare–Alex Kendrick
I failed this one, but it works. The Love Dare is a 40-day challenge for husbands and wives to understand and practice unconditional love. You start by changing your attitude towards your husband. Over the course of 40 days, you'll find intimacy. Whether you're on the rocks or rocking it, The Love Dare is a journey you need to take. It will help you find intimacy and develop a new dynamic in your marriage.
After I read the book . . .
My sister talked me into this one. I wasn't at a place in my life where I wanted to do any love daring. My husband was gone three to four nights a week, my kids were young, and I was generally not in a good mood.
But, I agreed to take the dare on the condition we didn't tell our husbands. That way, I had an out if I didn't like it. And I was thinking I wasn't going to like it.
Boy, was I surprised. And, I have to admit, my husband loved the special treatment, but he was suspicious of my acts of kindness and selflessness. Which is really sad. If you want to put a spark back in your marriage, take the love dare.
Pick a book. Start reading. You'll be on a path to greater intimacy and satisfaction in your marriage.
Need skills to build intimacy?
---
Subscribe to updates from The Not So Excellent Wife here!
Also known as the Not So Excellent Wife, Sheila Qualls understands how tiring a tough marriage can be.
She went from the brink of divorce to having a thriving marriage by translating timeless truths into practical skills. She's helped women just like you turn their men into the husbands they want.
After 33 years of marriage, she's a coach and a speaker whose passion is to equip women to break relationship-stifling habits and do marriage God's way. And you don't have to be a doormat to do it.
She and her husband Kendall live in Minnesota with their five children and their Black Lab, Largo.
In addition to coaching, Sheila is a member of the MOPS Speaker Network. Her work has been featured on the MOPS Blog, The Upper Room, Grown and Flown, Scary Mommy, Beliefnet, Candidly Christian, Crosswalk.com, The Mighty and on various other sites on the Internet.