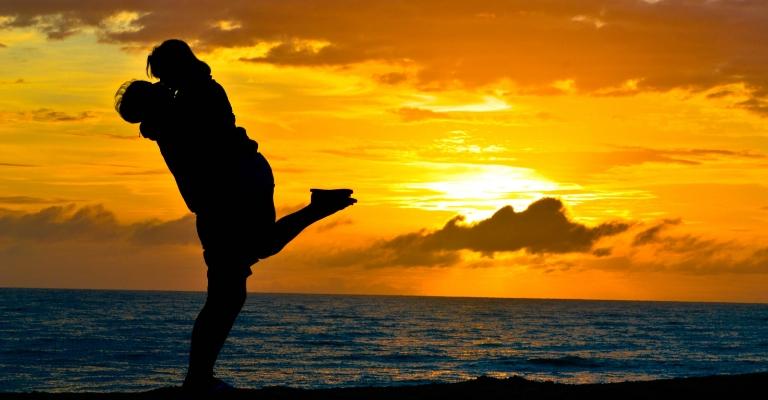 Maybe you made the same mistake I did.
When I got married, I thought my husband was supposed to make me happy. Just a few months in, I thought I'd married the wrong guy.
He looked like the same guy. The name on his driver's license matched the name on our marriage license, but he was not the same guy. And I was not happy.
Changing him was harder than I thought. We agreed to get counseling.
I felt pretty righteous going to counseling. I finally thought I'd found someone who'd tell him what he was doing wrong and tell him how to fix it.
After a few sessions, I realized Mr. Counselor wasn't going to work. He and my husband got along great, and Mr. Counselor told me I needed to change.
I thought we needed a girl counselor. But she sang the same song. "I needed to change." It had a little different tune. She added a new verse. She said, "You have choices."
After a few months, I was tired of that song and counseling.
Not long after that, I thought I was done with marriage, too.
Maybe you're in a place similar to where I was. Maybe you're ready to call it quits or you feel like you're right and your husband needs to change.
Maybe you're embarrassed because you don't want your friends and family to think you're a failure.
You can do what I did and change your choices.
I could choose to be in a miserable marriage or I could choose to try to make it better.
I made 7 tough choices that changed my marriage, and they can change yours, too.
7 Choices That Can Change Your Marriage
Choose to take care of yourself
It's hard to think of taking care of yourself when marriage is tough. Choosing to take care of yourself is a vital step toward getting your marriage back on track. Self-care starts with your relationship with God. So it's really soul care.
When you learn what God says about marriage and you choose to believe it, your perspective will change and you will be a happier person. Soul care is so much more, but it starts here. When you change, your perspective changes. Your husband will see you differently.
2. Choose to smile
Freak him out and smile at him every time you see him. He's probably not used to seeing you smile. . . at him anyway.
Choose to smile. This is really more about you than it is him. When you smile you feel better. When you are responsible to God, your happiness doesn't depend on him or what he does. You can feel happy regardless of what he does. So feel happy and smile. If  you can't, practice until it becomes natural.
If he wants to know why you're so happy, tell him you decided to change your perspective and focus on stuff that makes you happy.  You're more attractive when you're smiling.
3. Choose to tell him he makes you happy
Choose to tell him all the reasons you're grateful for him and the things he does that make you happy.  Notice things he does right and start thanking him for them. Choose to thank him for things whether he's supposed to do them or not. He'll feel appreciated. The more you focus on the positive the more positive you'll see.
4. Choose to listen a lot and talk a little
When things aren't going well, it's tempting to tell him all the things you think he's doing wrong. Choose to listen instead of talk. Keep your critical thoughts to yourself even if you have plenty to complain about.
Instead of talking, put yourself in listening mode when you're with him. Let him talk without interrupting. Listening makes him feel validated and respected.
When he talks, try responding with "I hear you" or "uh-huh" or "wow." He'll may start to feel safe in opening up to you.
5. Choose to hang out with supportive people
You probably know plenty of people who'll tell you it's time to get out. You tried. It didn't work. You deserve to be happy.
Choose to hang out with people who'll  support you and support your marriage.  They may be hard to find, especially if you've shared negative things about your husband with your sisters or your friends. Find a group of women who believe in what you're doing and want to support your marriage. You can also find support through a therapist, a coach or  groups (online or off) who support your vision for restoring your marriage.
6. Choose to go all in
Don't believe that it takes two to fix a relationship. It'd be easy to sit on the sidelines and wait for him to make the first move to improve your marriage. Don't wait. Choose to go all in.  And don't be fooled into thinking he should make the first move if he loves you.
At times you won't feel like your marriage is worth saving. You've been focused on what's wrong with him for so long, it's easy to get back into that cycle. He's going to get on your nerves. You'll feel hopeless and maybe even stupid for staying in your marriage.
When you get discouraged, think back to the time when you were first married or first started dating. You loved that man. Then imagine what life can be like with him again.
When you find yourself tempted to hold back and start to blame, find people who support your vision and will remind you of it. Find people who'll help you take your marriage where you want it to go.
7. Choose to strut your stuff
He didn't look for the ugliest woman he could find and marry her. He thinks you look good.  And after consistently making choices 1-6, he's going to think you look even better. So choose to act like you like him.
You've probably been angry for so long, he might feel as if you don't like him. Anger is an emotion that masks something else, usually hurt. Choose to laugh at his jokes. Tease him.
Send him a flirty or silly text.
Flirting can make you feel confident and strong instead of weak and insecure. He finds confidence attractive.
I'm not saying these choices are easy. But they're worth it. If I was able to rediscover the man of my dreams, you can, too.
If you're looking women with similar goals or you want to learn more, click here to change your mind and change your marriage.
Change Your Mind; Change Your Marriage — a six-week small group coaching session where you'll learn skills to help you make radical change in your marriage.
Need skills to build intimacy?
---
Subscribe to updates from The Not So Excellent Wife here!
Also known as the Not So Excellent Wife, Sheila Qualls understands how tiring a tough marriage can be. 
She went from the brink of divorce to having a thriving marriage by translating timeless truths into practical skills. She's helped women just like you turn their men into the husbands they want.
After 33 years of marriage, she's a  coach  and a speaker whose passion is to equip women to break relationship-stifling habits and do marriage God's way. And you don't have to be a doormat to do it.
She and her husband Kendall live in Minnesota with their five children and their Black Lab, Largo.
In addition to coaching, Sheila is a member of the MOPS Speaker Network.  Her work has been featured on the MOPS Blog, The Upper Room, Grown and Flown, Scary Mommy, Beliefnet, Candidly Christian, Crosswalk.com, The Mighty and on various other sites on the Internet.